CFAM Artist Featured in New Community Engagement Center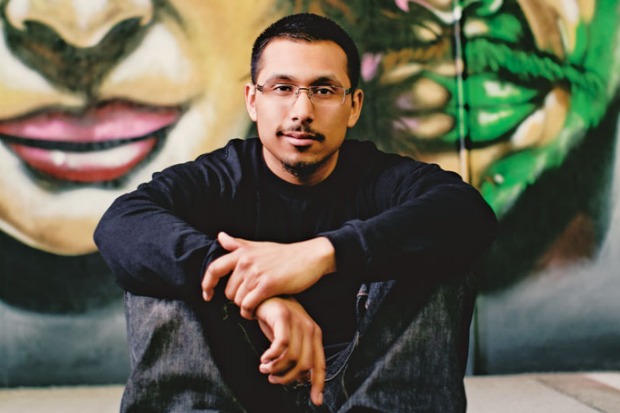 ---
Graffiti covers a wall in this brand new building. 
You can see "OMAHA" painted in yellow and green, with a map of its streets in the background. … You can see two giant hands, clasped in a handshake. … You can see a row of faces of people of different ages and races. One is the face of a handsome young Hispanic man. He has a goatee. …
He smiles.
He stands here now in the flesh as he looks at the wall, which he and other young artists from the community had been asked to design and paint. (One of the artist mentors used his face as a model.)
"It's what this building is all about," says Hugo Zamorano, an art major at UNO. "It's the whole idea of community, coming together. It's the whole idea of community engagement."
The mural spans the long north wall of the basement garage of the new $24 million Community Engagement Center, paid for entirely by private money from the community. The center is located behind Criss Library in the middle of UNO's campus, which is in the middle of the city. It will be a place of unity and a gathering spot for the community and another way that UNO is shaking hands with the city:
It offers office space for both university and community organizations. The goal is for the building to become a fertile ground for collaboration and creating new ways for the community and the campus to come together.
It is the permanent home to UNO's signature outreach programs, including its nationally recognized Service Learning Academy, which brings together K-12 students with UNO students and community members to combine service work with course objectives.
It expands UNO's capacity to go further and deeper into the community with the services it offers now.
It is the first and only building of its kind in the world.
The mural itself is a collaboration: Joslyn's Kent Bellows Mentoring Program paired three high school artists with local artist mentors – Hugo, Weston Thompson and Alex Roskelly. They brainstormed what to paint on this wall. Explains Hugo: "We wanted to bring the idea of community, of wholeness, of working together and working with ideas and try to harness it all into the mural."
This day he stands here is just a month before the building's April 17 grand opening. The mural's almost finished.
The young artist is proud.
You can see it on his face.
Hugo knows the streets of Omaha better than many people in the city.
He loves what the city has given him. Omaha introduced him to friends who are now like family. Omaha tied boxing gloves onto his creative hands and watched him punch his way up the ladder in the local Golden Gloves. Omaha showed him a side not many get to see.
The moonlit side of its night.
The side of himself he looks back on now, seeing himself as a 16-year-old sneaking out of the house as his little brother pretends to be asleep and walking those streets with cans of spray paint.
Omaha inspired his art.  
"A big part of graffiti is just to leave a mark. It feels good," he says. "I think a lot of people don't see it as a form of positive communication. I think it is. I think it can go both ways. It also can help people stay out of gangs, out of drugs, as an outlet or alternative to those."
Omaha – and UNO – is helping him succeed in life.
Hugo's family came from Los Angeles when he was 14. At 16, he was no longer a straight-A student. One night, he and a friend were painting a wall near the freeway. Police drove by. Hugo and his friend hid in some high grass. They should have waited longer. The police circled back and arrested them.
"I thought my dad would kill me," Hugo says. But at 16, maybe he just was too old to be spanked.
He was old enough, though, to see the disappointment on his parents' faces.
His parents were born in Mexico. They worked at jobs that didn't pay high wages. Neither went to college. But they both always told him that he would.
He brought his grades back up and found art mentors in the community. His parents didn't approve of his illegal graffiti art, but they did want him to express himself through art. He's now a junior at UNO. He plans to get his master's in art and maybe teach art at a college someday.
He knows education is the key to his dream.
While a student at Omaha's Bryan High, Hugo applied for the Susan Thompson Buffett Scholars program at UNO, a scholarship program for first-generation kids like him with talent but little money.
He says he'll never forget the day the acceptance letter came to his home. It was the weekend of the Cinco de Mayo festival in South Omaha. He remembers how his eyes swelled up.
And the smile that stayed on his face.
April 17, 2014.  
Black curtains hide something on a wall in the new building, one floor up from the basement garage. A crowd watches.
"One … two … three!"
A family pulls down the curtains to reveal a photo of Jessica Lutton Bedient, a young woman with a beautiful smile on her face.
In silver letters: Jess' Resource Center.
This wall will help UNO students connect with the community. TV monitors attached near her photo show opportunities available to volunteer.
Jessica Lutton Bedient was a 2006 UNL graduate who worked for the University of Nebraska Foundation. She dedicated her life to helping others. She started as a fund-raiser for UNL and then moved to the team raising money for UNO. She loved her job. On one wall in her Omaha office, she'd hung a photo collage of family and friends and all of the orphans she'd bonded with on a mission trip to Tanzania. On another wall, she'd hung a poster with a picture of an empty chair, painted red:
A whole bunch of people decided not to just sit there, including you.
Not long after arriving in Omaha, she asked her boss if she could help raise money for the Community Engagement Center project.
Her boss asked her why she was so interested.
Because that's who I am.
One night in 2010, a drunk driver hit her car and she died a few days later. She was only 26, newly married.
Her father speaks now.
 "She would be the first to say how much she loved this project, this engagement center," David Lutton says. "She would say, 'What a great conduit for helping others.'"
He looks like her.
He smiles. 
"And then she would say how much she hates the fact that her picture and her name are on that wall."
***
A small woman with white hair walks to the podium. Her name is Barbara Weitz. She used to be a social work professor at UNO.
You now can see her name on the outside of the building: Barbara Weitz Community Engagement Center.
The Weitz Family Foundation is the lead donor of this building.
"I've often heard people say to dream big," she says, "and I think this building is what they meant. Because this building is my dream, it is my very big dream, and several other people in this room's very big dream. And it would not have come true without so many of you who are here. … But each of you in your various ways have helped make this dream come true.
"It's about community, and all of us."
A young Hispanic man with a goatee stands in the shadows, watching the dedication ceremony with his back to the wall. He's thinking that it's cool how passionate people are about this new building, especially Barbara Weitz. He's thinking how cool the building looks and how so many of the art pieces inside of it are from local artists he knows.  
You can see his name in this building, too, on a basement wall in black spray paint.
Hugo.
About the Community Engagement Center
UNO's Community Engagement Center, paid for entirely through private money, is one of the major fruits of the Campaign for Nebraska, now in its final year. If you also would like to support the cutting-edge center and its programs, please consider giving online to the Community Engagement Center Excellence Fund or contact the foundation's Renee Reding at 800.432.3216.
About the University of Nebraska Foundation
The University of Nebraska Foundation is an independent, nonprofit organization raising private gifts to support the University of Nebraska for more than 77 years. In 2013, donors to the foundation provided the university with $236.7 million for scholarships, medical and other research, academic programs, faculty support and facilities. The foundation's comprehensive fundraising campaign, the Campaign for Nebraska, has raised more than $1.5 billion for the university and concludes Dec. 31, 2014. For more information, visit campaignfornebraska.org.
Related Sites
Department of Art and Art History
Barbara Weitz Community Engagement Center
Campaign for Nebraska
Contact Us
If you have a story idea or inquiry please contact:
Randy Mattley, Communications Specialist, College of Communication, Fine Arts and Media
rgmattley@unomaha.edu • 402.554.3216