University Band
Directed by Dr. Joshua Kearney
The University Band is a non-auditioned ensemble open to all UNO students, faculty and staff. The instrumentalists involved in this group perform a variety of high quality band music. University Band performs two concerts a semester on UNO's campus. Students interested do not need to audition, but should attend the first rehearsal in order to sign up. University Band meets every Tuesday and Thursday from 4:00-5:00 P.M. during fall and spring semesters, and can be taken for General Education credit up to 3 semesters.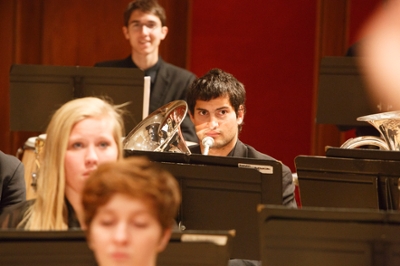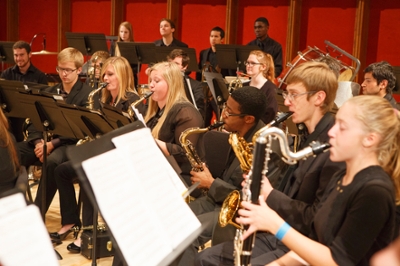 '
Symphonic Wind Ensemble
Directed by Dr. Karen Fannin
As UNO's premier concert band, the Symphonic Wind Ensemble, has developed an exemplary reputation throughout the country for its exceptional performances of high quality traditional and contemporary wind literature. Comprised of some of the most outstanding musicians on campus, the ensemble performs an average of five concerts a year including the annual BOCH Festival Concert.
The ensemble was chosen to perform at the College Band Directors National Association North Central Conferance, seven Nebraska State Bandmasters Association Conventions, nine Nebraska Music Educators Association All-State Conferences, and numerous other regional, and national professional conferences.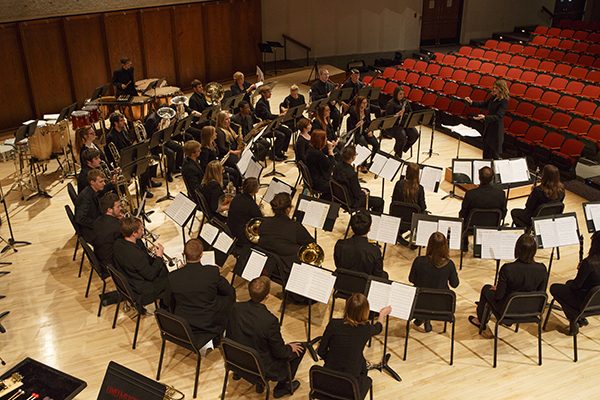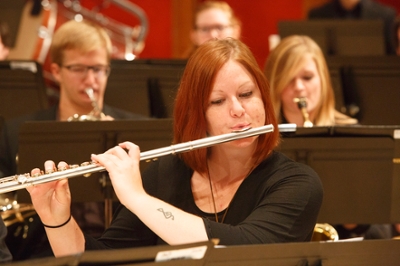 In May of 2000 the Symphonic Wind Ensemble embarked on its second international tour with concerts in Germany, Poland, Lithuania, Latvia, Estonia, Sweden, and Denmark. During the summer of 2004, the ensemble again traveled overseas to Ireland, England, and France, including a performance at Omaha Beach on 60th Anniversary Commemoration of the D-Day Landings (June 6, 2004). Most recently, the ensemble spent 16 days traveling and performing in the Czech Republic, France and Austria in May of 2008.