Contest provides women jazz musicians an opportunity to share their work.
Application Process
There are two steps to the application process:
Fill out the application form. You will need to be logged into a Google account in order to fill out the application form.
---
The School of Music at the University of Nebraska at Omaha presents the Women's Jazz Composition Contest.
Contest Composition Categories
Category A: Grade 1-2 chart playable by middle school jazz bands.
Category B: Grade 3-4 chart playable by high school jazz bands.
Individuals may apply for both categories but must send in two separate applications and pay the $25 application fee for each entry.
Contest Judging Criteria
Overall musical quality
Educational value
Playability/appropriateness for middle school (Category A) and high school (Category B) jazz ensembles.
Proper/professional notation, including attention to page turns
Attention to detail on all rules and guidelines
The contest judge is University of Michigan Professor Ellen Rowe. Each applicant will receive a brief critique of their composition from Professor Rowe. In the event that a large number of applications are received, a second highly qualified judge may also be employed. The winning composers will be notified by September 15, 2022. Contest officials reserve the option to withhold some or all awards if no entries are found to be suitable.
Contest Prizes
Winners of each category will receive a $1,000 honorarium.
Winning composers will each receive two composition lessons with Ellen Rowe.
Winning compositions will be premiered and recorded live at the University of Nebraska Omaha's Great Plains Jazz Festival February 24-25, 2023.
Winning compositions will be published by Walrus Music Publishing and listed at ejazzlines, with accompanying royalty payments.
Submission Guidelines
Application portal opens February, 1, 2022
Deadline for submissions July 1, 2022
View the complete list of guidelines and other information
For additional questions, please contact Pete Madsen
petermadsen@unomaha.edu
This event is sponsored by the University of Nebraska at Omaha and ejazzlines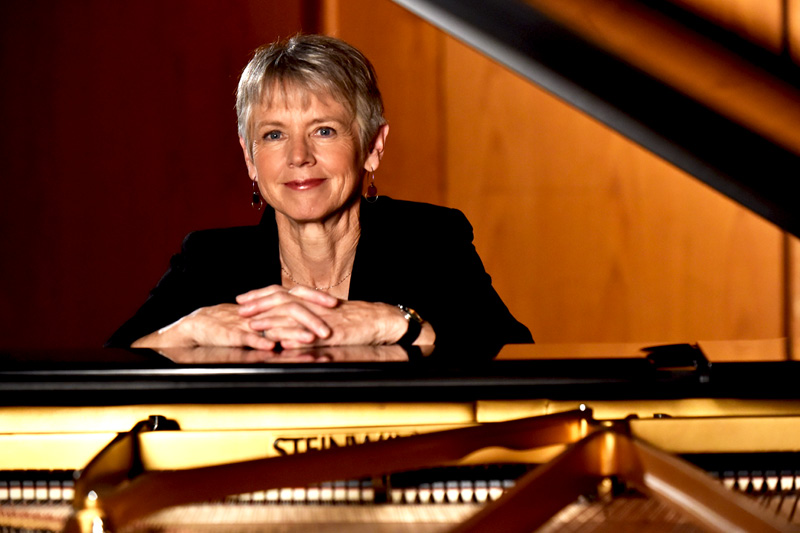 University of Michigan Professor Ellen Rowe will serve as the contest judge