---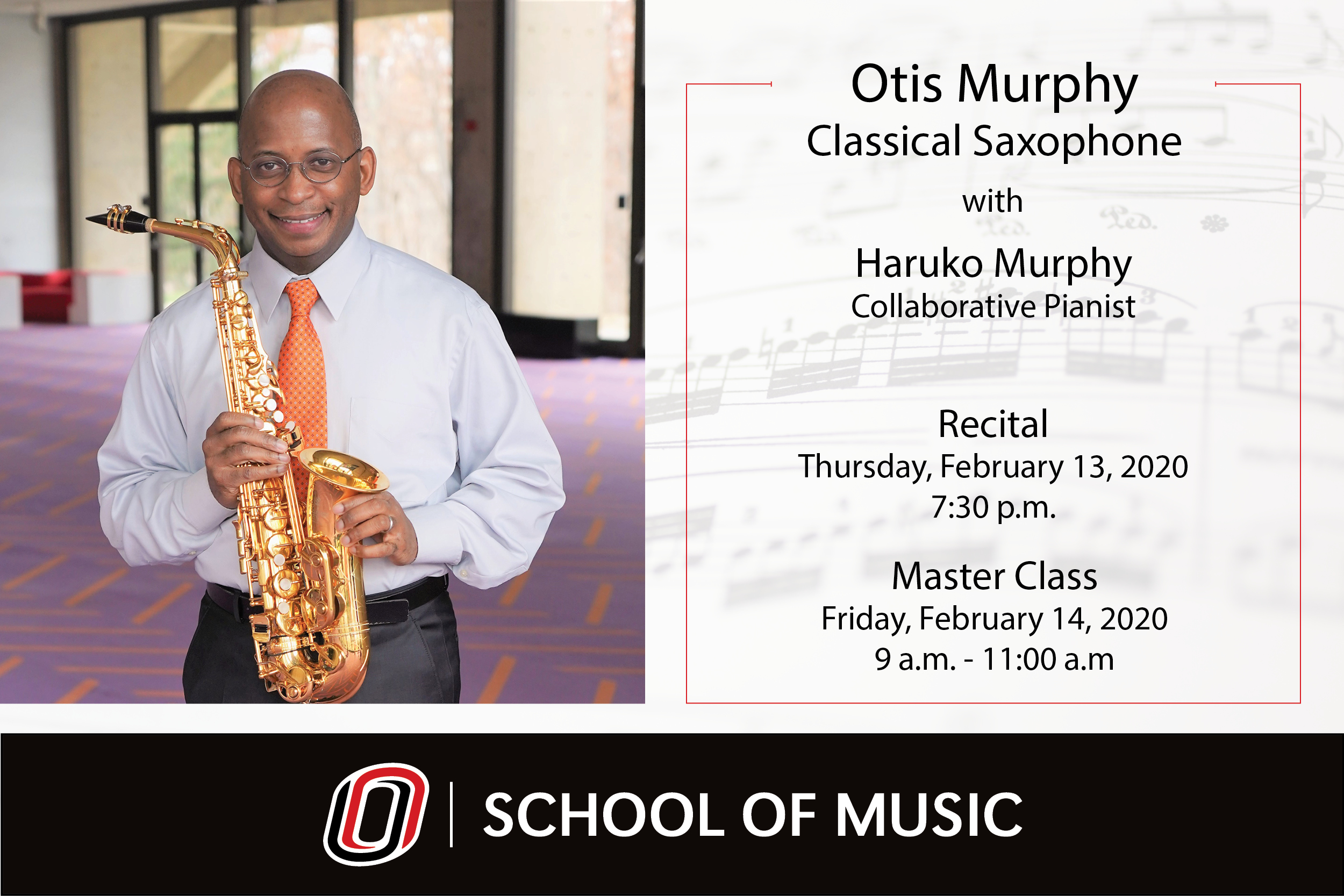 Otis Murphy holds the position of Professor of Saxophone in the Indiana University Jacobs School of Music, joining the faculty at age 28 and becoming one of the youngest faculty members in its history.  He is in great demand as an international artist, having performed in more than 25 countries worldwide across four continents.  Dr. Murphy has garnered a number of international awards including prizes in Belgium's Adolphe Sax International Saxophone Competitionand France's Jean-Marie Londeix International Saxophone Competition, and he has appeared in major concert venues including Carnegie Hall's Isaac Stern Auditorium, Merkin Hall (New York City), Casals Hall (Tokyo); Palau de la Musica (Valencia); and Muziekgebouw aan het Ij (Amsterdam).  He has taught at music schools and festivals worldwide including the Paris Conservatory, Amsterdam Conservatory, Cologne Academy of Music, Hamamatsu International Wind Instrument Academy and Festival, Japan Band Clinic,Institut Franz Schubert,Kunitachi College of Music, Liceu de Barcelona, Madrid Royal Conservatory, Midwest Clinic, Musashino Academy of Music, Nagoya College of Music, Osaka College of Music, London Royal College of Music, Shanghai Conservatory, Sydney Conservatorium, and many more.  Dr. Murphy also is a recipient of teaching awards from Indiana University including the 2019 Indiana University Trustees Teaching Award, and the 2019 Indiana University New Frontiers of Creativity and Scholarship Award.  Dr. Murphy's students have received accolades in national and international competitions and are members of premier military concert bands in the various branches of the U.S. military including the Army, Navy, and Coast Guard bands.  In addition, Dr. Murphy's students hold teaching positions in public school music programs and collegiate teaching positions throughout the country and abroad.  Dr. Murphy holds Doctor of Music and Master of Music degrees from the Indiana University Jacobs School of Music, graduating with the Performer's Certificate, the highest honor given to a performer at this institution.  In addition, he pursued advanced studies in France under a Fulbright Fellowship for foreign study as a pupil of Jean-Yves Fourmeau at the Conservatoire National Régional de Musique in Cergy-Pontoise, earning the Prix de Perfectionnementà l'unanimité.  Dr. Murphyleads a very fulfilling life with his wife, pianist Haruko Murphy, and together are dedicated parents of their six children.
COLLABORATIVE PIANIST
Born in Japan, Haruko Murphymoved to San Jose, California with her family as a teenager. Shereceived the Bachelor of Music and Master of Music degrees in Piano Performance, both with Highest Distinction, from the Indiana University Jacobs School of Music, studying with Distinguished Professor Menahem Pressler.  In addition, she studied at the Sweelinck Conservatorium in Amsterdam, Netherlands as a pupil of Jan Huizing.  Ms. Murphy received many prizes as a solo pianist and now enjoys performing actively as a collaborative pianist.  Specializing in the repertoire of the classical saxophone, she has appeared in concerts with a number of internationally renowned artists including saxophonists Jean-Yves Fourmeau, Arno Bornkamp, and the Masato Kumoi Saxophone Quartet, and she enjoys accompanying her husband, Otis, in their active performance career together. Haruko and Otis lead a very fulfilling life together as a couple and as dedicated parents of their six children. 
---