2020 BigIdea! Pitch Contest
The Center for Innovation, Entrepreneurship & Franchising is hosting its 11th Annual BigIdea! Pitch Contest.
date: 10/23/20 - 11/06/20
time: 12:00 AM
---
contact:  Connor Berg - Center For Innovation, Entrepreneurship & Franchising • cberg@unomaha.edu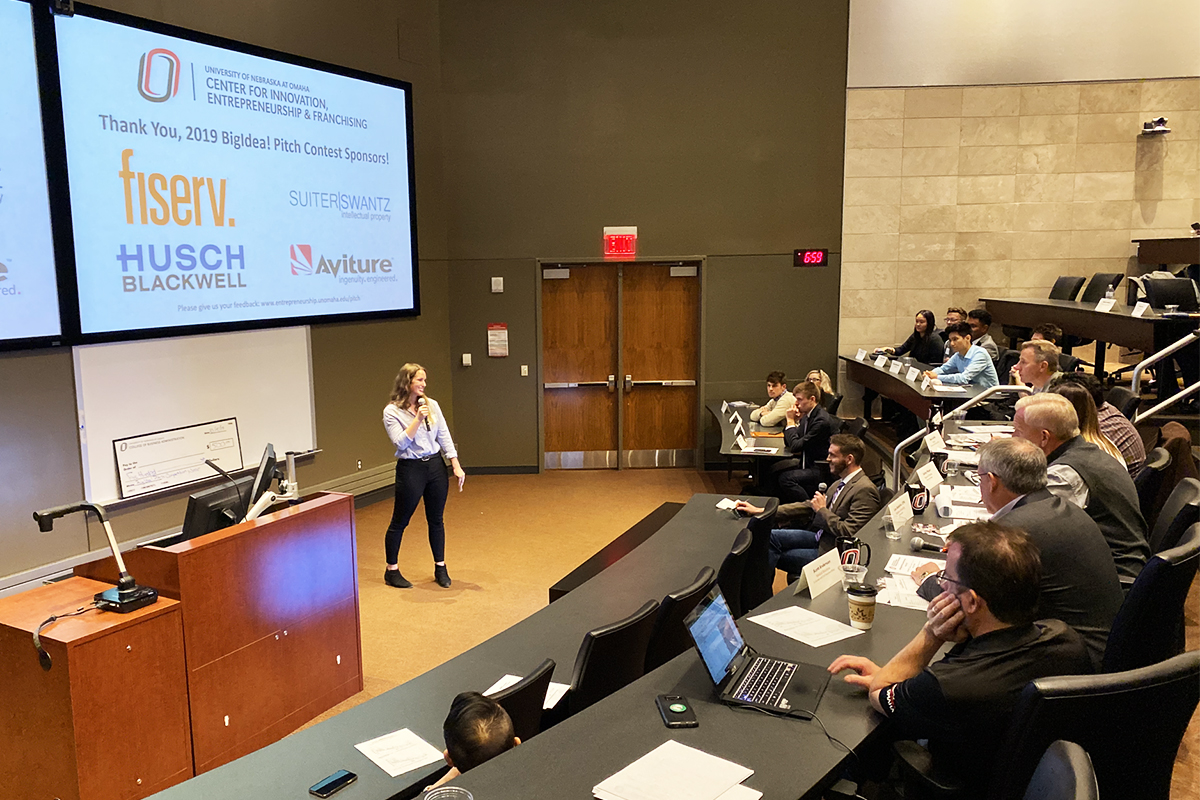 Date 
Submissions are being accepted until November 6, 2020
Voting Period: October 23 – November 6
Final Round: November 17, 2020
Description 
UNO students are competing for over $1000 in cash prizes in this two-round contest. Round one will take place virtually, where students will submit a 90-second video of themselves pitching their unique business idea. All majors are welcome!
There are three idea categories for pitches, each of which will have a fan-favorite winner:
After submitting a video, students will share their pitch via Facebook, Instagram, LinkedIn, and Twitter to gather support and votes from their friends. The top-voted pitch in each category will win $100 and will automatically advance to the finals.
After the submission and voting deadline of November 6, 2020, all video pitches will be scored on originality, the nature of the problem, and the viability of the solution. The 9 top-scoring contestants will advance to the final round, along with the fan-favorite in each category.

The Final Round for the 2020 BigIdea! Pitch Contest will be on November 17, 2020, in person (venue pending). In accordance with the University of Nebraska at Omaha and the CDC Guidelines, attendees will be asked to follow strict guidelines and there will be limited seating available for audience members. As a result, the Final Round will be streamed live, where additional audience members may view the finalists' pitch to a live panel of judges.

To submit a pitch, vote, or read more information please visit: entrepreneurship.unomaha.edu/pitch
Prizes
Winner: $500
First Runner-Up: $250
Second Runner-Up: $100
Popular Vote in Each Category: $100 and Automatic Entry to Final Round
More Information
For more information about the 2020 BigIdea! Pitch Contest, please email Connor Berg: cberg@unomaha.edu
Contact Us
If you have a story idea, news tip or inquiry, please contact:
Lindsey Hasenjager, Director of Social Media and Promotions, College of Business Administration
lhasenjager@unomaha.edu • 402.554.3852