Featuring Rebecca Atkins: Prep Academy Director, 40 Under 40 Winner, and Change-Maker
Atkins is poised to fulfill the Prep Academy's mission of "[helping] historically excluded students by increasing their exposure to business and college."
contact: Rachael Smith - Communication Specialist, UNO CBA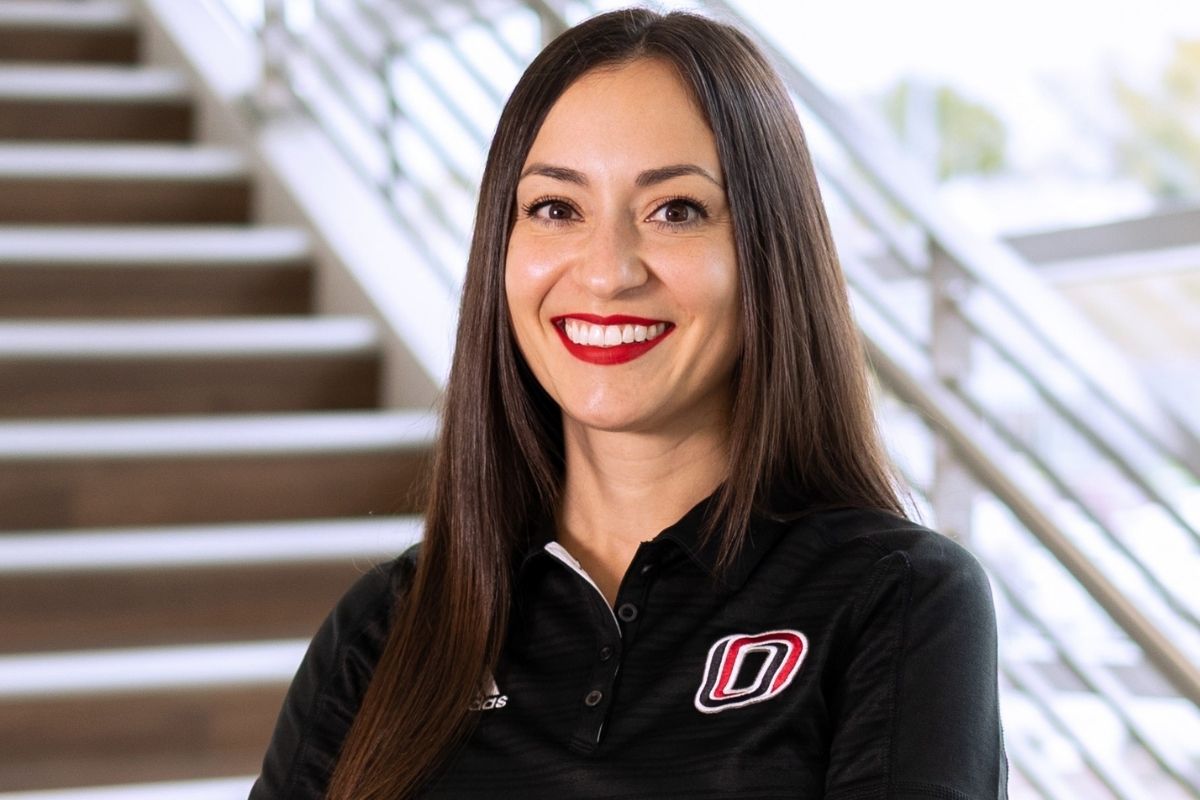 Rebecca Atkins has spent nearly 10 years in higher education, serving in roles including admissions, academic advising, career advising, and teaching. Now, Atkins transitions into her role as Director of the UNO College of Business Administration Prep Academy.
The Prep Academy program provides first generation, low income, and underrepresented K-12 students with the academic skills, exposure, and support necessary to succeed in college and the workplace. This is achieved through fully funded camps offered through UNO CBA.
Atkins was drawn to the role because of its vital mission of "[helping] historically excluded students by increasing their exposure to business and college before their arrival on campus."
"I truly believe in higher education as tool to change the world. Programs like this can break generational cycles of poverty and provide students the opportunity to be the first in their families to graduate from college," said Atkins. "These opportunities do not come without challenges, though. From a historically excluded group myself, I know how hard it can be to 'fit in' in college. I want to help students realize they belong here. Knowing that I can change students' lives motivates me."
Along with her passion for the Prep Academy's goals, Atkins brings a plethora of experience and achievements to the role. 2021 has been a banner year for her – she was selected for Midland Business Journal's 40 Under 40 award and appointed the first Latina YP Council Chair for the Greater Omaha Chamber. Her change-making impact will continue in 2022, when she'll serve on the Executive Committee of the Board for the Greater Omaha Chamber and as Vice Chair of the Omaha Home for Boys Board.
By combining her personal and professional experience, Atkins is poised to guide the Prep Academy to its core goals as the program kicks off.
"In general, my goals with the Prep Academy are to expose students of all backgrounds to business. Whether or not things like investing, the economy, and finance are discussed at home, I want students to know they belong here and that a degree in business is attainable.
"I hope this program diversifies the student body of the College of Business, which is a win for everyone. Global and intercultural fluency are important in today's business world. Learning amongst students with different backgrounds will provide our students with a real-world learning experience that they can't get anywhere else.
"Further, I hope to create a diverse pipeline of CBA graduates who can then go out and work in the Omaha community. Omaha can greatly benefit from increased diversity in the workforce," said Atkins.
And because uplifting underrepresented voices is and must remain a community effort, Atkins looks forward to forging connections.
"I am always looking to collaborate with folks that have the same goals as I do. I would seek a discussion with anyone who wants to aid in the CBA Prep Academy's success," said Atkins. "All businesses should have a vested interest in this program as it will directly impact the talent that is graduated from UNO CBA. A diverse talent pipeline will benefit everyone!"
UNO CBA is immensely proud to welcome Atkins to her new role, and we look forward to supporting her mission to make a difference in the Omaha community. Should any readers be interested in participating in Prep Academy camps, seeking speaking engagements, or want to serve as a business sponsor, Atkins welcomes discussions at 402-554-6160 or ratkins@unomaha.edu.
Contact Us
If you have a story idea, news tip or inquiry, please contact:
Lindsey Hasenjager, Director of Social Media and Promotions, College of Business Administration
lhasenjager@unomaha.edu • 402.554.3852