Spring 2016 Case Study Competition Results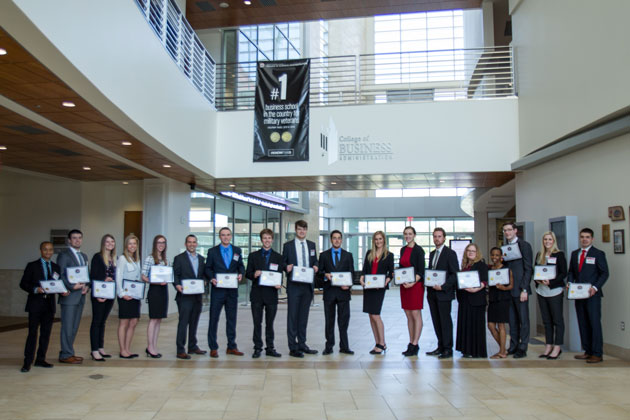 OMAHA – After two rounds of stiff competition, four student teams battled for first place in the UNO College of Business Administration Strategy Case Competition on April 22.
This semi-annual case study competition brings the boardroom experience to senior business students enrolled in the Corporate and Business Strategy capstone course.
The following team of four emerged victorious from a pool of more than 160 students:
First Place
Travis Cole — Accounting
Kyler Erickson — Entrepreneurship, Management
Brian Gentile — Marketing
Donald Hinman — Banking, Finance, Investment Science and Portfolio Management
The competition began on March 4, when 40 teams were narrowed to 19. On April 8, those 19 teams competed for a spot in the finals.
The final four teams were given a complex business case study on Tesla Motors and had one week to work through the case, formulate a strategic recommendation and build a presentation.
On April 22, teams presented their recommendations and answered questions from the "board," which included academic strategy subject-matter experts and local business executives.
In addition to first place, here are the full results:
Second Place
Marquette Pic — Marketing
Jessica Pusher — Entrepreneurship, Management
Jacob Schaefer — Management
Teniquah Thompson — Accounting
Jeremy Wertzberger — Banking, Finance, Investment Science and Portfolio Management
Third Place
Cassandra Adams — Legal Studies
Connor Gresham — Marketing
Tiffany Hottman — Finance, Entrepreneurship, Management, Marketing
Sean Keeton — Management, Banking, Finance, Investment Science and Portfolio Management
Fourth Place
Carly Buskirk — Economics
Anna Naumann — Management, Marketing
Justine Simons — Management
William Taylor — Accounting, International Business
Jason Tordoff — Economics, Accounting
The Strategy Case Competition showcases students' abilities to synthesize content learned across the Bachelor of Science of Business Administration degree program.
To learn more, visit the CBA Case Study Competition website.
---
Finalist photos, arranged in order from first place to fourth place.