Stedman's Café Hosts Grand Opening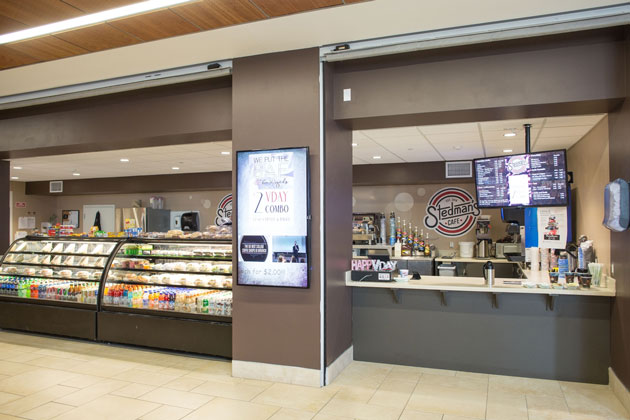 OMAHA – The whirl of an espresso machine and the smell of roasted coffee beans are the new normal in Mammel Hall, home to the University of Nebraska at Omaha College of Business Administration.
Stedman's Café, a student-operated store that doubles as a learning laboratory for business students, opened in early January with the start of UNO's spring semester.
Now, the UNO community is invited to see the new space during a grand opening event on Thursday, Feb. 25, at 11:30 a.m. in Mammel Hall.
The café serves high-quality coffee, espresso-based beverages, smoothies, fountain sodas and locally sourced food options.
Supported by UNO's Center for Innovation, Entrepreneurship and Franchising (CIEF), the café is named after Robert C. Stedman, who graduated from UNO (then Omaha University) in 1951 with a business degree.
A former OU football and basketball player and Army veteran, Stedman worked for 25 years as an auditor and insurance fraud investigator for the Equitable Life Insurance Company.
He created a unitrust through the University of Nebraska Foundation to fund scholarships for business students. In 2010, CBA named its statistics laboratory in his honor.
"Bob Stedman was a tremendous supporter of the university and our students," said Louis Pol, dean of CBA. "His generosity lives on through the Robert C. Stedman UNO College of Business Scholarship Fund. Naming this new student-centered space after him is yet another way to honor his legacy."
In addition to fueling students between classes, Stedman's Café will benefit students through class projects and employment opportunities.
Students from across campus work there as baristas. The café also employs a student manager, Zander Thornburg, a marketing and management major and vice president of UNO's Collegiate Entrepreneurs' Organization. Thornburg is in charge of hiring, training and scheduling for a team of seven student workers.
The café has partnered with a number of business classes — including economics, human resource management and statistics — to help students apply course concepts to a functioning business as well as help the new store streamline policies and procedures and assess fiscal impact.
"Our goals for Stedman's Café are not only to offer superior service to patrons in Mammel Hall but also to utilize this business and the data it generates as a real-life, real-time case study for students studying social media marketing, analytics and consumer behavior, for example," said Dale Eesley, associate professor of entrepreneurship and director of CIEF. "Plus, the business benefits students financially by increasing the number of on-campus jobs."
In November, CIEF asked the UNO community to help create a visual identity for the new café. A sophomore student in the UNO College of Communication, Fine Arts and Media submitted the winning logo design.
Stedman's Café operating hours are Monday through Thursday from 8 a.m. to 8 p.m.
For more information, contact Heather Holmes, assistant director of CIEF, at hholmes@unomaha.edu or 402.554.3605.
Our Campus. Otherwise Known as Omaha.
The University of Nebraska does not discriminate based on race, color, ethnicity, national origin, sex, pregnancy, sexual orientation, gender identity, religion, disability, age, genetic information, veteran status, marital status, and/or political affiliation in its programs, activities, or employment. Learn more about Equity, Access and Diversity.
scroll to top of page