Excellence in Business and Accounting Education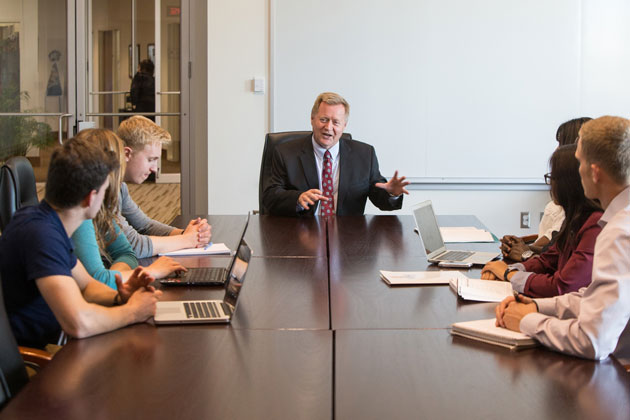 OMAHA – The University of Nebraska at Omaha's College of Business Administration as well as its undergraduate and graduate accounting programs have earned an extension of accreditation from AACSB International (the Association to Advance Collegiate Schools of Business), signifying the college's continued excellence in student achievement, teaching and research.
This announcement follows the 50th anniversary of UNO's Master of Business Administration program, founded in 1965 — the same year that CBA secured initial AACSB business accreditation.
In addition to CBA's Bachelor of Science and MBA programs, the Executive MBA program was granted accreditation in 1980, and the accounting programs earned an additional specialized accreditation in 2013. UNO's CBA was the second business school in Nebraska to earn AACSB accounting accreditation.
Less than 5 percent of the world's business programs earn accreditation by AACSB, the longest serving global accrediting body for business schools.
Part of the association's five-year continuous improvement review process, a peer review team visited Mammel Hall in October 2015. Before the visit, CBA submitted a comprehensive report, detailing how it is meeting rigorous standards for educational improvement, strategic management and fulfilment of mission.
"The UNO College of Business Administration has maintained AACSB accreditation for 50 years," said Louis Pol, dean of CBA. "The news that our accreditation is extended is a testament to the quality of our programs at both the undergraduate and graduate levels. As a result, our students are highly sought after by local and national businesses, government and nonprofit organizations."
Achieving accreditation is a process of rigorous internal and peer review. During this multi-year process, schools focus on developing and implementing a plan to align with AACSB's accreditation standards, which require excellence in areas relating to strategic management and innovation; student, faculty and staff as active participants; learning and teaching; and academic and professional engagement.
"AACSB commends each institution for their exemplary work in holding the highest honor in business school accreditation," said Robert D. Reid, executive vice president and chief accreditation officer of AACSB International. "During this peer-review process schools must demonstrate alignment with AACSB's global accreditation standards, as well as how they encourage engagement, innovation and impact across the communities they serve."
Today, there are 755 business schools in 51 countries and territories that have earned AACSB accreditation. Additionally, only 182 institutions hold the specialized accounting accreditation.
About the UNO College of Business Administration
The University of Nebraska at Omaha College of Business Administration is the region's leading provider of business education and expertise. Founded in 1952, CBA is accredited by the Association to Advance Collegiate Schools of Business International (AACSB) for both business and accounting — a distinction earned by less than 1 percent of business schools worldwide. Offering 13 undergraduate concentrations and four graduate degrees, CBA empowers students to make a difference in their communities and the global economy. Located in a thriving metropolitan city, CBA is known for its community partnerships, distinguished faculty, and training beyond the classroom. For more information, visit cba.unomaha.edu.
About AACSB International
AACSB International (The Association to Advance Collegiate Schools of Business), founded in 1916, is an association of more than 1,450 educational institutions, businesses, and other organizations in 90 countries and territories. AACSB's mission is to advance quality management education worldwide through accreditation, thought leadership, and value-added services. As the premier accreditation body for institutions offering undergraduate, master's, and doctoral degrees in business and accounting, the association also conducts a wide array of conferences and seminar programs at locations throughout the world. AACSB's global headquarters is located in Tampa, Florida, USA; its Asia Pacific headquarters is located in Singapore; and its Europe, Middle East, and Africa headquarters is located in Amsterdam, the Netherlands. For more information, please visit www.aacsb.edu.