USSTRATCOM Fellows Program Kicks Off Third Year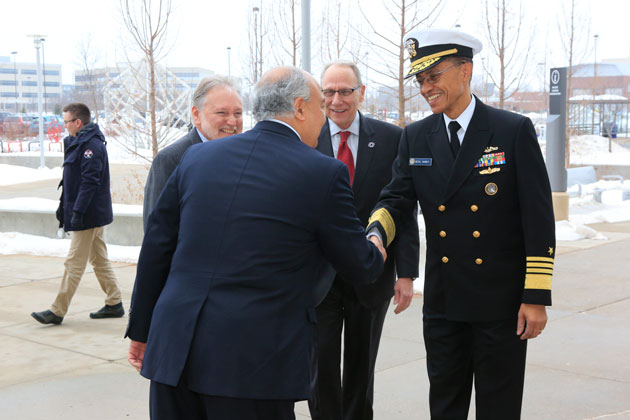 OMAHA – A leadership development partnership between the University of Nebraska and United States Strategic Command (USSTRATCOM) enters its third year this month. On Saturday, Jan. 23, the 10 members of this year's USSTRATCOM Strategic Leadership Fellows Program were formally welcomed at the University of Nebraska at Omaha (UNO) campus.

This is the first year that all four University of Nebraska campuses will be involved in the 13-week Fellows Program.

The program trains some of the nation's top civilian security specialists in areas such a team building, collaboration management, data‐driven decision making and project management, combined with mission-core competency development. All of the Fellows are USSTRATCOM civilian leaders from the greater Omaha area.

Because the program is housed in UNO's College of Business Administration, the Fellows will have the opportunity to learn directly from senior leaders from for-profit organizations such as First National Bank, Chick-fil-A Corporate and the Omaha World-Herald. In addition, given UNO's expertise in information science, the Fellows will take courses in cryptography, information assurance and cyber security. One week of the program will feature nationally recognized faculty in topics such as Russian literature, comparative politics and destructive world leaders.

UNO, the University of Nebraska and USSTRATCOM launched the initiative in March 2014 as a first-of-its-kind effort under the University of Nebraska's National Strategic Research Institute (NSRI), one of only 13 Department of Defense-sponsored University Affiliated Research Centers (UARCs) in the nation.

UNO professors Dr. Doug Derrick and Dr. Gina Ligon are once again overseeing the program. Both have conducted numerous research projects on national security strategies for the Department of Defense and Department of Homeland Security.

The kickoff of this year's Fellows Program comes roughly two weeks after University of Nebraska President Hank Bounds and more than 20 other NU leaders toured USSTRATCOM's Global Operations Center and discussed strategic deterrence, cyber responsibility and collaborative research efforts with experts in the Command. Both the program and the visit are part of USSTRATCOM's ongoing effort to build enduring relationships with partner organizations.

The visit was also a continuation of USSTRATCOM's Deterrence and Assurance Academic Alliance, which started in Oct. 2014 to stimulate new thinking and develop future generations of deterrence practitioners. Since then, 20 local and national universities have joined the alliance, including the University of Nebraska campuses.
View the U.S. Strategic Command news release.
About NSRI
Founded in 2012, the National Strategic Research Institute (NSRI) at the University of Nebraska is the only University Affiliated Research Center (UARC) in the country dedicated to delivering solutions for Combating Weapons of Mass Destruction (CWMD) to U.S. Strategic Command (USSTRATCOM) and across other federal agencies. NSRI provides research and development for the U.S. Department of Defense, Department of Homeland Security, and other governmental agencies in multiple mission-critical competency areas — including development of medical countermeasures to WMD; nuclear detection and forensics; consequence management; chemical and biological weapons detection; and space, cyber, and telecom law. Learn more at nsri.nebraska.edu.
About the University of Nebraska at Omaha

Located in one of America's best cities to live, work and learn, the University of Nebraska at Omaha (UNO) is Nebraska's premier metropolitan university. With more than 15,000 students enrolled in 200-plus programs of study, UNO is recognized nationally for its online education, graduate education, military friendliness and community engagement efforts. Founded in 1908, UNO has served learners of all backgrounds for more than 100 years and is dedicated to another century of excellence both in the classroom and in the community.
Become a fan of UNO on Facebook: www.facebook.com/unomaha and follow UNO's Twitter updates at http://twitter.com/unomaha.
About U.S. Strategic Command
One of nine DoD unified combatant commands, USSTRATCOM has global strategic missions, assigned through the Unified Command Plan, which include strategic deterrence; space operations; cyberspace operations; joint electronic warfare; global strike; missile defense; intelligence, surveillance and reconnaissance; combating weapons of mass destruction; and analysis and targeting.
For more information, contact the USSTRATCOM Public Affairs Office at 402-294-4130 or PA@stratcom.mil, or visit www.stratcom.mil.