MBA Alumnus Receives 40 Under 40 Award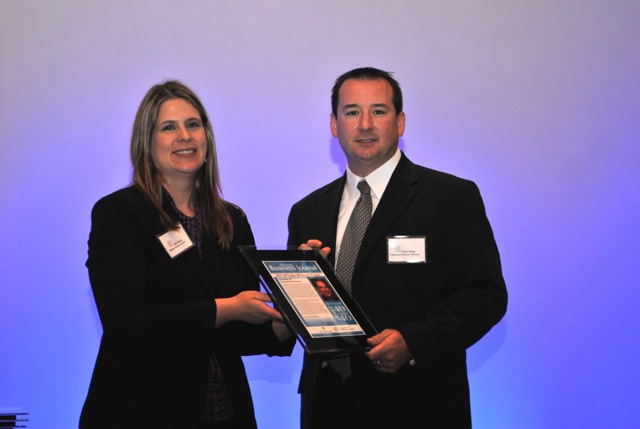 Chris Hoke received his 40 Under 40 Award just in time. The 39-year-old was recently honored for his career accomplishments by the Midlands Business Journal, which recognizes the region's brightest entrepreneurs, executives and professionals under the age of 40.
The 14th annual awards ceremony was held Friday, Dec. 11, at the Embassy Suites La Vista Conference Center. More than 475 awardees, guests, and business and civic leaders attended the breakfast. The UNO College of Business Administration co-sponsored the event.
An Omaha native, Hoke is a principal and owner of Continuum Security Solutions, a small consulting firm specializing in information security. The CBA alumnus earned his Master of Business Administration in 2011 and also has an M.S. in Management Information Systems from the UNO College of Information Science & Technology.
Hoke is part of a three-person leadership team who purchased the company in 2013. He says his award is a "validation of what we're doing — my team here."
That team has more than 25 professional designations and certifications combined.
"As an organization, we're focused on ongoing training and development," he says. "The more skill sets we can demonstrate proficiency in, the more we can position ourselves as subject matter experts."
Hoke alone has 14 industry certifications, including the rigorous Global Information Assurance Certification Security Expert (GSE). Fewer than 140 professionals worldwide have this designation.
From IT-based auditing to hacking into clients' systems, there's no routine day at the office for Hoke. The variety of his duties and different people he works with, he says, are what make his job satisfying.
UNO's MBA program prepared him well for day-to-day business operations, he says, including interacting with external partners and accountants and negotiating agreements with clients. His training also served him well when he was buying the company from Fortune 500 ownership.
"I've absolutely seen benefits in my professional life," he says.
Hoke's entrepreneurial approach has helped grow the company's revenue and product offerings, positioning the firm as one of the country's top security software product resellers.
Two years into business ownership, Hoke says he's happy with the company's growth.
"I love what I'm doing today," he says. "Right now, I can't imagine doing anything else."
When he's not working, the father of two finds time to coach and attend his daughters' basketball, soccer and softball games. Hoke has also kept in touch with former professors, who have invited him back to UNO to talk to students about information security.
Contact Us
If you have a story idea, news tip or inquiry, please contact:
Lindsey Hasenjager, Director of Social Media and Promotions, College of Business Administration
lhasenjager@unomaha.edu • 402.554.3852