CBA Graduate Realizes Dream of Working at Deloitte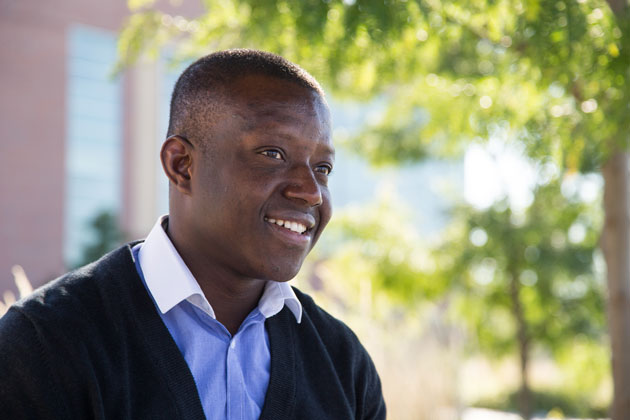 December will be a month full of firsts for Hanson Nimako.
The Accra, Ghana, native will earn his Master of Business Administration degree on Dec. 18 — his first time walking in a commencement ceremony. Cheering him on in the crowd will be his mother and sister, who both live in England — their first time in the United States. Hanson begins his new job Jan. 4 in Houston — his first time living in the Lone Star State.
Number three of four children, Hanson was nearly the first in the family to earn an MBA, but his brother beat him to it.
"I want to thank my mom and my dad and my family for their support," he says.
Hanson accepted a job as an assurance associate at Deloitte, a company where he's always wanted to work. "My dad worked there in Ghana for a long time. It's a dream for him," he says. "I like the role. I like the firm. I like the people. My academic skills and training provide a good fit for the job, and I can't wait to start."
After working as an accountant in Ghana for two years, Hanson moved from Accra to Omaha in August 2013 to begin graduate school at the University of Nebraska at Omaha College of Business Administration. Accepted at five universities, he chose UNO because he received some funding. Then in January 2014, he was hired as the MBA program graduate assistant, a job that comes with free tuition and a monthly stipend.
Hanson says he chose an MBA to develop his management and leadership skills. "It's a great program," he says. "I like that it's very practical."
Case studies, group presentations and class simulations made for fun and valuable learning experiences, he says. Hanson especially enjoyed his capstone project, where he worked with another classmate to develop a custom website and social media analytics dashboard for the Girls Scouts of Nebraska. Another high point for him was when his team's $2 million fixed income portfolio, funded by First National Bank of Omaha, beat the market index by 60 basis points for the first time.
Aside from Hanson's coursework and GA duties, the MBA program's flexibility helped him pass the CFA Level 1 exam and intern at National Indemnity Company.
Above all, Hanson says his MBA coursework has refined his leadership, analytical ability, confidence and communication. "These skills will help me rise in my career," he says.
Hanson plans to take the CFA Level 2 exam in June and eventually become an investment banker.
One thing he doesn't plan to do: waste time.
While some might try to squeeze in a mini vacation between school and work, Hanson is ready to hit the ground running. "I'm used to transitioning from school to work," he says.
And although he's excited to move south, Hanson will miss a few things about Omaha:
"I think it's a beautiful place. I like the people especially. Everyone is nice. And it's affordable."