Meet a CBA Student Veteran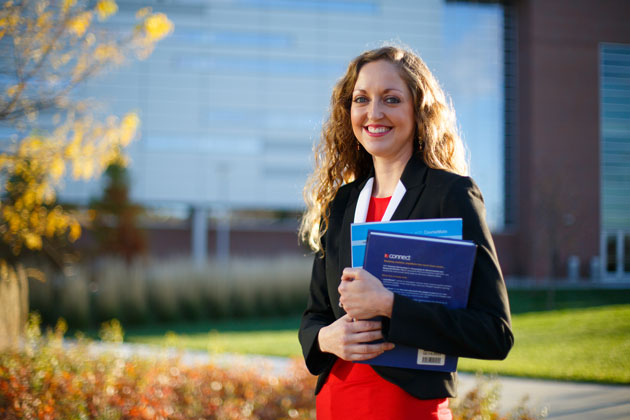 Nicole Higgins is on track to finish her Master of Business Administration degree in a record two semesters. The 31-year-old is taking 18 credit hours, raising her 3-year-old daughter and planning a wedding — but she keeps her demanding schedule in perspective.
"It's not as rigorous as the experiences I had in the military," she says.
Higgins served eight years in the Hawaii Army National Guard, deploying to Iraq and Kuwait in support of Operation Iraqi Freedom. The Lincoln, Nebraska, native joined as a junior in high school. When her peers were soaking in their summer vacation, Higgins was sweating at basic training. At 19, she deployed to Iraq — the youngest person in her section. There, she managed logistics and ordered supplies for over 3,000 soldiers.
"It was a lot of responsibility," she says, explaining that she mastered time management and backwards planning. "You have to be on top of things all the time."
Now, she uses those same skills in an entirely different context: the classroom.
"Having that life experience behind me has made me a more focused and motivated student," she says.
With her sights set on an accounting career, Higgins opted for an MBA to get "a well-rounded educational experience," she says. "The curriculum is varied. The professors are amazing and invested."
Higgins also appreciates UNO's Office of Military and Veteran Services, noting the staff's willingness to help. "I've never had a VA office that's so attentive," she says.
The university — and the College of Business Administration — has long supported military men and women. For two years in a row, UNO has been named the best four-year school for military friendliness by Military Times magazine. In March, CBA also earned the top spot on the Military Times' 2015 Best for Vets: Business Schools list.
"Faculty and students really welcome you and appreciate what you can bring to class discussions," Higgins says. "I can't count the number of times people have thanked me for my service. I couldn't ask for a better experience."
Next spring, Higgins secured a tax internship at Seim Johnson and will begin there full time after graduating in May. Although she's eager to start her career, there are some aspects of the MBA program she'll miss — in particular, the community.
"It's been really easy to meet people and make friends," she says. "In some ways, I'll be sad I'm finishing so fast."