CBA Commended for Commitment to Waste Reduction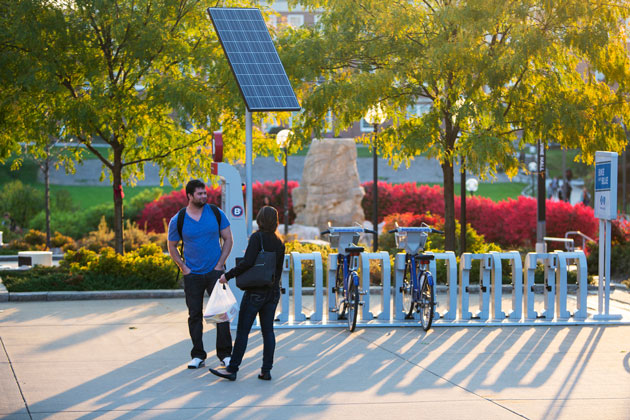 October is Campus Sustainability Month. The College of Business Administration is committed to fostering a culture of sustainability through many initiatives, including its participation in WasteWise.
---
What is WasteWise?
A free partnership program sponsored by the U.S. Environmental Protection Agency, WasteWise helps organizations achieve cost savings, improve efficiency and reduce their climate footprint through waste reduction. CBA has been participating in WasteWise for over two years with measurements in waste and recycling at Mammel Hall. The dashboard near Mammel Hall 217 shows updated waste and recycling data.
What is waste reduction?
Waste reduction is the process of preventing or reducing the generation of waste. Waste prevention is the main focus for WasteWise.
Benefits of waste reduction:
Extraction — Waste prevention and recycling delay the need to extract some raw materials, reducing greenhouse gas emissions (GHG emissions).
Manufacturing — Waste prevention means more efficient resource use, and making products from recycled materials requires less energy. Both lower GHG emissions during manufacturing.
Combustion — Waste prevention and recycling reduce the amount of waste sent to incinerators, lowering the GHG emitted during combustion.
Landfilling — Waste prevention and recycling reduce the amount of waste sent to landfills, lowering the GHG emitted during decomposition.
Additional benefits:
Waste prevention offers the greatest environmental benefits and provides substantial cost savings to organizations.
Waste prevention methods help create less waste in the first place — before recycling.
What can students and faculty do at Mammel Hall and UNO to help prevent waste?
Prevention first — reduce the amount you purchase/consume. Use what you have first, then recycle/repurpose what you can.
Recycle materials that can be recycled. If it can be recycled, don't throw it away. Recycling bins are placed on every floor of Mammel Hall and are typically right next to a trash can. Please recycle paper, plastic bottles, soda cans and other recyclable materials.
Miss those composting bins at Mammel Hall? Ask the Dean's Office and UNO Facilities to bring back the composting bins.
Use the hydration stations around campus. Bring a reusable bottle and fill it up.
If you must throw it away, throw away at a minimum. Following the prevention first method will reduce the amount you throw away.
Related links:
How to reduce your climate footprint publication
Mammel Hall LEED Gold Certification
Contact Us
If you have a story idea, news tip or inquiry, please contact:
Lindsey Hasenjager, Director of Social Media and Promotions, College of Business Administration
lhasenjager@unomaha.edu • 402.554.3852