UNO Softball Player Sweeps 2015 Big Idea Pitch Contest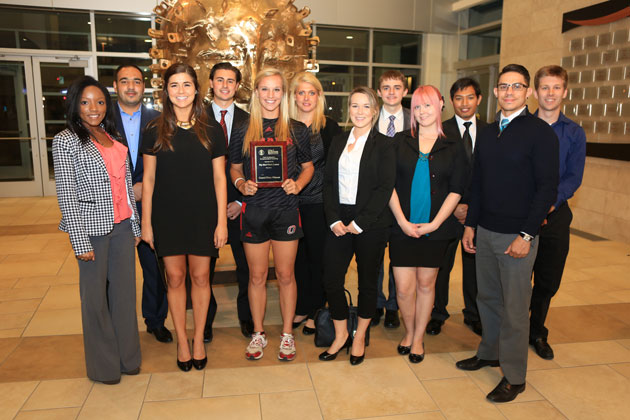 OMAHA – Exercise science major Campbell Ditto hit a homerun at the 2015 Big Idea Pitch Contest, winning first place for her performance-enhancing batting glove, dubbed the Ditto Grip. The senior softball player won a $500 grand prize and trip to the Collegiate Entrepreneurs' Organization national conference in Kansas City next month.   
The first runner-up was junior IT innovation major Kat Slump, who pitched her idea for MavSpot, a mobile application that enhances the fan experience in UNO's new Baxter Arena.
Senior entrepreneurship major Veronica Oleson was the second runner-up for her motion-activated hygiene disposal system, FemClean.
The three winners competed against nine other finalists in a live elevator pitch contest on Sept. 30 in Mammel Hall. Finalists pitched their ideas to a panel of judges — including Brenda Beasley, sales manager at Chico's FAS; Keith Fix, serial entrepreneur, marketing executive, startup technologist and CBA alumnus; John Hoich, entrepreneur and member of several civic and business boards, including CBA's National Advisory Board; Kelly Krings, chief marketing officer at Northwestern Mutual; Jenna Taulman, senior finance student, Union Pacific intern and aspiring entrepreneur; and Mark Wehner, award winning author and internationally recognized entrepreneurial business coach and speaker.
Community judges selected the following 12 finalists from 120 video pitches submitted by UNO students:
Mohammad Farhad Afzali — ALEFBA: Learning the Alphabet while Playing with Gadgets
Pallav Bajracharya — Buddhist Art
Campbell Ditto — Ditto Grip
Kia Gardner —  NextStopClass
Brian Gentile — IM Beautiful Anti-Cyberbullying App
Kenny Maese — E-Luminate Children's Markers
Veronica Oleson — FemClean
Amber Rascon — Classy Cooking
Kaitlyn Richman — Shuttle Track
Kat Slump — MavSpot, a greater UNO fan experience
Kirk Thompson — The Modern Informant
Samuel Underwood — Fender Defender
In addition, the UNO community was invited to vote for their favorite pitches. The following students received popular vote honorable mentions and cash prizes:
College of Business Administration
Eros Mejia-Hernandez
Mary Osbourne
Kyler Erickson  
Peter Kiewit Institute and University of Nebraska Medical Center
Shane Sapp
Mohammad Farhad Afzali
Taylor Korensky
College of Arts and Sciences and Open Category
Campbell Ditto
Kenny Maese
The Big Idea Pitch Contest is sponsored by Northwestern Mutual and UNO's Center for Innovation, Entrepreneurship and Franchising.