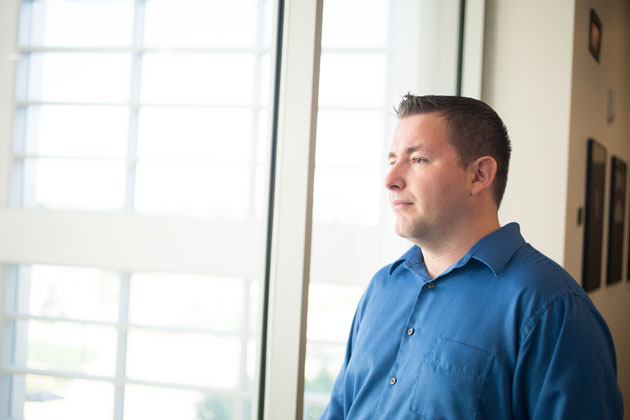 Kyle Francis says going back to school was the second best decision of his life.
The first? Joining the military.
Francis, 32, joined the Army in 2005 — his decision to enlist fueled by a nagging feeling he wasn't accomplishing anything.
"I was a rowdy youth," Francis says, explaining that when he lost his father, he lost his moral compass. "I knew I could be a better person. I needed a kick in the butt to get there."
Stationed in Hawaii, he served five years before beginning a new chapter as a college student. After earning a bachelor's degree, the student veteran enrolled in UNO's Master of Business Administration program in fall 2014 and immediately felt at ease.
He noticed the program's parallels to the military — namely, the hands-on approach. "You get handed a project that's applicable to the real world," he says. "My military background helped me adapt to getting a project and taking responsibility for it."
Another comfort was the support he's received from the university. "In the military, there's always somewhere you can go to get help," Francis says. "UNO has been the first place I've found something similar to that."
In March, the College of Business Administration earned the top spot on the Military Times' "Best for Vets: Business Schools 2015" list. The announcement followed UNO's overall No. 1 ranking as a military-friendly university in November 2014.
CBA stood out against other b-schools from across the country, including Syracuse University (No. 2), the University of Southern California (No. 9) and Ohio State University (No. 14).
The survey considered factors such as enrollment, support services related to tuition assistance and academic advising, and average Graduate Management Admission Test (GMAT) scores.
"Because many business classes are applied, particularly in the MBA program, students with military experience tend to thrive," says Lex Kaczmarek, MBA program director. 
Student veterans have a long history with CBA, dating back to the Bootstrapper program, which gave tuition support for veterans following World War II. The program started at Omaha University in 1951, one year before CBA was formed.
CBA is also a major partner in the Strategic Leadership Fellows Program, launched in 2014 through the University of Nebraska's Strategic Research Institute. The first-of-its-kind partnership provides graduate-level education to civilian leaders within the United States Strategic Command.
Fellows program coordinators Gina Ligon, associate professor of Management and Collaboration Science, and Doug Derrick, assistant professor of IT Innovation, are leading several research projects on national security strategies for the Department of Defense and Department of Homeland Security.
Francis, a graduate assistant, worked with Ligon and Derrick this spring on one such project that explored organizational collaboration within the homeland security environment. The collaboration he experienced among the research team was "unparalleled," he says, even compared to his experiences in the military.
Francis loved contributing to such a critical, real-world project, but it did have its challenges.
"In the military, you don't go home until the job's done," he says. "It was a challenge for me to let the project go and come back to it tomorrow."
Francis, who grew up in Kearney, will finish his MBA in May 2016. And although he plans to get some corporate experience in project management or human resources, going back for a Ph.D. isn't out of the question.
"I've loved going to college," he says. "I'm going to be sad to give it up."
---
See this story and more in CBA's 2014-2015 Year in Review.