CBA Grads Trailblaze Omaha Startup Scene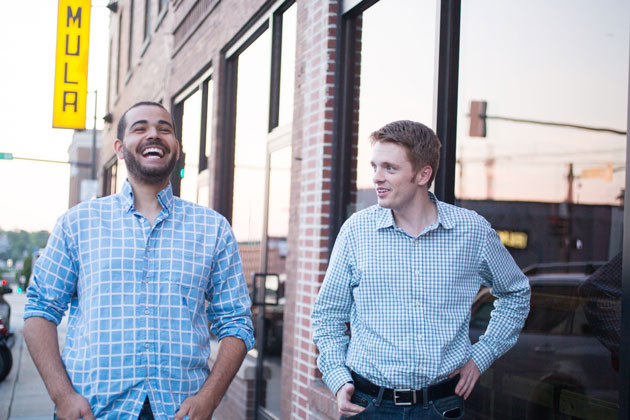 OMAHA – There is a growing startup scene on the Silicon Prairie. If you want to be a part of it, there is a pair of UNO graduates you will want to know. Eric Burns ('11) and Sabastian Hunt ('13) have already made their mark on the young entrepreneur scene in Omaha, but the journey has only just begun.
Burns is the founder of Nightlife Transit Co., a transportation company that takes late night bar patrons to different entertainment areas across the city. Hunt started Year of the Startup (YOTSU), a residential incubator that houses aspiring entrepreneurs as their ideas develop.
The two have been collaborating at Hunt's YOTSU for more than a year now. The company owns a property around 40th and Burt in Omaha, and it has become a hotspot for people to grow their business plans and exchange ideas. It is a place where the next wave of talent can combine professional experience to create and improve business plans.
Hunt got the idea for a startup house during his work at nonprofit agency in North Omaha. The original plan was for the house to be used by residency programs for traveling artists. The nonprofit agency thought it was a great idea, and so did his regular employer.  Hunt quickly pivoted as he saw an opportunity. "More than one person wants me to do this for them for business purposes?" he thought. "I should just do this for myself."
Now Hunt is doing his part to build the local entrepreneur scene. Each Sunday, the house at 40th and Burt invites field experts to give guest lectures. They are beginning to carve out their own niches in the ecosystem. "Lots of people get turned away from accelerators, so can they come to us? After staying with us for a while we can send them back again and they will be ready," said Hunt. It is not all about cash at YOTSU. It is about finding quality people and giving them an opportunity to develop their ideas. "We don't give you $20,000," he said with a laugh, "we give you a room."
Burns and Hunt working together is a perfect example of what YOTSU can do for small startup businesses.
If you knew Burns' professional background, it would be easy to understand how he came up with the idea to start Nightlife Transit Co. On top of doing consulting work on transportation studies at Contemporary Analysis in Atlanta, he is also the owner of the Main Street Bar in Plattsmouth, Nebraska. "When I first got the idea we were looking for ways to test it out, and we found out there was a lot of interest," he said. Burns' business plan for Nightlife Transit Co. won the top prize of $8,500 at Get Started Omaha, solidifying his proof of concept.
"Omaha is the perfect market for this product because the entertainment districts are spread out. There was a need for a late-night option, and it can be costly to constantly call a cab or an Uber," Burns added.
The atmosphere at YOTSU allowed Burns connect with some key partners that are helping Nightlife Transit Co. become a more environmentally friendly company. Burns met Scott Williams, Managing Director of the Omaha Biofuels Cooperative, and the two have put together a plan for Nightlife Transit Co. to use a blend of biodiesel mixed with oil from local restaurants.
So what is next? Burns and Hunt already have plans to grow. Burns said he plans to expand Nightlife Transit Co. to three cities by the end of next year. As for YOTSU, Hunt is planning on buying an additional startup house in North Omaha, as well as adding more property to the 40th and Burt area in hopes of creating a startup village.
Before all of their post-graduate success, Burns and Hunt were students at UNO College of Business Administration. Hunt graduated with a degree in economics, while Burns majored in business finance, banking finance, and investment science/portfolio management. In separate interviews, each said that the professors at UNO were always able to give great feedback because of their connections and practical experience.
"A couple friends went to other schools and were working on their PhD's in entrepreneurship, and we were learning the same material in undergrad. I almost feel like we were given insights that were unfair advantages," said Hunt.