Long-Time CBA Employee Honored with UNO Chancellor's Medal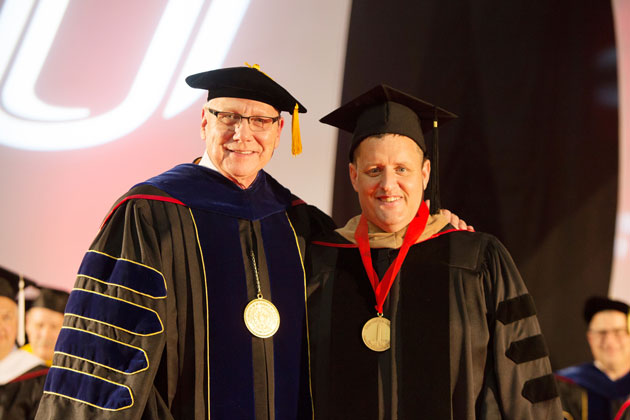 David Nielsen received the Chancellor's Medal during UNO's commencement celebrations on May 8. The award is given annually to the UNO employee who best reflects extraordinary service and commitment to the university and has performed with excellence in their profession.
Nielsen is currently the director of operations for the College of Business Administration at UNO. In this capacity, he oversees and coordinates the college's budget, including forecasting and long-range planning.
Nielsen manages the information technology team and an academic support team that serves more than 2,500 students and 150 faculty and staff. He also directs the building facilities of CBA's Mammel Hall. He received a master's degree in economics, specializing in econometrics and business condition analysis, from UNO in 1992.
Originally from Council Bluffs, Iowa, Nielsen started his career with the university in 1992. He has designed and taught courses on Visual Basic, Java, and Cold Fusion. He has also taught undergraduate courses in Economics, Management, and Information Systems & Qualitative Analysis.
He is a board member of the Technology in Business Schools Roundtable (TBSr). Nielsen is a member of Omicron Delta Epsilon, an international economics honor society, and Beta Gamma Sigma, an international honor society serving business programs. He has served as president-elect, president, and past president of the UNO Staff Advisory Council.
Nielsen has made presentations for the Association to Advance Collegiate Schools of Business (AACSB), Campus Technology, EDUCAUSE, and TBSr. He has served on numerous college and university committees and has advised colleges and universities throughout the country on technology and building design.
One of his most rewarding experiences, Nielsen says, was serving as CBA's project manager for the design and construction of Mammel Hall. Construction began in 2008; the building opened in 2010.
He and his wife, Ailene, have one son, Steven, who received a Bachelor of Science in Business Administration from UNO in 2012.