Entrepreneurship Professor, Student Honored at Awards Banquet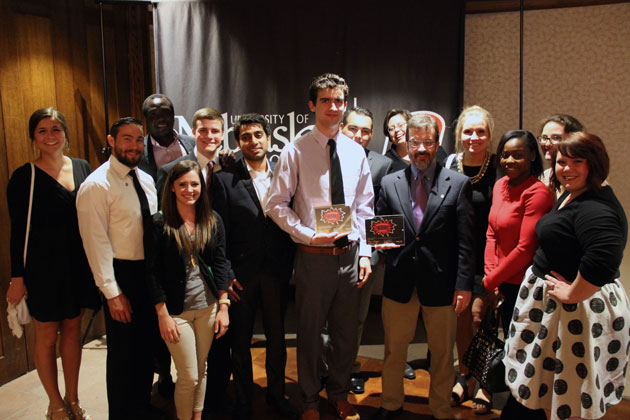 OMAHA – A UNO College of Business Administration (CBA) faculty member and student were honored on April 15 for their leadership roles in the Collegiate Entrepreneurs' Organization (CEO).
Entrepreneurship Professor Dale Eesley was named Advisor of the Year, and senior business student Anthony MacBride was named Outstanding Student Organization Member.
Sponsored by the UNO Office of Student Activities, the Student Involvement Awards Banquet celebrates student leaders, advisors and staff members who make a positive impact on student life outside the classroom.  
Thanks to Eesley and MacBride, CEO stands out among the 150-plus student organizations on campus for engaging students in fun, meaningful learning experiences — from regional conferences and guest speakers to internships and even dinner with prominent entrepreneurs.
As CEO advisor, Eesley provides administrative support and taps into his connections to give members unique opportunities to learn about entrepreneurship and build their networks.
"Our advisor can always be found in Mammel Hall 303," students wrote in the nomination letter. "He will pause any email or phone call to put his students first."
As CEO president, MacBride has been instrumental in growing the organization's membership, taking it from 12 to 84 members this year.
"Anthony took over leadership in fall of 2014 and has taken an already healthy club and put it into overdrive," Eesley wrote in MacBride's nomination letter. "Never in the chapter's history have so many students from so many different academic disciplines participated in CEO events."
MacBride is graduating on Friday with concentrations in Banking, Finance, and Investment Science and Portfolio Management.
"I tried my hardest to make CEO better than when I started my leadership role," MacBride said. "This award to me is the best way to end my tenure at CEO."