Buffett and the College of Business Administration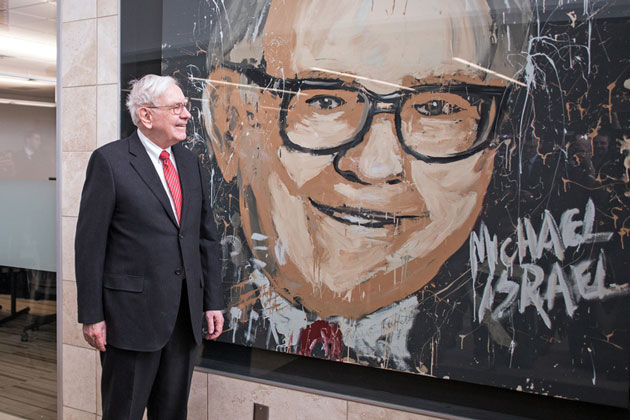 Berkshire Hathaway is celebrating its 50th Shareholders Meeting in Omaha this weekend. Read on below to learn about Buffett's ties to UNO and CBA.
    

Buffett Visits Mammel Hall in 2013

On May 2, 2013 Buffett made a special visit to Mammel Hall as part of an interview with Fortune Magazine that was broadcast live on CNN.com. During the interview, Buffett officially joined Twitter for the first time with the tweet "Warren is in the House," and was promptly followed by thousands including friend and fellow financial celebrity Bill Gates.

The interview was also important for many UNO students, who got the chance to ask Buffett questions about his investment philosophy and what the economy may hold for the next generation.

Surprisingly enough, Warren wasn't the only Buffett to visit UNO in 2013. In November, Howard G. and Howard W. Buffett came to campus for a Question & Answer session with then University of Nebraska President J.B. Miliken about the father-son duo's new book "Forty Chances" about the steps that can be taken to begin ending world hunger.

Students who attended the event received free signed copies of the book as well as some expert advice.

  

The Genius of Warren Buffett Course

The UNO Executive MBA offers a one-of-a-kind course, created and taught by author, leading authority, and shareholder of Berkshire Hathaway, Robert P. Miles, that examines the life, investment strategies, management style, and philanthropy of Warren Buffett.

  

Portrait in Mammel Hall

A painted portrait of Buffett currently hangs in the Mammel Hall entryway (pictured below)

 

Additional Buffett Connections

The UNO Thompson Learning Center and the UNO Thompson Alumni Center are named in honor of Buffett's father-in-law. William 'Doc' Thompson, father of Buffett's wife Susan, served as professor of psychology and dean of the College of Arts and Sciences.

The Buffett family contributes to Nebraska public education through the Susan T. Buffett Foundation (STB) and the Sherwood Foundation. The STB foundation provides scholarships for qualifying Nebraska residents with financial need to attend UNO and other Nebraska state public institutions of higher education. Students who receive these scholarships are known as William H. Thompson Scholars. In addition, the foundation awards fifteen K - 12 Nebraska educators the Alice Buffett Outstanding Teacher medallion and cash prize each year in honor of Warren Buffett's aunt.

Carl and Joyce Mammel, early investors in the Buffett Partnership and shareholders of Berkshire Hathaway, along with Ruth and Bill Scott, one of the first employees of the Buffett Partnership and Berkshire Hathaway, made generous gifts allowing the College of Business Administration to build the $38.5 million, 120,000 square foot, state-of-the-art facility, "Mammel Hall," without taxpayer funding or incurring any debt. The Mammel gift is the largest single gift to UNO. By coincidence, Mammel Hall was built where the Arksarben race track was located, a former site for Berkshire's famous annual meetings.

Read more about the Buffett Family and UNO

  

Other Notable UNO Business Minds

UNO has also been "home" to several other notable business minds including the late James "Jim Young" who served as chairman and later the non-executive chariman of Omaha-based Fortune 500 company Union Pacific.

Union Pacific's Maverick ties continue today with the leadership of CBA graduate John J. (Jack) Koraleski, Chairman and Chief Executive Officer. Koraleski earned both his bachelor's and master's degrees in Business Administration at UNO.