2015 Distinguished Alumni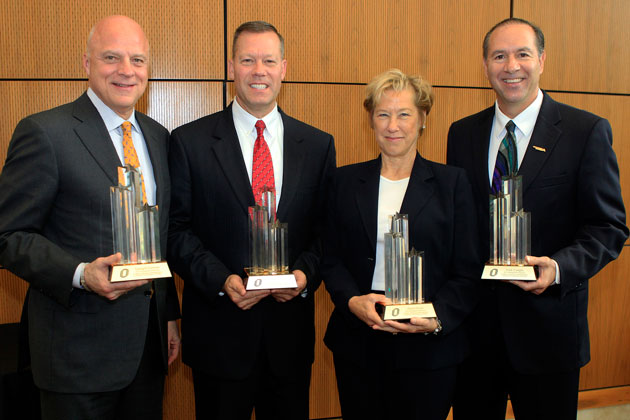 OMAHA – The UNO College of Business Administration (CBA) has added four more graduates to its list of distinguished alumni.
The following business professionals were honored May 14 at the annual Distinguished Alumni Achievement Awards luncheon in Mammel Hall:
-Mark Caniglia, Cox Communications (retired)
-Doug Ewald, KPMG LLP
-Maria Moran, assistant U.S. attorney (retired)
-Leonard Sommer, Hancock & Dana PC
These alumni were nominated for their outstanding success throughout their business careers as well as their strong leadership in their professions and contributions to their communities. They join an exclusive list of 98 individuals who have been recognized as distinguished alumni from more than 19,000 CBA graduates.
Mark Caniglia spent 31 years at Cox Communications before retiring in 2012. As the Central Region vice president, he led marketing operations, overseeing the revenue and customer growth targets for residential and commercial business in a five-state region. During his tenure, the Central Region generated over $1 billion in revenue with over 700,000 customers subscribing to 1.3 million services. A recipient of numerous industry marketing awards, Caniglia has served on the board of directors for several organizations and currently owns a marketing consulting business. He received an Executive MBA from UNO in 1998.
Doug Ewald is a managing director in the state and local tax practice of KPMG LLP. Before joining KPMG in 2013, Ewald served as Nebraska Tax Commissioner for seven years, leading the Nebraska Department of Revenue. In this position, he restructured the department into a more customer-responsive agency and successfully promoted the use of electronic tax-return filing, making Nebraska a leader in this area. Ewald also worked at Union Pacific for 17 years, progressing within the ranks of the tax department. He serves on a variety of boards, including CBA's accounting advisory board, and has a Master of Professional Accounting from UNO.
Maria Moran joined the Douglas County Attorney's Office in 1987 where she prosecuted felony offenses. In 1995, Moran joined the United States Attorney's Office, prosecuting federal narcotic, gun and gang-related offenses until retiring in 2011. Moran is a 1999 recipient of the Department of Justice Director's Award for superior performance as an assistant U.S. attorney. She is also a five-time recipient of Law Enforcement's Community Award for successful prosecution of gang-related offenses. In 2006, she was inducted into the American College of Trial Attorneys. To date, only two women in Nebraska have been honored with such membership. She has a BSBA from UNO and law degree from Creighton University.
Leonard Sommer is the managing partner of Hancock & Dana PC. He also serves the firm by assisting clients with succession and exit planning strategies, developing incentive compensation programs and advising clients in tax planning. After graduating from UNO in 1976, he joined Peat, Marwick, Mitchell & Company before starting his own CPA firm, which merged practices with Hancock & Dana PC in 1993. Sommer has served on various nonprofit boards and has received numerous awards for his professional and civic commitments. He has a BSBA in accounting from UNO.