MBA, EMBA Students Bring Home 2015 ACG Cup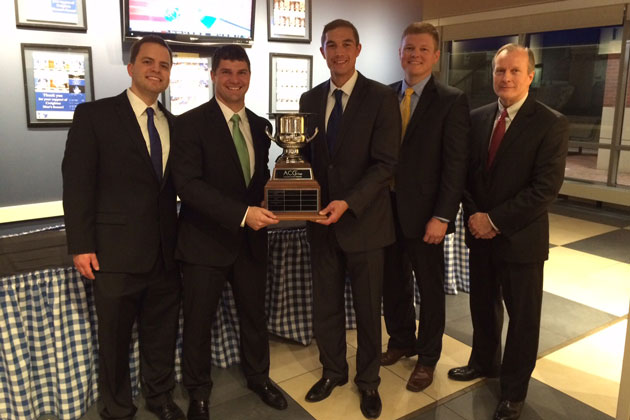 Omaha – Four UNO College of Business Administration graduate students now have a deeper understanding of mergers and acquisitions — and they have a trophy to prove it.
The team took first place in the ACG Cup, an intercollegiate case study competition, on April 16, competing against students from the University of Nebraska-Lincoln, Creighton University and Bellevue University.
Hosted by the Association for Corporate Growth Nebraska chapter, the competition gives students a taste of a real-world M&A process, including valuation, capital markets and risk analysis. Student teams were given a case study and had one week to conduct research and analysis, come up with a comprehensive solution and plan a presentation to a panel of high-level business professionals.
"The competition was very good this year," said David Volkman, finance professor. "We had a sharp team."
The team included three MBA students, Jeff Green, Andres Recinos and Florian Holzknecht, and one EMBA student, Ryan Sherwood. 
All students said they appreciated the chance to work as a team and apply their knowledge in such a practical way.
"The ability to apply learned techniques in a real-life business scenario is a stark contrast to most theory-based studies in other academic programs and institutions," Green said.
The students put in 30 to 40 hours of preparation on top of their other commitments the week before the competition.
"Nailing the presentation and being so well prepared was the best part," Sherwood said, crediting Dr. Volkman for his support.
"It's a win-win for the students," Volkman said. "The competition is an extension of what they do in class, and they get to rub elbows with professionals they may want to work for one day."
Volkman said the ACG Cup competition is in its fourth year and UNO has taken first or second place every year. In addition to the trophy, the winning team received a $4,000 check.