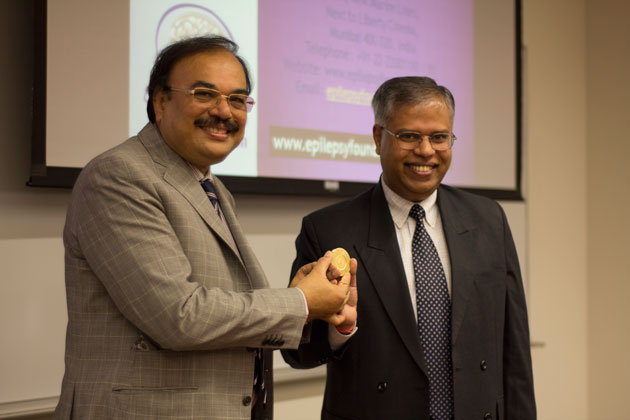 Omaha – Recognized as a living legend in India's medical community, Dr. Nirmal Surya visited with MBA marketing students and guests on Feb. 12 about his nonprofit, Epilepsy Foundation India.
Surya, a neurologist, shared his strategies for marketing promotion, communication and community outreach to create awareness about epilepsy in Maharashtra, India. His organization is dedicated to serving the millions of families in India affected by the disorder, offering free clinics across the region.
Marketing and Management Professor Phani Tej Adidam organized Surya's visit to campus.
"His exposition on the missionary purposes of enhancing and expanding treatment and care of epilepsy among the indigent population (bottom of the pyramid) was inspiring," Adidam wrote about Surya's presentation. "The students were honored to listen to him in person."
Surya received a plaque from the India Association of Nebraska and a UNO memento to commemorate the event.