CBA Professor Secures Nobel Prize Recipient's Trip to Beijing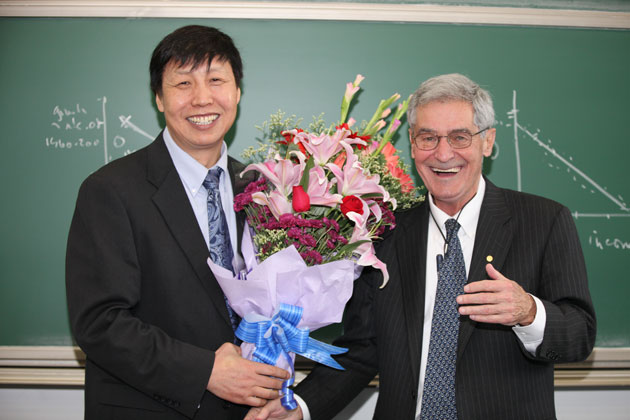 Omaha – CBA professor and China Studies Program Director Shuanglin Lin invited the 1995 Nobel Prize in Economics recipient, Robert E. Lucas Jr., to Beijing in November to talk economic growth at two signature events.
Lucas, economics professor at the University of Chicago, was a keynote speaker at the Nov. 7 Beijing Forum, an international event held annually to promote academic development and social progress. The next day, Lucas delivered a speech at Peking University titled "Economic Growth, Poverty and Inequality." Lin hosted the lecture and facilitated a question-and-answer session afterward.
As director of the China Center for Public Finance at Peking University, Lin was instrumental in securing Lucas to speak at both events.
Widely recognized as the most influential economist in the last 40 years, Lucas received the Nobel Prize in Economics "for having developed and applied the hypothesis of rational expectations, and thereby having transformed macroeconomic analysis and deepened our understanding of economic policy," according to the 1995 Nobel Prize press release. He also led the development of endogenous economic growth theory.
Contact Us
If you have a story idea, news tip or inquiry, please contact:
Lindsey Hasenjager, Director of Social Media and Promotions, College of Business Administration
lhasenjager@unomaha.edu • 402.554.3852