CBA Graduate Leads Largest Solar Project in the World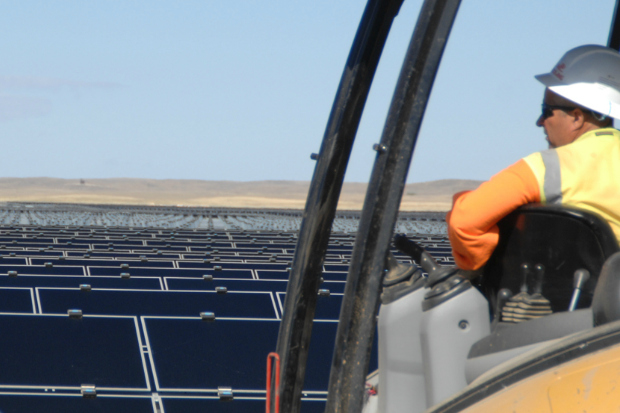 James "Don" Grafton, MBA 2007, is the project manager for MidAmerican Solar's 579 megawatt Solar Star project. MidAmerican Solar, a Berkshire Hathaway Company, is constructing the world's largest co-located solar project in California's Kern and Los Angeles counties. Construction began in early 2013 and is expected to be complete by year-end 2015.
The Solar Star job site contains 3,200 acres of land. Over 1.7 million solar panels will deliver enough clean energy to power 255,000 California homes.
Grafton uses a number of skills as project manager for the world's largest solar project. From construction management and coordination, to relationship building and compliance with regulatory agencies, to financial analysis, Don found his education at UNO meets the task.
Grafton said; "I continue to use the skills from the MBA program at the University of Nebraska Omaha on a daily basis. As a graduate of the UNO MBA and Civil Engineering programs, I have felt well equipped to be able to meet the needs of my employer, Mid-American Solar."
Grafton credits the MBA and Civil Engineering programs at University of Nebraska Omaha for opening the door to a career at MidAmerican Energy. Grafton said, "I would like to thank the MidAmerican team for hiring from a great program like UNO. I would like to thank the UNO professors for giving me the educational foundation and discipline necessary to succeed in today's world. MidAmerican Energy gave me the opportunity to succeed, a UNO education made that possible."
Contact Us
If you have a story idea, news tip or inquiry, please contact:
Lindsey Hasenjager, Director of Social Media and Promotions, College of Business Administration
lhasenjager@unomaha.edu • 402.554.3852