Advance your career with a Graduate Certificate in Supply Chain Management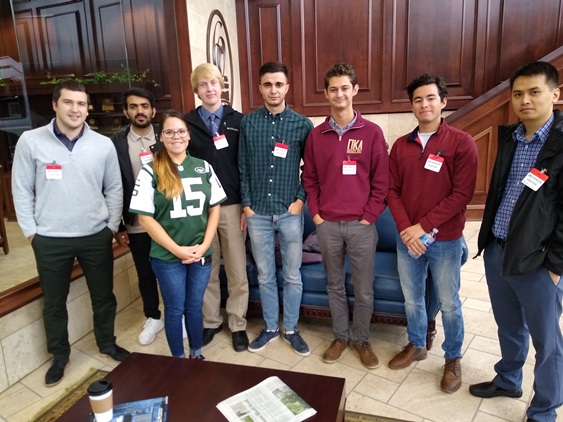 This certificate will expand your knowledge of both theory and practice in a fast growing field.
• Earn 12 credit hours
• No entrance exam required
• Online classes
• Up to nine (9) credit hours may be applied to the full MBA program
Focus on the supply chain functions within an organization:
Logistics - Lean Manufacturing and Lean Supply Chain Management
Procurement - Three pillars of Sustainable Supply Chains: People, Profit, and Planet
---
Program-Specific Requirements
•Applicants who have earned, or will have earned, a bachelor's or master's degree at a regionally accredited college or university in the U.S., or the equivalent of such degrees in another country, will be considered for admission to the Supply Chain Management Graduate Certificate program
•All applicants must have earned a minimum junior/senior GPA of 2.85.
•Applicants must submit a current resume
•Applicants must submit a personal essay
•Applicants are required to have a command of oral and written English. Those who do not hold a baccalaureate or other advanced degree from the U.S., OR a baccalaureate or other advanced degree from a pre-determined country on the waiver list, must meet the minimum language proficiency score requirement in order to be considered for admission
•The minimum TOEFL score required for this certificate program is 80 or 6.5 on the IELTS.
---
Students who have not had accounting or economics in undergraduate or graduate course work will be required to complete the following foundation courses (must be completed prior to enrolling in certificate courses and do not apply to program credit hours):
| | | | |
| --- | --- | --- | --- |
| Course Code | Course Title | Description | Credits |
| BSAD 8110 | Accounting and Financial Fundamentals | The course is designed to give incoming graduate students the foundation in accounting that is necessary for subsequent graduate courses. Emphasis is on introducing the students to as many accounting concepts as possible. | 3 |
| ECON 1200 | Introduction to the U.S. Economy | An introduction to U.S. economy and an investigation of U.S. and international economic problems and policies. | 3 |