Check out these three graduating seniors from the Management Concentration. Learn what inspired them to choose a concentration in Management and Leadership and Supply Chain Management.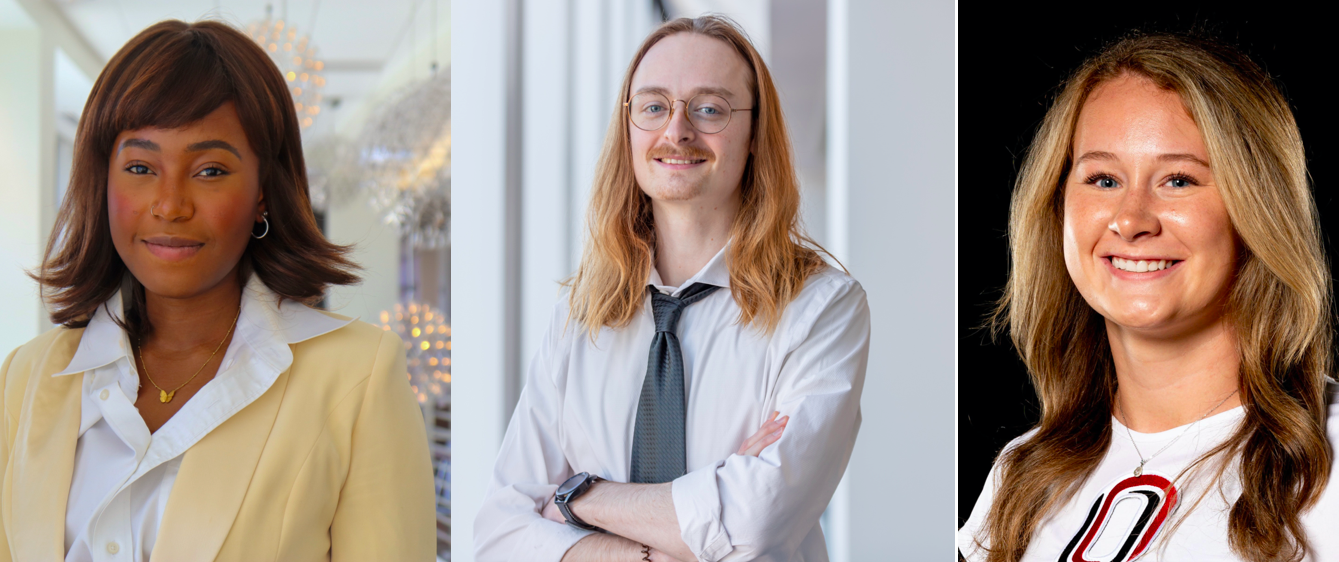 From left, Wendy Forlemu, Glenn Williams, and Marriah Buss
Q&A
Please share a little about yourself and your involvement on campus.
Glenn Williams: I started at UNO in 2018 as a Physics and Theoretical Mathematics student. Because of my background, I had to fund my own education by working. I attended classes in the morning and worked late into the night almost every day. For years I struggled with balancing the workload of these two heavy hitting STEM majors against the pecuniary requirements of being a student. The confluence of this lifestyle, the stresses of COVID, and personal struggles seriously burned me out. About two years ago, during the summer of 2021, I decided that I needed to make a change. After much internal debate and lots of research, I decided to switch to a bachelor's in business administration with a concentration in Supply Chain Management. I began the program in the Fall of 2021 and immediately knew I had made the right choice. For the first time in years, I felt energized and motivated by what I was learning.
Marriah Buss: Prior to coming to UNO I attended high school at Lincoln Lutheran in Lincoln, NE. I have been an active member of the school's volleyball team during my time in undergrad as well as having an internship with Omaha Athletics.
Why did you choose the Management and Leadership or Supply Chain Managment Concentration? What drew you towards it?
Wendy Forlemu: I didn't specifically pursue the path of management and leadership, it just happened. When I got to college, I knew that I wanted to study business, but I wasn't sure what field. So, I started off by taking a bunch of general education courses. Then I started exploring the fields of entrepreneurship, web development, data analytics and more. I eventually landed on Supply Chain and Logistics, which I really liked, and Economics, which I found interesting. I scheduled a meeting with my advisor to discuss my interests and find out if it was possible to complete them within the 2 years of college I had left. The meeting turned out to be very informative as I found that not only could I pursue a concentration in Supply chain, but I could also pursue one in Business analytics which would be a combination of economics and IT which I already had some credits for. I also found that I had gathered up a lot of management credits over the years and just needed a few more to get the concentration so I went for it. Now, my concentrations are in Management and Leadership, Supply Chain and Logistics, and Business Analytics, and I'm happy with my choices.
Marriah Buss: I chose the Management and Leadership Concentration because I wanted to be able to get a degree in Business but also learn how to become an effective leader and grow my communication skills. Through the Management and Leadership Concentration I have learned so much about who I am as a leader but also how to be an effective leader in different situations.
What skills have you developed from being a Management and Leadership or Supply Chain Managment Concentration?
Wendy Forlemu: I've developed several skills from studying a Management and Leadership concentration over the years. Some of those skills include Critical thinking, problem solving, communication, feedback, time-management, planning, delegation, negotiation, teamwork and motivation. Communication would be the most important skill of them all as it is the basis of all interactions. Knowing how and what to communicate is important. Whether you are communicating verbally, written, physically, and switching it up, when necessary, based on your audience is a hard, yet very important skill to acquire. If communication is mastered, it will determine how your message is received and how you are perceived as an individual.
Glenn Williams: I would say that the Supply Chain Management Concentration has given me a very practical understanding of business. We are taught to analyze everything from micro factors to macro effects to determine a path forward based on the constraints given. We are encouraged to strategize on how to overcome these forces and manipulate them to our advantage. We are taught a wide range of computational skills, from accounting to statistical analysis, which allows us to identify and utilize data in our solutions. This is a particularly important skill in Supply Chain Management, a field that is becoming increasingly data driven. After all, if you can't measure it, you can't manage it.
Marriah Buss: The main skill I have developed as a Management and Leadership Concentration is my presentation skills and how to express my thoughts and findings in a professional way. Through the Management and Leadership Concentration I not only have learned the inside of how business works but also how I should conduct myself in a business environment.
How do you feel the Management and Leadership Concentration or Supply Chain Managment has benefitted you and prepared you for your future?
Wendy Forlemu: The Management and leadership concentration has benefited me in several ways. I've used the skills at my internships, in team and individual settings. Management and leadership skills have also come in handy in my interviews. Employers want to know how well you work by yourself, with others, and if you're capable of leading a team. I've been asked to state examples of those instances, and I've had plenty to say thanks to what I've learned and experienced throughout my management and leadership courses.
Glenn Williams: The Supply Chain Management program has already enabled a great deal of success for me, professionally. I was able to secure a procurement internship with a very reputable company in February of 2022. I did my best to show them that I was a hard worker and to demonstrate the skills I had gained through the program. The company must have recognized this because in May of 2022 I was converted to a full time employee despite the fact that I wasn't going to graduate for another year. This motivated me immensely, and I continued to work hard, balancing school, work, and my personal life. While this was a struggle for me before, the fulfilment I get from these three areas of my life make it possible. In March of this year, I was offered another promotion, which I gladly accepted. I truly believe I would not be in the situation I'm in now were it not for that decision I made two years ago.
Marriah Buss: The Management and Leadership Concentration has prepared me for the future by making me a well-rounded business student. I believe that compared to other concentrations, management and leadership is a concentration that encourages their students to really develop their skills in every aspect of business. This allows me to go into life as a postgraduate with confidence that I can take on any role that is needed of me.
What is a memorable experience you have had during your time in the Management and Leadership or Supply Chain Managment Concentration?
Glenn Williams: One thing that really stands out about my time in the program is how willing instructors are to give students their time outside of class hours. I tend to ask a lot of questions, because it is really important to me to understand things both at a high level and a low level. I found that my professors were always very accommodating with my questions, often answering with significant detail, leading to great conversations. I think that this level of interaction really deepened my understanding not just of supply chain, but also of business as a whole.
Marriah Buss: One of the most memorable experiences during my time in the Management and Leadership Concentration was in my Business Communications class during the fall of 2022. Throughout the class we learned about effective business communications and used that information to do research on dinner etiquette. At the end of the semester, we were asked to present our findings at a luncheon with over 150 Omaha Business Professionals and Omaha Students. The experience allowed me to grow as a presenter and a researcher.