ISSUED: (Tuesday, February 19, 2019 14:00 PM)
SEVERE WEATHER ANNOUNCEMENTS
All evening classes for Feb. 19 (5 P.M. and after) have been canceled. All on-campus classes and activities for Feb. 20 have been canceled.
More Information
CLOSE

X
International Business Consulting Project
Since 1989, Executive MBA teams have conducted over 102 projects for more than 77 sponsors in 41 different countries.

---
Argentina | Austria | Australia | Belgium | Brazil | Canada | Chile | China |Costa Rica | Czech Republic | Denmark | Dominican Republic | France | Germany | Ghana | Hong Kong | Hungary | India | Italy | Laos | Lithuania | Malaysia | Mexico | Moldova | Nicaragua | Philippines | Poland | Romania | Russia | Saudi Arabia | Singapore | South Africa | Spain | Switzerland | Tanzania | Thailand | The Netherlands | United Kingdom | Vietnam
---
Project Types
Market Entry, Expansion or Diversification
Competitive Intelligence
Market Analysis and Assessment
Financial Feasibility
Manufacturing Site Analysis & Selection
Representation/Market Development
Questions about Due Diligence
Business Startup Issues
Confirm/Reject Pending Decisions
Other Business Consulting Needs
The Executive MBA program culminates with an international business-consulting project where students integrate business theory and practice taught in the classroom with real-world business objectives. This project provides a unique experience and is a highlight of the Executive MBA program.
Integrative Analysis Report
The first component of the international project is the Integrative Analysis report. Executive EMBA project teams conduct an integrative analysis focused on the viability of introducing a new or existing product/service into a foreign market. This foundational research includes strategic, situational and competitive analysis, key financial decisions, a complete review of marketing issues, and an examination of the legal environment.
Overseas Trip
The International Capstone Project includes up to two weeks of required overseas travel and research in the target market country. The cost of the overseas activity for the projects is included in the program tuition charge. The team-based projects may be sponsored by local, regional, or national business enterprises, or by government or private foundations.
Capstone Report
The program culminates with the Capstone Report, prepared by the teams, that delivers a focused, prescriptive market entry analysis including industry, company, and product specific international opportunities and challenges in the country of interest. It is based on 1200 person hours of sophisticated research and analysis, including 30-50 on-site interviews with industry, government, consumer organizations, trade assiciations and academic officials.
Project Sponsors
As sponsors, your company will receive high-quality, professional research and report at a fraction of the cost of business research performed by consulting organizations.
Previous Sponsors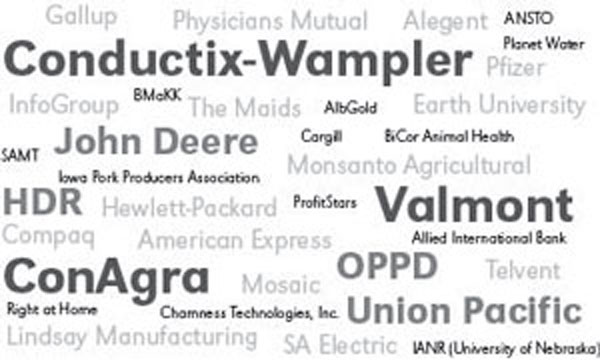 ---
Our Campus. Otherwise Known as Omaha.
The University of Nebraska does not discriminate based on race, color, ethnicity, national origin, sex, pregnancy, sexual orientation, gender identity, religion, disability, age, genetic information, veteran status, marital status, and/or political affiliation in its programs, activities, or employment. Learn more about Equity, Access and Diversity.
scroll to top of page