Wohar Announced as UNO's First Eminent Scholar
University Communications Press Release
The eminent scholar position within the UNO CBA was created in April with the intention of recognizing a tenured faculty member who has achieved national or international prominence for the quality and impact of their work.
"The College of Business Administration and our dean, Lou Pol, has always rewarded excellence and so this honor means a lot to me," Wohar said regarding his selection for the position.
Wohar has been a faculty member at UNO since 1988, coming to the campus from a previous job at the University of Miami after earning his Ph.D. in economics from the University of Illinois in 1985.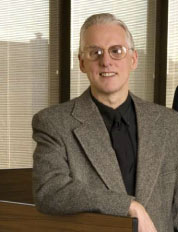 In his 25 years at UNO, Wohar has published more than 120 peer-reviewed articles in a number of highly ranked economic and finance journals and has also edited three scholarly books in the area of central banking, forecasting and nonlinear models. He also spent time in his early career working at the U.S. Department of Treasury.
"Sometimes I wonder if there are three identical Dr. Mark Wohars and they all work 24 hours a day, 7 days a week," said Lynn Harland, associate dean for the UNO CBA. "But in addition to his scholarly accomplishments, Mark also is blessed with a wonderful sense of humor. I am fortunate to have him as a colleague in the College of Business."
Over the past decade, Wohar has delivered lectures at premiere institutions across the United States and abroad, including Michigan State University, the Ohio State University, the University of Notre Dame, the University of California at San Diego, Cambridge University (UK), University of Nottingham (UK) and Oxford University (UK), among others.
Wohar recently returned from his first summer as a visiting faculty member of the United Kingdom's Loughborough University's finance department. Wohar will return for two additional summers in 2014 and 2015.
"It was really something nice to come home to because it is just such an honor to be recognized internationally with this appointment and then locally within the college as well," said Wohar. "This week has been the highpoint of my career."
A committee that consisted of Harland and two additional faculty members was commissioned to determine the college's first eminent scholar, which they elected to be Wohar.
"Mark has established himself as a distinguished and eminent scholar in Economics for the past two decades," said Phani Tej Adidam, professor of marketing and management as well as a selection committee member. "This recognition is a mere confirmation of a fact that was known to all of us in CBA. His research achievements and publication record is unmatched, and it seems fitting that we are recognizing him in this manner."
As part of his being named an eminent scholar for the UNO CBA, Wohar will teach four courses throughout the academic year and in addition to his normal salary, he will receive an additional $10,000 stipend and $2,000 for faculty development. Wohar will maintain his designation as eminent scholar for four years, at which time he can renew the designation.
"This honor isn't only important to me," Wohar added. "These things are necessary if we are going to continue to bring top scholars to the College of Business Administration over the next 10, 20, or 30 years because we need to reward hard work both in research and in teaching. This kind of thing really positions us as a college of the future."
For more information on the UNO CBA eminent scholar designation or to learn more about Wohar's scholarship, contact Charley Reed, UNO media relations coordinator, at 402.554.2129 or by email at unonews@unomaha.edu.
2013.08.06