RELI 3400: Religion and Film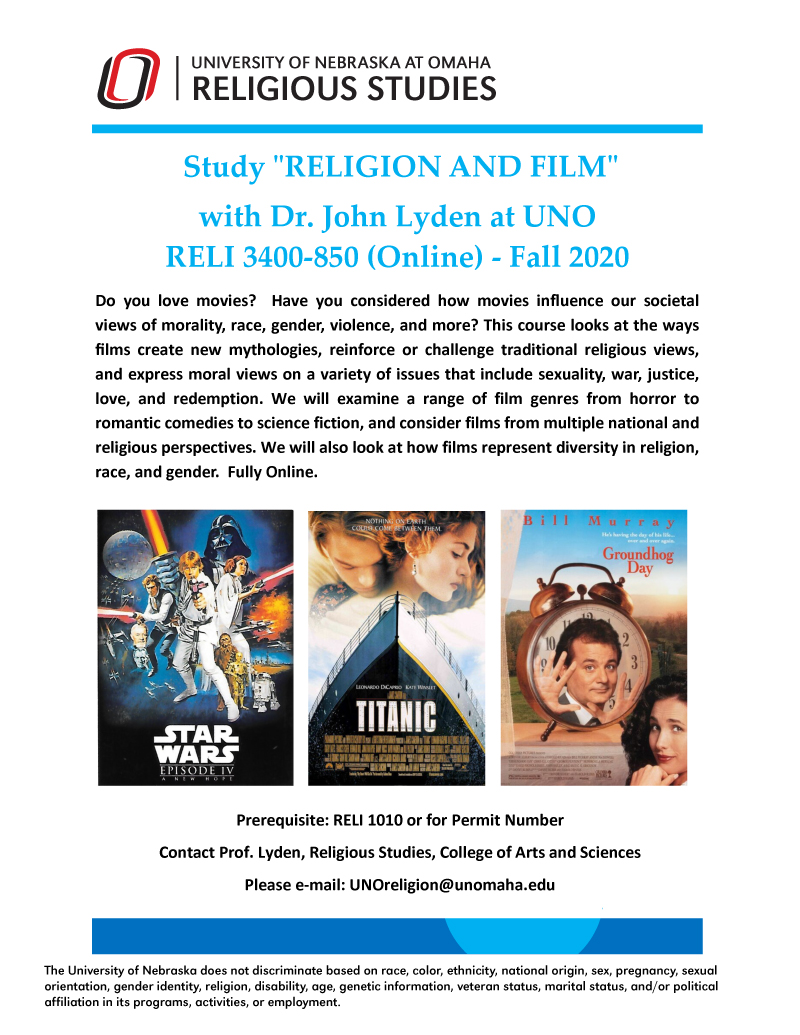 This course examines the relationship between religion and film. From the very beginning of filmmaking, religion or religious themes have been the subject of movies. And, religion is found in many different kinds of movies, from Hollywood blockbusters to art films, from documentaries to short films. This course explores the various ways in which movies treat religion or religious topics.
---
RELI 3500-003: Africana Literature of Freedom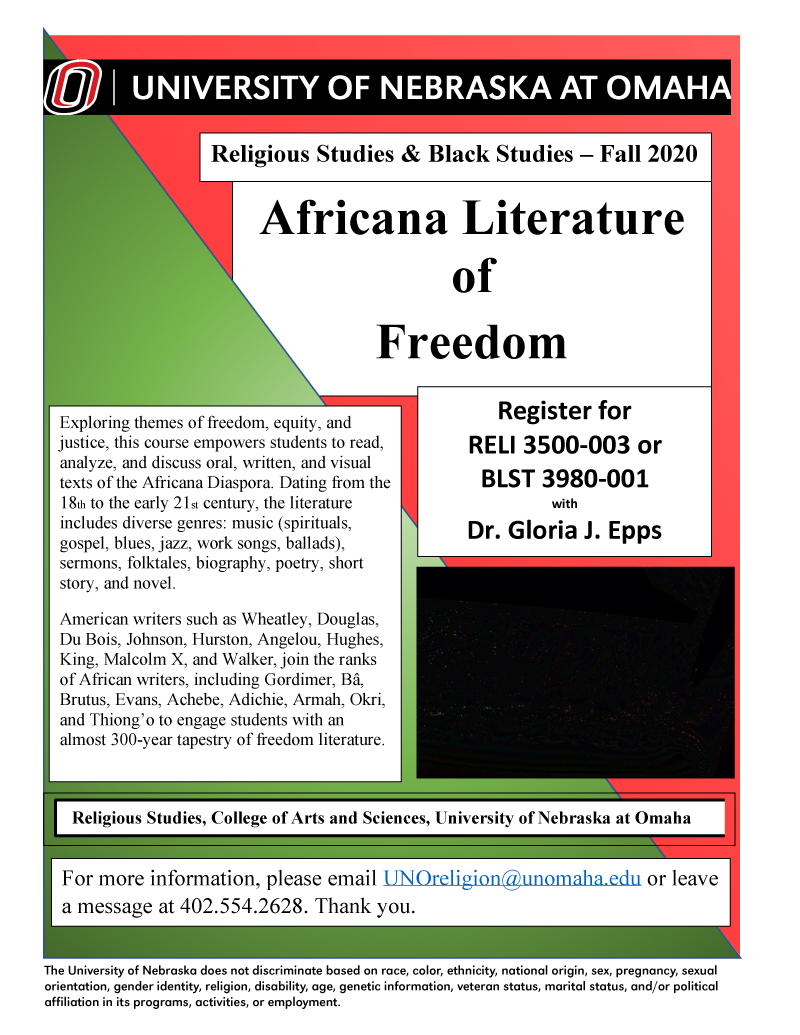 Exploring themes of freedom, equity, and justice, this course empowers students to read, analyze, and discuss oral, written, and visual texts of the African Diaspora. Dating from the 18th to the early 21st century, the literature includes diverse genres: music (spirituals, gospel, blues, jazz, work songs, ballads), sermons, folktales, biography, poetry, short story, and novel. 
American writers such as Wheatley, Douglas, Du Bois, Johnson, Hurston, Angelou, Hughes, King, Malcolm X, and Walker, join the ranks of African writers, inclduing Gordimer, Bâ, Brutus, Evans, Achebe, Adichie, Armah, Okri, and Thiong'o to engage students with an almost 300-year tapestry of freedom literature.
This course is crosslisted with BLST 3980-001.
| | | |
| --- | --- | --- |
| Instructor: Dr. Gloria Epps | TR 1:00—2:15 PM, Remote Learning | link to flyer |
---
RELI 3500-853: Women and Religion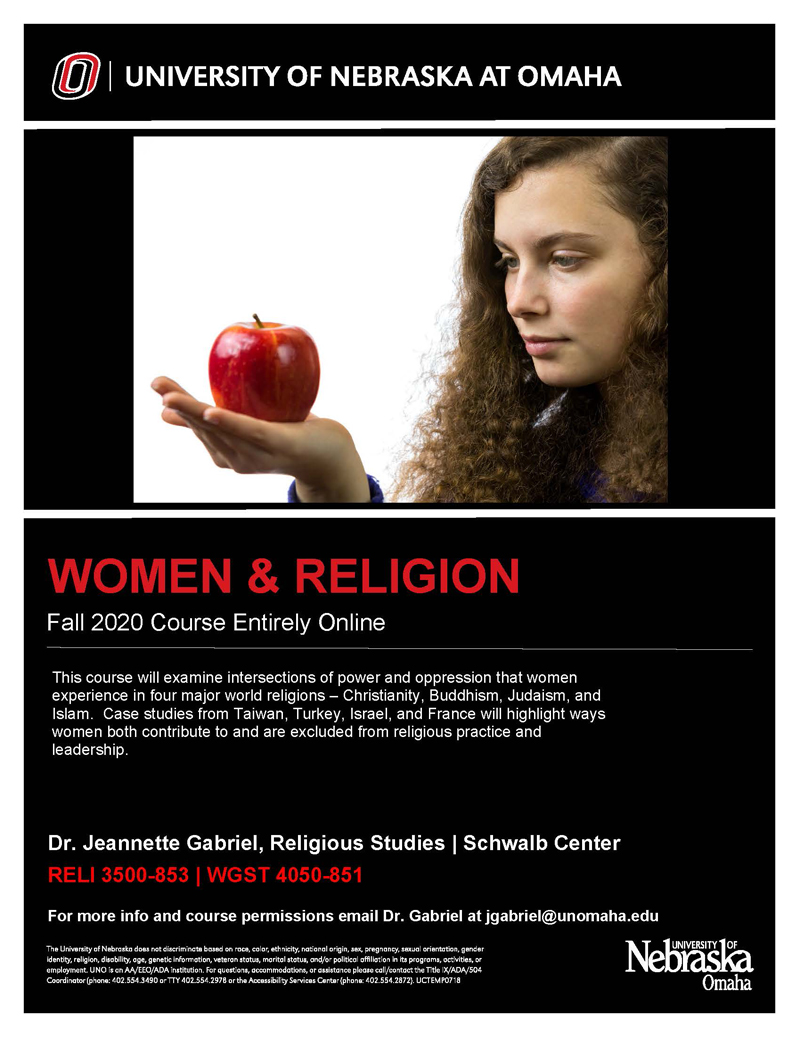 This course will examine intersections of power and oppression that women experience in four major world religions: Christianity, Buddhism, Judaism, and Islam. Case studies from Taiwan, Turkey, Israel, and France will highlight ways women both contribute to and are excluded from religious practice and leadership.
This course is crosslisted with WGST 4050-851.
---
RELI 3500-860/RELI 8900: Public Health, Religion, and Human Rights
The last four decades have made clear the connection between health and human rights. The rise of the novel coronavirus has emphasized connections between health and social issues like child care, workers' rights, immigration, imprisonment, and more. Many argue that a minimal standard of health and medical care is a human right. Religion is a crucial motivator for individuals and communities as they seek, refuse, or provide medical treatment and struggle with questions of human rights.
This course examines the fields of global public health; human rights studies; and religious and ethical thought. Particular issues include religious and cultural health practices; acceptance or refusal of health care for religious reasons; the global AIDS crisis, COVID-19, and other infectious disease concerns; disability studies; death and dying; women's health; and more. Students will design a proposed public health outreach project and will increase their academic and practical understanding of the topic.
This course is crosslisted with INST 4140.