The Philosophy of Brains, Minds, and Machines Symposium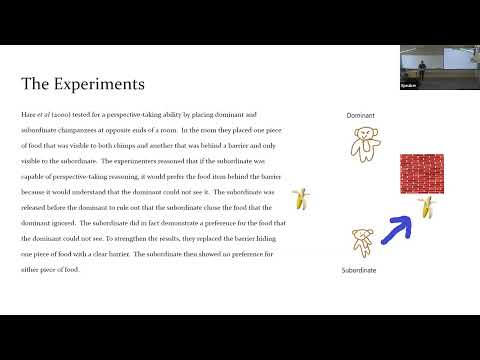 2:30-3:40 P.M. | "Modular Minds and Chimp Mentality" will be presented by Rafael Perez Graduate Student, Philosophy Department, University of Rochester.
Experimental results regarding the mental abilities of chimpanzees have prompted a long debate about how to interpret those results. Perez argues that the conceptualization of chimpanzee mindreading abilities in terms of domain-specific modules in an attempt to account for those experimental results undermines the claim that chimpanzees have those abilities. Given the informational encapsulation, inaccessibility to central processing, and other properties of domain-specific modular structures they posit, both versions of modularity — modest modularity or massive modularity — result in either providing ineligible modules for mindreading processes or losing all explanatory power to account for experiments showing that chimpanzees fail to extend their supposed mindreading to non-competitive contexts.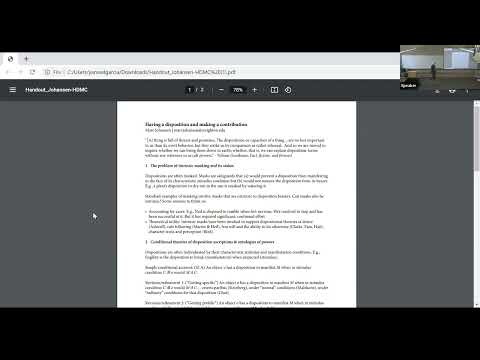 3:45 -5:00 P.M. | "Having a Disposition and Making a Contribution" will be presented by Marc Johansen Assistant Professor, Philosophy Department, Creighton University.
Dispositions are often masked. A houseplant that is disposed to dry out in the sun may remain lush and green because it is regularly watered. A fragile vase that is disposed to break may survive a sharp impact because it was packed carefully in bubble wrap. Masks prevent dispositions from manifesting in face of their characteristic stimulus conditions. They invite a question that any theory of dispositions must answer: What separates having a disposition that's been masked from not having that disposition at all?
This question is especially pressing for psychological dispositions. Philosophers have appealed to dispositions in order to account for beliefs and desires, character traits, perception, free will, and other aspects of mind. The success of many of these theories turns on the possibility that a psychological disposition can be masked by an intrinsic property of its bearer, perhaps even by another psychological disposition. And here lies a problem. Disposition ascriptions have traditionally been understood in terms of subjunctive conditionals. But the most promising conditional theories of dispositions don't reliably recognize dispositions in cases where they would have been intrinsically masked. This talk will explore a solution to that problem and introduce a theory of disposition ascriptions that accommodates intrinsic masking without appealing to conditionals.