Mr. Humble & Dr. Butcher: A Conversation with Author Brandy Schillace
Join us for a conversation with author Brandy Shillace; March 24.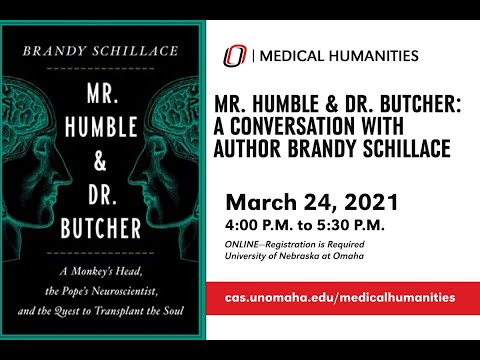 Join author Brandy Schillace for a reading and discussion of her book "Mr. Humble & Dr. Butcher: A Monkey's Head, the Pope's Neuroscientist, and the Quest to Transplant the Soul."

This discussion was moderated by Dr. Allison Schlosser, an Assistant Professor of Sociology & Anthropology and member of UNO's Medical Humanities Faculty.
In addition to the public talk, Brandy Schillace will meet with faculty and administrators on Wednesday, March 24, from 1:00-2:00 PM and with students who are enrolled in the Medical Humanities program or interested in the MH major or minor on Thursday, March 25, from 11:30 AM-12:30 PM. For more information, contact Steve Langan at slangan@unomaha.edu and 402.659.6343.
Described as "one of the most fascinating and largely forgotten sagas in the history of medicine" (Luke Dittrich, New York Times bestselling author of Patient H.M.), Mr. Humble & Dr. Butcher tells the story of the world's first successful primate head transplant and how this endeavor not only shaped, but inaugurated, technologies that save lives today. In this conversation, Dr. Schillace will share excerpts from this engrossing tale that begs the questions: If you make a brain to live outside a body, what becomes of the self? Can you transplant the human soul?

Schillace's work has been reviewed in Science Magazine, the New York Times, the Boston Globe, New Yorker, and Wall Street Journal. She is a 2018 winner of the Arthur P. Sloan Science Foundation award and has appeared on Travel Channel's Mysteries at the Museum and NPR's Here and Now. She has bylines at Scientific American, Globe and Mail, HuffPo, SLATE, and Crime Reads. Dr. Schillace lives in Ohio and, in addition to her work as an author, is editor-in-chief of BMJ's Medical Humanities Journal.

"A true-life story even more dark and twisted than the X-Files case it inspired. Brandy Schillace captures the brilliant, disturbing, and fascinating character of Dr. Robert White, determined head transplanter. In the process, she not only exposes scenes of medical experimentation straight out of a horror film but takes us on a socio-political journey through the 20th century, raising questions along the way about life, death, and the nature of the soul itself. Remarkable."

— FRANK SPOTNITZ, EMMY AWARD-WINNING WRITER & PRODUCER OF THE X-FILES

About the moderator: Dr. Allison Schlosser is an Assistant Professor of Sociology & Anthropology and member of UNO's Medical Humanities Faculty. Her research and teaching focuses on cultural studies of "addiction," lived experiences of problematic drug use and its treatment, and bioethics in relation to access to and quality of healthcare among underserved populations.

Ted Kooser Center for Health Humanities: The Ted Kooser Center for Health Humanities, an endeavor selected as a UNO Big Idea and launched in late 2019, grows faculty and student research and creative activities in an effort to form a nationally-recognized center of excellence in health humanities that builds on partnerships across UNMC and the Omaha metro area.
If you have a story idea, news tip, or inquiry please contact:
Courtni Kopietz | ckopietz@unomaha.edu