Fair Enough? Measuring the Fairness of Healthcare Triage Policies
This event was presented virtually by Ben Schwan, Ph.D. March 25.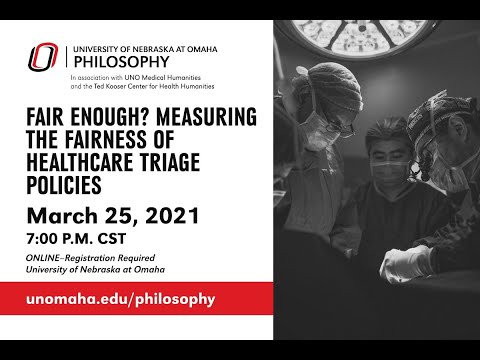 Speakers: Ben Schwan, Ph.D., clinical ethicist for the MetroHealth System in Cleveland, OH and faculty in the department of bioethics in the School of Medicine at Case Western Reserve University.

Moderator: Robert Steel, Ph.D., assistant professor in the Department of Philosophy at UNO and member of the UNO Medical Humanities Faculty.

When healthcare resources are scarce, governments, hospitals, and providers are faced with the unenviable task of determining who should receive care at the expense of whom. In such circumstances, the conventional view is (roughly) that resources should be allocated in a way that maximizes the number of lives saved. But critics have worried that such an approach is problematically unfair--since the burden of disease disproportionately falls on members of marginalized groups, and since comorbidities almost always lower a patient's chance of survival, triage policies that maximize the number of lives saved often have the effect of allocating scarce resources away from members of marginalized groups and toward members of advantaged groups.


This is, of course, bad. But whether and how it should be addressed depends on exactly why it's bad. In this talk, I'll evaluate life-maximizing triage policies using various fairness measures—developed by philosophers and computer scientists to aid algorithmic decision making—in an attempt to shed light on exactly why such policies are unfair. The hope is that with a better understanding of the fairness considerations at stake, we can develop triage policies that are more sensitive to these considerations; or, failing that, offer a more explicit rationale for why such considerations must be set aside for the sake of saving lives.
All events in this series:
| Date | Topic | Link to Video |
| --- | --- | --- |
| Jan. 28, 2021 | The Ethics of Enrolling Minors in COVID-19 Vaccine Trials | Watch Now |
| Feb. 25, 2021 | Should Health Professions Students Receive Priority Access to the COVID-19 Vaccine? | Watch Now |
| March 25, 2021 | Fair Enough? Measuring the Fairness of Healthcare Triage Policies | Watch Now |
| April 29, 2021 | Putting Parents on a Pedestal: Testimony, Admiration, and Reproductive Decision-Making | Watch Now |
---
The Ted Kooser Center for Health Humanities, an endeavor selected as a UNO Big Idea and launched in late 2019, grows faculty and student research and creative activities in an effort to form a nationally-recognized center of excellence in health humanities that builds on partnerships across UNMC and the Omaha metro area.