Remote Learning: College of Arts and Sciences
During this time of remote learning, we want to ensure that you have the information you need to be successful. Use this page as a resource for contacts, remote services offered and other information.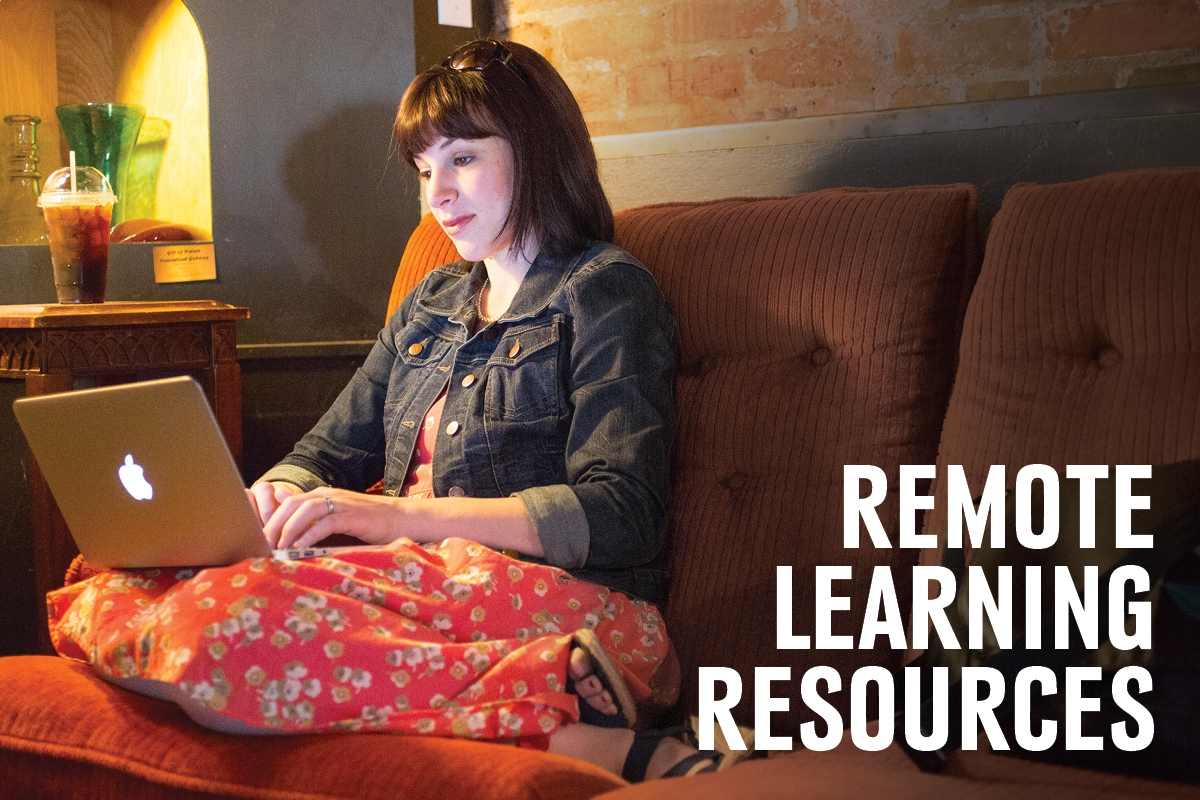 Welcome,
We are committed to communicating with you, and we ask that you have patience with us while we are all in remote learning and teaching mode.
We know this is an unusual situation. No one that I know has ever experienced anything like this. All I ask is that you focus on your work, do your very best, and remember that we'll all work together to overcome this challenge.
David Boocker, Dean
College of Arts and Sciences
dboocker@unomaha.edu

---
Contacting Your Professor
We suggest emailing your professor first, which can be found on your class's Canvas site. Department and Program contacts can be found below if you do not have the professor's email address.
You will need this information when you call:
NUID
Your email address
Your phone number(s)
Remote Services Available
Department and Program Contacts
| Name | Position  | Email | Phone |
| --- | --- | --- | --- |
| Dean's Office Main Line | Dean's Office | | 402.554.2338 |
| Kayla Sheehan | Administrative Associate | kaylasheehan@unomaha.edu | 402.554.2338 |
| David Boocker | Dean's Office, Dean | dboocker@unomaha.edu | 402.554.2338 |
| Randy Adkins | Dean's Office, Associate Dean | radkins@unomaha.edu | 402.554.3642 |
| Angel Garcia | Dean's Office, Assistant Dean of Business and Financial Affairs | agarcia38@unomaha.edu | 402.554.4959 |
| Gayle Peterson | Dean's Office, Business Manager | gpeterso@unomaha.edu | 402.554.2339 |
| Joseph Price | Dean's Office, Assistant Dean of Administration | jprice@unomaha.edu | 402.554.2545 |
| Courtni Kopietz | Dean's Office, Communications Specialist | ckopietz@unomaha.edu | 402.554.3292 |
| Gary Meyer | Dean's Office, Director of IT | glmeyer@unomaha.edu | 402.554.3940 |
| Seth Korber | Dean's Office, Systems Administrator | skorber@unomaha.edu | 402.554.2074 |
| Rachel Tomcak | Dean's Advising Office, Director | rtomcak@unomaha.edu | 402.554.3581 |
| Alana White | Dean's Advising Office, Lead Advisor | alanawhite@unomaha.edu | 402.554.2351 |
| Sean Treacy | Dean's Advising Office, Advisor | steacy@unomaha.edu | 402.554.3059 |
| Jeannine Nyangira | Dean's Advising Office, Advisor | jnyangira@unomaha.edu | 402.554.5968 |
| Michelle Quick | Dean's Advising Office, Advisor | mquick@unomaha.edu | 402.554.4824 |
| Amy Skolaski | Dean's Office Advising Office Assoc. | askolaski@unomaha.edu | 402.554.3293 |
| Melissa Carnahan | Dean's Office Advising Office Assoc. | mcarnahan@unomaha.edu | 402.554.2458 |
| LaReesa Wolfenbarger | Biology Department Chair | lwolfenbarger@unomaha.edu | 402.554.2405 |
| Lynda Williams | Biology Department Office Assoc. | lvwilliams@unomaha.edu | 402.554.2641 |
| Nicole Hernandez | Biology Department Office Assoc. | nicolehernandez@unomaha.edu | 402.554.2641 |
| Chris Scott | Biology Advisor | ctscott@unomaha.edu | 402.554.2641 |
| Lacey LeGrand | Biology Advisor | llegrand@unomaha.edu | 402.554.2641 |
| Cynthia Robinson | Black Studies Department Chair | clrobinson@unomaha.edu | 402.554.2540 |
| Ja Mia Collins | Black Studies Office Assoc. | jcollins2@unomaha.edu | 402.554.2412 |
| William Tapprich | Chemistry Interim Department Chair | wtapprich@unomaha.edu | 402.554.3380 |
| Janine Brooks | Chemistry Office Assoc. | jmbrooks@unomaha.edu | 402.554.2651 |
| Ellie Miller | Chemistry Stock Room Manager | elliemiller@unomaha.edu | 402.554.2652 |
| English Department Main Line | English Department | | 402.554.2635 |
| Tracy Bridgeford | English Department Chair | tbridgeford@unomaha.edu | 402.554.3312 |
| Dustin Pendley | English Department Coordinator | dpendley@unomaha.edu | 402.554.3476 |
| Jill Sutton | English Department Office Assoc. | jmsutton@unomaha.edu | 402.554.3636 |
| John McCarty | Environmental Studies Chair | jmccarty@unomaha.edu | 402.554.2849 |
| Tammie Kennedy | Exploratory Studies Director | tmkennedy@unomaha.edu | 402.554.2545 |
| Steven Torres | Foreign Languages Department Chair | sltorres@unomaha.edu | 402.554.3749 |
| Marie Lee | Foreign Languages Office Assoc. | mglee@unomaha.edu | 402.554.4841 |
| Christina Dando | Geography/Geology Department Chair | cdando@unomaha.edu | 402.554.2663 |
| Brenda Todd | Geography/Geology Office Assoc. | btodd@unomaha.edu | 402.554.2662 |
| Angela Brown | Goldstein Center/ Fried Academy | angelambrown@unomaha.edu | 402.554.4067 |
| John Grigg | History Department Chair | jgrigg@unomaha.edu | 402.554.2593 |
| Rachel Alexander | History Department Office Assoc. | ralexander14@unomaha.edu | 402.554.2593 |
| Patrick McNamara | International Studies Chair | pmcnamara@unomaha.edu | 402.554.2389 |
| Vickie Stone | International Studies Advisor | vicstone@unomaha.edu | 402.554.2966 |
| Jim A Rogers | Mathematics Department Chair | jrogers@unomaha.edu | 402.554.3110 |
| Mary Dennison | Math Lab Director | mdennison@unomaha.edu | 402.554.3522 |
| Cindy Teller | Mathematics Office Assoc. | cteller@unomaha.edu | 402.554.2443 |
| Heather Larson-Frederick | Mathematics Office Coordinator | hlarsonfrederick@unomaha.edu | 402.554.6325 |
| Steve Langan | Medical Humanities Director | slangan@unomaha.edu | 402.659.6343 |
| Brady DeSanti | Native American Studies Chair | bdesanti@unomaha.edu | 402.554.2628 |
| Gary Saul | Native American Studies Office Assoc. | gsaul@unomaha.edu | 402.554.2829 |
| Suzanne Sollars | Neuroscience Director | ssollars@unomaha.edu | 402.554.2592 |
| Cristian Dona | OLLAS Director | cdona@unomaha.edu | 402.554.3835 |
| Yuriko Doku | OLLAS Assistant Director | ydoku@unomaha.edu | 402.554.3835 |
| William Melanson | Philosophy Department Chair | wmelanson@unomaha.edu | 402.554.2628 |
| Staci Geis | Philosophy/Religious Studies Office Assoc. | sgeis@unomaha.edu | 402.554.2628 |
| Renat Sabirianov | Physics Department Chair | rsabirianov@unomaha.edu | 402.554.3720 |
| Connie O'Brien | Director, Aim for the Stars and Manager, Science Store | connieobrien@unomaha.edu | 402.554.4999 |
| Jody Neathery-Castro | Political Science Department Chair | jneathery@unomaha.edu | 402.554.3611 |
| Kristin Broyhill | Political Science Grad Coordinator | kbroyhill@unomaha.edu | 402.554.2624 |
| Gloria Marchio | Political Science Office Assoc. | gmarchio@unomaha.edu | 402.554.2624 |
| Brigette Ryalls | Psychology Department Chair | bryalls@unomaha.edu | 402.554.2331 |
| Angie Centarri | Psychology Advisor | angelacentarri@unomaha.edu | 402.554.2517 |
| Amy Kica | Psychology Administrative Coordinator | aakica@unomaha.edu | 402.554.2581 |
| Marian McDonald | Psychology Dept. Office Assoc. | mmcdonald@unomaha.edu | 402.554.2592 |
| Paul Williams | Religious Studies Department Chair | pwilliams@unomaha.edu | 402.554.6016 |
| Kevin Barton | Science Technology Specialist | kbarton@unomaha.edu | 402.554.2512 |
| Daniel Hawkins | Sociology/Anthropology Department Chair | dhawkins@unomaha.edu | 402.554.4935 |
| Kendall Panas | Sociology/Anthropology Office Assoc. | kpanas@unomaha.edu | 402.554.2626 |
| Karen Falconer Al-Hindi | Women & Gender Studies Chair | kfalconeralhindi@unomaha.edu | 402.554.3834 |
If you have a story idea, news tip, or inquiry please contact:
Courtni Kopietz | ckopietz@unomaha.edu