Blansett publishes biography of Richard Oakes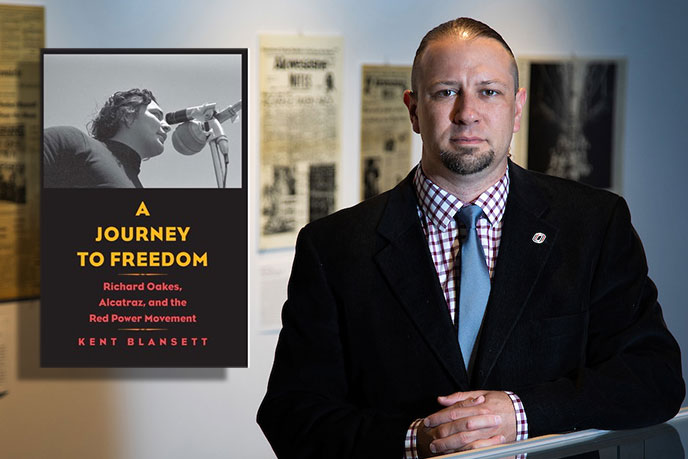 Kent Blansett's first book, A Journey to Freedom: Richard Oakes, Alcatraz, and the Red Power Movement was published with Yale University Press in 2018 and appears in their Henry Roe Cloud Series on American Indians and Modernity. This is the first biography of Akwesasne Mohawk activist Richard Oakes, who played a major role in the famed 1969 Alcatraz Takeover by the organization Indians of All Tribes. For his book, Blansett collected research material from over twenty University and Tribal libraries from New York to California as well as numerous oral interviews with key Tribal leaders. His research has received wide publication appearing in several edited volumes, academic journals, and online with BlogWest and Indian Country Today.
Earlier this year, Blansett curated a gallery focused on the Red Power Movement and occupation of Alcatraz, featuring dozens of peices from this own personal collection and rare, donated items including video, newspaper clippings, comic books and more. The exhibit was also reported on by the Omaha World-Herald.
Kent Blansett is an associate professor of history at UNO, and a descendant of five Tribes: Cherokee, Creek, Choctaw, Shawnee, and Potawatomi through his Blanket, Panther, and Smith family lines. He is proud of his Ozark Mountain heritage, having grown up in what he identifies as the "other four corners" area of Missouri, Oklahoma, Arkansas, and Kansas
If you have a story idea, news tip, or inquiry please contact:
Courtni Kopietz | ckopietz@unomaha.edu