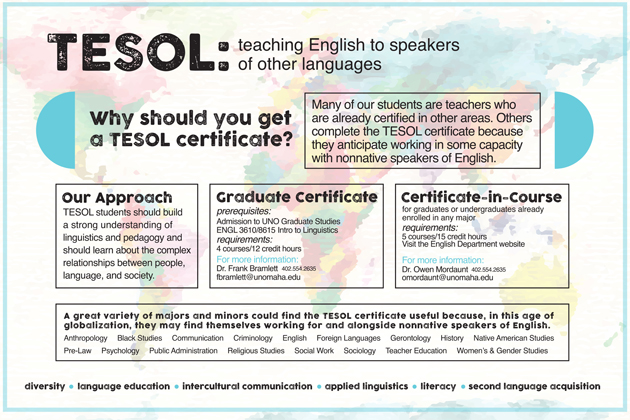 Language is universal. No matter what field you are going into, the ability to communicate through language barriers is a skill everyone can use. That is what the TESOL (Teaching English to Speakers of Other Languages) program in the College of Arts and Sciences is all about.
Most TESOL students are in the College of Arts and Sciences, but Professor Frank Bramlett is changing that. There are two certificates available. One is through Graduate Studies, and the other is through the College of Arts and Sciences. Here are four reasons you should consider getting one:
1. It's flexible. "That is the beauty of the certificate," said Bramlett. "Most students are already enrolled in other programs so this is just something added on, and it is only a few courses." A slight shift in your course selection can get you the certificate by the time you graduate.
2. It's a must for teachers. If you want to teach at any level, a TESOL certificate can boost your resume instantly. This is especially true if you have aspirations to teach overseas. "It is getting more and more difficult to go abroad and teach English," says Bramlett. "Many countries expect you to have a bachelor's degree in English, TESOL, or applied linguistics. Some places in Europe expect a master's. So a certificate in TESOL is the start of something." School districts with high immigrant populations need their teachers to be able to communicate across language borders, too.
3. It's useful for social work and public administration fields. Whether communicating with a refugee, someone with a medical condition, or person with an issue regarding housing, social workers that have experience with intercultural communication can benefit from a TESOL certificate.
4. It's easy to join. Bramlett says that the program is mostly geared toward teachers, but people from all backgrounds should take a look. There are a few prerequisites that are required, but do not let that stop you. Students from every college on campus have gotten certificates. You do not have to switch your major or change colleges.
"Talking across language borders can be tricky," said Bramlett. Fortunately, TESOL helps with that.
Many students have gotten certificates and obtained jobs not only in Omaha, but also abroad. Some have gone on to Ph.D. programs in applied linguistics and law school.
Bottom line is this: take a close look at what a TESOL certificate can do for you. It can benefit you in ways that you might not be aware of, and you do not have to change your major to get it.  
If you have a story idea, news tip, or inquiry please contact:
Courtni Kopietz | ckopietz@unomaha.edu