Digging history, traveling the world
2015/05/30
contact: Nolan Searl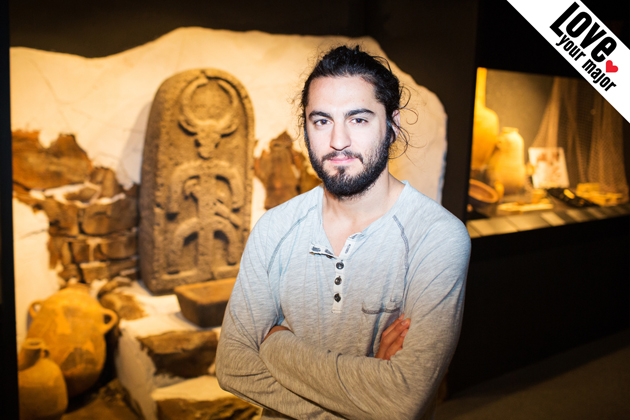 Shane Cavlovic's college career started with struggles that students across the country are very familiar with. He was taking courses that he had little interest in, and he began to wonder if he had made the right decision. Now he is traveling all over the world doing something that he loves, and things could not be going any better.
Cavlovic, a medieval history and archaeology major, came to UNO with intentions of becoming an engineer. "It's kind of what I was told to do," he said. "You can get a good job, make a lot of money, and it sounds great when you are 18."
The light switched on after a Crusades course with Dr. Martina Saltamacchia during the fall of his sophomore year. "I finally started to think about what I really wanted to do," he said. "I've always been passionate about history, so I just ran with it and it has been phenomenal. This is the farthest thing from what I thought I would be doing."
Cavlovic put a major together that perfectly fit his interests. "I wanted to take the history major, which is mainly research-based, and apply a little more hands-on research methodologies to it by fusing it with archaeology."
This summer he is going to Ireland to do some research while excavating some medieval ruins. He has already been to three different sites in Israel, including a German Teutonic Knights castle in western Galilee.
After Cavlovic graduates this spring he plans to go straight to graduate school to get his Ph.D in history and archaeology. Once that is over he hopes to be a professor and continue working in the archaeology field.
The idea of completely switching majors was intimidating to him at first, but he said those thoughts were gone once he started taking classes that he loved. "It was so exciting," he said. "It was almost like a re-birth."
Cavlovic is already taking classes for Greek and Latin, and he is going to take courses in Arabic next semester. "I can do all of this at UNO," he said. "If you are going down a path where you know what you want to do, all sorts of opportunities with present themselves to you."
If Shane could give the 18-year-old version of himself some advice, he would say to not be afraid to take a leap of faith. "Don't make the easy choice, or one where you would become complacent," he said. "Follow your heart, and I know that sounds corny, but do what feels right to you."
If you have a story idea, news tip, or inquiry please contact:
Joan Bell | jbell@unomaha.edu
Our Campus. Otherwise Known as Omaha.
The University of Nebraska does not discriminate based on race, color, ethnicity, national origin, sex, pregnancy, sexual orientation, gender identity, religion, disability, age, genetic information, veteran status, marital status, and/or political affiliation in its programs, activities, or employment. Learn more about Equity, Access and Diversity.
scroll to top of page