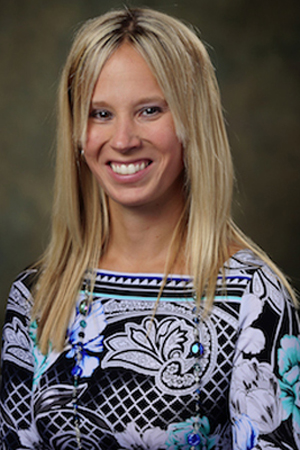 Angie Hodge, PhD
Dr. George Haddix Community Chair of Mathematics
Associate Professor
402.554.3437
---
email:
office:
personal website:
area of focus:
Additional Information
---
Spring 2018 Office Hours
On Leave.
Education
Ph.D., Mathematics Education, Purdue University, 2007
M.S., Mathematics, Purdue University, 2004
B.S., Mathematics, Minnesota State University Moorhead, 2002
Research Interests
Mathematics Education
Selected Publications
Ernst, D., Hodge, A., Schultz, A. (2015). Enhancing Proof Writing via Cross-Institutional Peer Review. PRIMUS: Problems, Resources, and Issues in Mathematics Undergraduate Studies 25(2), 121-130.
Hodge, A., Love, B., Grandgenett, N., & Swift, A. (2014). A Flipped Classroom Approach: Benefits and Challenges of Flipping the Learning of Procedural Knowledge.  In P. Lowenthal, C. York, & J. Richardson (Eds.), Online learning: Common misconceptions, benefits, and challenges (49-60). Hauppague, NY: Nova Science Publishers.
White, D, Donaldson, B, Hodge, A., Ruff, A. (2013). Examining the effects of Math Teachers' Circles on teachers' mathematical knowledge for teaching. International Journal for Mathematics Teaching and Learning, 1-28.
Love, B., Hodge, A., Grandgenett, N., & Swift, A. (2013). Student learning and perceptions in a flipped linear algebra course. International Journal of Mathematical Education in Science and Technology, 1-8.
Duffield, S., Wegeman, J., Hodge, A. (2013). Examining how professional development impacted teachers and students of U.S. history courses. Journal of Social Studies Research, 37(2), 85-96.
Young, B., Hodge, A., Edwards, C., & Leising, J,  (2012). Learning mathematics in high school courses beyond mathematics: Combating the need for post-secondary remediation in mathematics. Career and Technical Education Research, 37(1), 21-33.
Weber, C. & Hodge, A. (2012). Navigating the gendered math path understanding women's experiences in university mathematics classes, International Review of Qualitative Research, 5(2), 153-174.