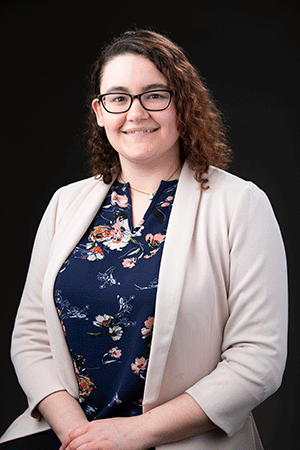 Emily Cook
Advisor/Academic Coordinator
402.554.3841 — DSC 204
---
Additional Information
---
Areas of Focus
Full-Time Undergraduate Advising: Mathematics: All Students, Chemistry: Education Concentration, and Physics: Education Concentration.
Freshmen Undergraduate Advising: Chemistry, Physics, Geology, Geography, Pre-Med, and Pre-Dentistry. Students in these majors (except for those with the Education Concentration) will transition to advising with a Faculty member in their sophomore year!
Biography
My job is to be the first point of contact for students. I am here to help you define your academic goals, decide your major or minor, pick your classes, and find other resources on campus for whatever else you may need.
Got questions about your major? Unsure about dropping a class? Want to plan out your future semesters? Feel free to drop by DSC 204 whenever I am on campus - my door is open and I am happy to chat! You can also call, email, or join my Zoom room (uno.math.advisor).
Fall 2021 availability: I will be available on campus from 8:00am-5:00pm Tuesday, Wednesday, and Thursday. I will be available remotely from 8:00am-5:00pm Monday and Friday.
Scheduled appointments available through MavTRACK - on campus or remote!