John Trudell Distinguished Lecture in Native American Studies
John Trudell Distinguished Lecture in Native American Studies
The University of Nebraska at Omaha wishes to recognize the significance of Native American and Indigenous culture to the history of the state of Nebraska and the larger Great Plains region. In order to recognize this rich and complex past, UNO's Native American Studies faculty launched the "Trudell Lecture" as a new annual lecture series in 2016. Through it, we plan to feature the work (research, creative, and otherwise) of indigenous scholarship, performance, and art. This event extends beyond one single person or organization; it will be a platform in which to recognize, celebrate, and reveal the dynamic work emerging from this field in the 21st Century.
Thanks to Faye Brown for permission of the event cover photo. Photo credit: Wonder Knack
As the "John Trudell Lecture", we wish to honor the legacy and memory of a modern American Indian leader. John Trudell was a citizen of the Santee Nation. He was born in Omaha, Nebraska, on February 15, 1946 and passed away on December 8, 2015. Trudell's connection to Nebraska and his loyal support of the arts and humanities throughout his life (author, poet, musician, actor, and political activist) made his legacy one we would look forward to celebrating each year. This idea is the heart of UNO's new lecture series. It seeks to honor the vision brought forth by a leader who--through his words and actions--exemplified the struggles, challenges, and successes of indigenous peoples and Nations throughout North America. 
March 1, 2019 will be a very important moment for the series, as members of the Trudell family will join us at the lecture to officially honor and dedicate the event to John Trudell's legacy.
For more information on John Trudell's life, please visit the John Trudell Archives.
About the 2019 Lecture: Walter R. Echo-Hawk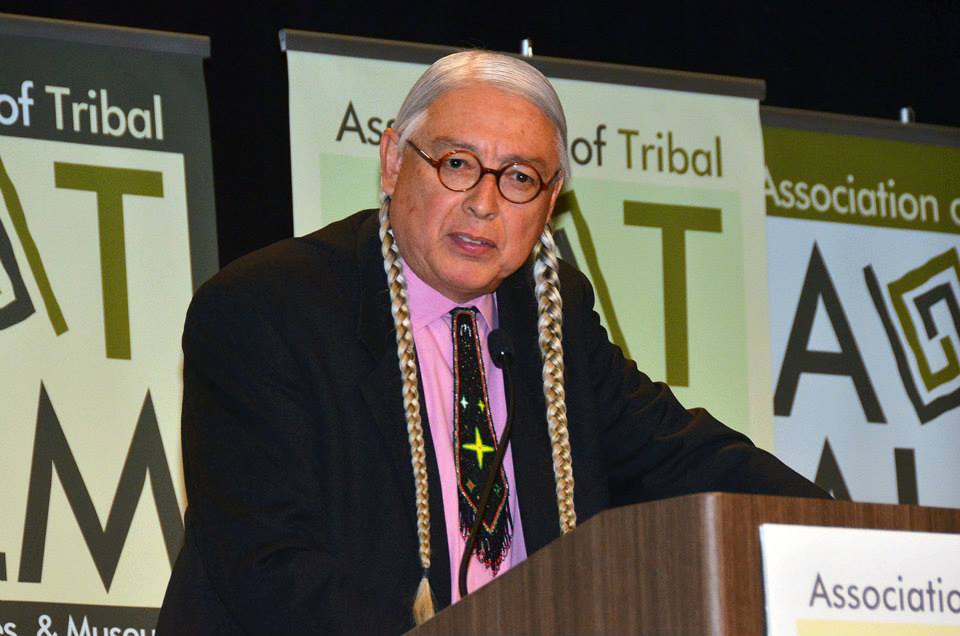 Our fourth Trudell lecturer is Walter R. Echo-Hawk, a Pawnee Nation citizen who has served throughout Indian Country as an attorney, Tribal judge, author, activist, historian, and law professor. Since 1973, he has represented Native Nations on critical legal issues, such as treaty rights, water rights, religious freedom, prisoner rights, and repatriation rights with the Native American Rights Fund. His career spans the pivotal years when Indian Tribes reclaimed their land, sovereignty, and pride in a stride toward freedom. He was instrumental in the passage of landmark federal legislation including the Native American Graves Protection and Repatriation Act (1990) and amendments to the Native American Religious Freedom Act (1994). He is the author of many articles and books on the subject of Indigenous rights including: Sea of Grass: A Family Tale from the American Heartland (2019); In The Light of Justice: The Rise of Human Rights in Native America and the UN Declaration on the Rights of Indigenous Peoples (2013); In The Courts of the Conqueror: The 10 Worst Indian Law Cases Ever Decided (2010); and Battlefields and Burial Grounds: The Indian Struggle to Protect Ancestral Graves in the United States (1996). His talk is entitled, "Native American Human Rights & Civil Rights Experience in the U.S."  For further information, please contact Dr. Kent Blansett at kblansett@unomaha.edu or the History Department at 402-554-2593
Previous Trudell Lecturers include: 
-Joshua L. Reid, University of Washington, Seattle (2016)
-Amy Lonetree, University of California, Santa Cruz (2017)
-Adam Beach, Film Actor (2018)
Our Campus. Otherwise Known as Omaha.
The University of Nebraska does not discriminate based on race, color, ethnicity, national origin, sex, pregnancy, sexual orientation, gender identity, religion, disability, age, genetic information, veteran status, marital status, and/or political affiliation in its programs, activities, or employment. Learn more about Equity, Access and Diversity.
scroll to top of page