Jeanne Reames, PhD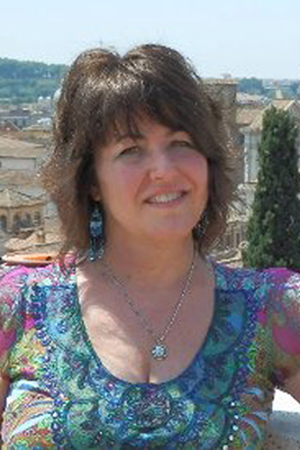 Education
Ph.D., Pennsylvania State University
B.A., University of Florida
Background
Dr. Reames somehow managed to acquire three different degrees in three different subjects, but finally settled down to pursue ancient history after being lured in by the age-old fascination of Alexander the Great. She received her Ph.D. from the Pennsylvania State University in 1998, where she studied Macedonian history under Eugene N. Borza. She is interested not only in Alexander's history, but in how his image has been appropriated, reinterpreted, and fictionalized throughout history, and collects pop-culture paraphernalia, as well as [almost] every Alexander novel published in English. Related to this, she maintains Beyond Renault: Alexander the Great in Fiction, a literary review site. One of her 'other' degrees was a B.A. from the University of Florida in English/Creative Writing. She's acted as both reader and historical consultant for fiction authors such as Kate Elliott and Judith Tarr, and has reviewed Alexander in film and fiction for the APA's Amphora. She's working on a novel of her own about Dionysos and Ariadne.
Her publications include Macedonian Legacies: Studies in Ancient Macedonian History and Culture in Honor of Eugene N. Borza (Regina Books, 2008), and she has "The Cult of Hephaistion," in Responses to Oliver Stone's Alexander, ed. Paul Cartledge and Fiona Greenland. She's had articles and chapters on Alexander in The Ancient History Bulletin, Syllecta Classica, The Ancient World, and Alexander's Empire: From Formulation to Decay (Waldemar Heckel and P.V. Weatley, eds.)
Outside academia, Reames writes fiction, reads, cooks, and enjoys getting her hands in the dirt (gardening). She also attempts to ride herd on her son and too many cats. She's a part-blood Miami-Peoria Indian and a member of UNO's Native American Studies faculty -- mostly as support personnel and living proof that one's interests are not genetic.
Frequently Taught Courses
Ancient Greek History (HIST 2510)
Mesopotamia and Pre-Islamic Persia (HIST 4820/8826)
Greek Myth, Religion, and Magic (HIST 4830/8836)
Alexander the Great and the Macedonian Origin (HIST 4840/8846)
Rome and the Early Church (HIST 4850/8856)
Graduate seminars on Argead Macedonia, Greek military history, and Greek gender/ethnic studies.
Our Campus. Otherwise Known as Omaha.
The University of Nebraska does not discriminate based on race, color, ethnicity, national origin, sex, pregnancy, sexual orientation, gender identity, religion, disability, age, genetic information, veteran status, marital status, and/or political affiliation in its programs, activities, or employment. Learn more about Equity, Access and Diversity.
scroll to top of page