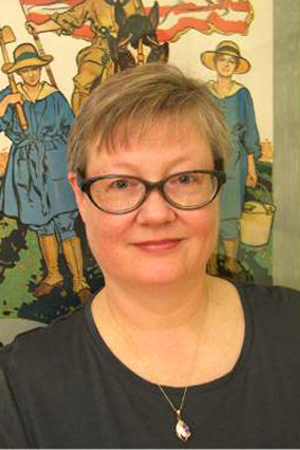 Sharon E. Wood, PhD
Professor
American Social History, Gender, Material Culture
---
email:
office:
office phone:
Additional Information
Education
Ph.D., University of Iowa
Background
Dr. Wood earned a Ph.D. in American Studies at the University of Iowa. Her award-winning book, The Freedom of the Streets: Work, Citizenship, and Sexuality in a Gilded Age City, studied conflicts over working women's access to urban space in the late nineteenth century. Examining respectable working women and prostitutes as fellow residents of downtown neighborhoods, the book reveals how working women embraced political activism to shape public policy on issues like rape and prostitution. This led to conflicts with politically powerful men who sought to protect men's access to prostitutes. Using Davenport, Iowa, as an example of a mid-sized city struggling with these issues, The Freedom of the Streets explores such topics as regulated brothels, the Association for the Advancement of Women, and the reform work of the Catholic Sisters of the Good Shepherd.
Dr. Wood is currently writing a life history of Priscilla Baltimore, a slave who liberated herself and became a leader in the free black community of St. Louis and southern Illinois.
Raised in Virginia and Texas, Dr. Wood now considers herself a Midwesterner. She has been a visiting professor of history at the University of Iowa, the University of Chicago, and the University of Nebraska, Lincoln; and she spent a year as a resident fellow at the Charles Warren Center for Studies in American History at Harvard University.
Frequently Taught Courses
History of Women in America to 1875 (HIST 4050/8056)
Homescapes: The Material Culture of Everyday Life in America, 1600 - 1860 (HIST 4040/8046)
American History to 1865 (HIST 1110)