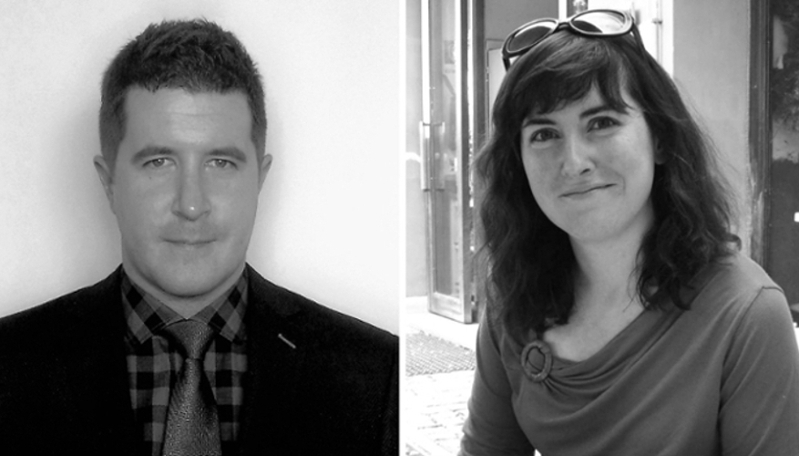 The UNO Department of History completed two nationwide searches this year in the fields of the Early Modern Europe and Holocaust and Genocide Studies.
Dr. Bronwen McShea (Ph.D., Yale University) specializes in Early Modern Europe, French Imperialism, and Religion, and joins UNO as a Visiting Assistant Professor. She arrives from Columbia University in New York City where she held an ACLS New Faculty Fellowship from the Andrew W. Mellon Foundation from 2013-2015. In addition to advancing her research on the Jesuit mission to Native peoples of New France, Dr. McShea taught courses on the Atlantic World, Christian Missions in the Early Modern World, and the Reformation in Global Perspective. She is working to complete her first book manuscript on the French Jesuit mission to North America during the 17th and 18th centuries. Additionally, she has started research on a second project focused on the understudied elite French Catholic laywomen of the 17th century who influenced French colonial and missionary enterprises in the Americas, Asia, and Africa.
Dr. McShea's work has been supported with grants and fellowships from the Leibniz Institute of European History (Mainz, Germany), Institute for Advanced Catholic Studies (USC), American Historical Association, Society for Reformation Research, and the Beinecke Rare Book and Manuscript Library (Yale University). She received the Hans Gatzke Prize in European History from Yale University and the John Tracy Ellis Dissertation Award from the American Catholic Historical Association. Dr. McShea's work appears in The Sixteenth Century Journal and the Journal of Jesuit Studies. This fall at UNO she will teach World Civilizations II and Europe: Renaissance and Reformation.
Dr. Mark Celinscak (Ph.D., York University) arrives to UNO as the Louis and Frances Blumkin Assistant Professor of Holocaust and Genocide Studies. He is a historian of twentieth century Britain and Europe and specializes in war, culture, genocide, and Holocaust studies. Dr. Celinscak's first book, Distance from the Belsen Heap: Allied Forces and the Liberation of a Nazi Concentration Camp, was published in 2015 by the University of Toronto Press. In the book he re-examines the surrender and relief of the Bergen-Belsen concentration camp in northwest Germany at the end of the Second World War. Dr. Celinscak also explores the complexity of how military personnel struggled with the intense experience of liberation, and how their lives were ultimately transformed by the encounter. For his research he has interviewed several Holocaust survivors and military veterans in the Greater Toronto Area. Part of his work on interviewing survivors and editing their manuscripts contributed to the Azrieli Foundation Holocaust Survivor Memoirs Program. Dr. Celinscak's next research project focuses on the process of denazification in postwar Germany.
Dr. Celinscak has received numerous grants and fellowships during his career. He was the Pearl Resnick Postdoctoral Fellow at the United States Holocaust Memorial Museum, a Fellow at the Holocaust Educational Foundation of Northwestern University, and a participant in the Jack and Anita Hess Faculty Seminar at the Center for Advanced Holocaust Studies which focused on "Teaching about the Holocaust through Eyewitness Testimony." Additionally, he was the recipient of the Susan Mann Dissertation Scholarship (York University), the Neil Black Memorial Scholarship (London Goodenough Association of Canada), and both the Fleischer Award and the Tom and Mary Beck Jewish Studies Award from York's Centre for Jewish Studies. 
Before arriving at UNO, Dr. Celinscak taught courses on World Wars I and II, Holocaust and Genocide Studies, and Modern Europe at Trent University in Peterborough, Ontario. In addition to his research and teaching agenda, he is currently collaborating on an upcoming exhibition at the Vancouver Holocaust Education Centre.
Dr. Celinscak will also serve as the Executive Director of the Sam and Frances Fried Fund for Holocaust and Genocide Studies. This endowed initiative, made possible through the generous donation of Sam and Frances Fried, contains nearly $1 million and funds UNO community engagement, supports scholarly activities, and contributes to research that raises awareness of Holocaust and Genocide history. The fund initially supported Holocaust education at UNO, Creighton, UNL, UNK, and Wayne State College, but it has shifted to focus solely on UNO. A new minor in Holocaust and Genocide Studies started at UNO in January 2016, where students take 6 courses from various disciplines, including history, political science, sociology, religious studies, philosophy, English, anthropology, and Black Studies. Sam Fried passed away on April 11, 2016. Read about his story of survival and his continued legacy here.
Our Campus. Otherwise Known as Omaha.
The University of Nebraska does not discriminate based on race, color, ethnicity, national origin, sex, pregnancy, sexual orientation, gender identity, religion, disability, age, genetic information, veteran status, marital status, and/or political affiliation in its programs, activities, or employment. Learn more about Equity, Access and Diversity.
scroll to top of page