History Department Awards Student Excellence
2016/04/24
contact: Elaine Nelson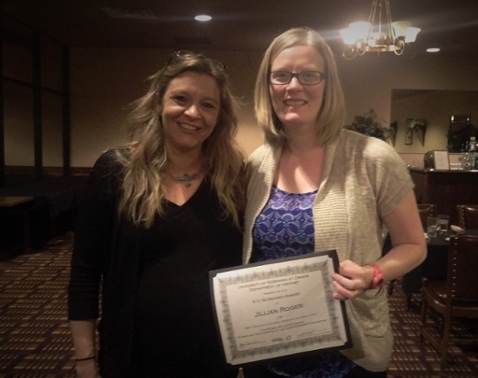 Each year, the UNO History Department faculty recognize undergraduate and graduate student excellence in the study and practice of History. This year's event took place on April 28, 2016 in a ceremony that included an induction of the most recent members in the Phi Alpha Theta History Honors Society. The awards are as follows:
The George B. Lake Memorial Prize is given to the student who completes and excels in both History 1110 and 1120 during the previous academic year. The 2016 recipient of this prize is Savannah Whetstone, an Art Studio Major at UNO. Jillian Rogers (M.A. in history, 2016) received the A.V. Sorensen Award for her work on women's participation in the planning of Omaha's 1898 Trans-Mississippi Exposition. The A.V. Sorensen Award is given to an undergraduate or graduate student who has written the best paper on an urban topic during the previous academic year. Rogers completed her paper in Dr. Nelson's graduate seminar on the American West. The Virginia Dare Shuflata Award recognizes "excellence in history" for history students at the undergraduate and graduate levels. Roland Montgomery is the recipient of the 2016 Shuflata Undergrad Award, and Nathan Bramley received the Shuflata Graduate Award.
Joshua Hoxmeier received the Shuflata Master's Thesis Fellowship which recognizes outstanding graduate students and supports the successful completion of their Master's thesis in history at UNO. Hoxmeier is one of many excellent M.A. history students at UNO. In addition to the Shuflata Fellowship, he received a GRACA Grant (Graduate Research and Creative Activity Grant), a UCRCA Grant (University Committee on Research and Creative Activity Grant), and a travel grant from the History Department's Charles Martin Fund. Hoxmeier will use these funds to support research trips to the Heinz History Center in Pittsburgh and the Immigration History Research Center and Archives at the University of Minnesota-Twin Cities. This research will advance his thesis project titled "Italian Americans and the Forces of Inclusion and Exclusion in Ethnic Identity Formation at Midcentury," which Hoxmeier will complete under the direction of Dr. Battisti.
The History Department's Omicron Chapter of Phi Alpha Theta initiated the following History Majors and History M.A. Graduate Students into membership: Shannon Hayes, Brianna Tafolla, Matt Lockwood, Evan Preissler, Brooks Mason, Quincy Young, Josh Hoxmeier, Colleena Bibeau, and Keith Ross.