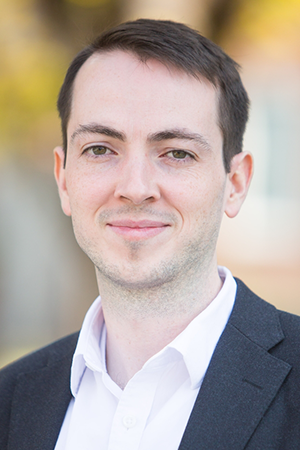 Brett Kyle, Ph.D.
Assistant Professor of Political Science / Co-Chair of Research
402.554.3704
---
email:
office:
personal website:
Additional Information
---
Fall 2015 Office Hours
Tuesdays & Thursdays
12:00 pm - 2:30 pm
(And by appointment)
Background
Dr. Kyle joined the University of Nebraska Omaha in August 2015.  He teaches courses on Latin American politics and is a member of the Office of Latino and Latin American Studies (OLLAS) faculty.  Dr. Kyle earned his Ph.D. in Political Science from the University of Wisconsin-Madison, where he was also a Graduate Fellow with the Human Rights Initiative.  Before coming to UNO, Dr. Kyle was a Visiting Scholar at the Teresa Lozano Long Institute of Latin American Studies at the University of Texas at Austin and a Visiting Assistant Professor at Marquette University.  

Read more about Dr. Kyle on his website: www.brettkyle.com
Courses Taught
PSCI 1000 - Introduction To Political Science
PSCI 3680/8685 - Latin American Politics
PSCI 4280/8286 - International Relations of Latin America
PSCI 4350/8356 - Democracy
PSCI 3240/8245 - Politics and Practice of Human Rights
PSCI 4950 - Political Science Senior Capstone
PSCI 8500 - Seminar in Comparative Politics
Research
Dr. Kyle's research focuses on democracy, authoritarianism, and civil-military relations in Latin America and across the globe.  His book,

 

Recycling Dictators in Latin American Elections

 (2016), investigates

investigates members of former military regimes who have run for elected office under democracy.  Other current projects examine incidents of military rebellion in Latin America and reform of military courts in the region.
Recent Publications
Recycling Dictators in Latin American Elections:  Legacies of Military Rule.  Boulder:  Lynne Rienner Publishers.  (2016).
"Militarized Justice in New Democracies:  Explaining the Process of Military Court Reform in Latin America."  Law & Society Review 47:2 (2013): 375-407, with Andrew G. Reiter.
"Dictating Justice: Military Courts and Human Rights in Latin America." Armed Forces & Society 38:1 (2012): 27-48, with Andrew G. Reiter.