Alumni Spotlight: English Department Alum John McWilliams Participates in Degree Discovery Day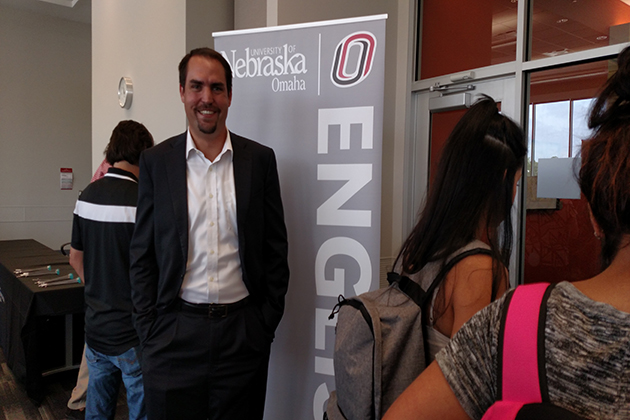 CEC – On Wednesday, September 13, 2015, UNO English alum John McWilliams participated in the Degree Discovery Day. He shared his experience and achievements with undergraduates, who were browsing through booths, unsure of what to choose for their major. He did a great job, and the Department of English was delighted to have him join us at our booth.
McWilliams received his M.A. in English at UNO in 2012. While in the English graduate program, McWilliams's research interests included the language of ESL classrooms and the language of advertising to young men. McWilliams presented papers at the Student Research and Creative Activity Fair at UNO, the No Limits! Conference at UNO, and the Classroom-Oriented Research: Achievements and Challenges Conference in Kalisz, Poland. After receiving his M.A., John studied law at Creighton University School of Law, graduating magna cum laude in 2015. He is now an attorney at the Omaha law firm Cassem, Tierney, Adams, Gotch & Douglas.