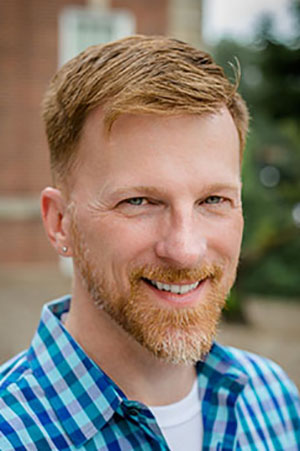 Frank Bramlett, PhD
Professor and TESOL Program Director
402.554.3313
---
Additional Information
---
Education
PhD University of Georgia
MA University of Alabama at Birmingham
BA Mississippi State University
Research Areas
Comics & Graphic Novels
Discourse Analysis
Language and Identity
Teaching English to English Language Learners
Professor Bramlett is currently engaged in two research programs. One revolves around the intersections of language, culture, and notions of the everyday in comics and graphic novels. The other one is a long-term interest in how English is taught to university-level language learners in Nicaragua.
If you're interested in comics, and especially Grant Morrison, take a look at this video, which is a short excerpt of a roundtable discussion. Bramlett co-organized the two-day conference, which was held in December 2013 at the English Department at Stockholm University. See http://www.english.su.se/about-us/events/conference-on-comic-guru-grant-morrison
UNO Features Professor Bramlett on YouTube
Selected Publications
Books
Ursini, F.-A., Mahmutović, A., & Bramlett, F. (Eds.). (2017). Visions of the Future in Comics: International Perspectives. Jefferson, NC: McFarland.
Bramlett, F., Cook, R. T., & Meskin, A. (Eds.). (2016). The Routledge companion to comics. New York: Routledge.
Bramlett, F. (Ed.). (2012). Linguistics and the study of comics. Basingstoke, UK: Palgrave Macmillan.
Special Journal Issue
Bramlett, F., Mahmutovic, A., & Ursini, F. (Eds.). (2015). The Worlds of Grant Morrison. ImageTexT: Interdisciplinary Comics Studies, 8 (2).

Selected Articles & Book Chapters
Bramlett, F. (2018). Linguistic discourse in web comics: Extending conversation and narrative into alt-text and hidden comics. In V. Werner (ed.), The language of pop culture (pp. 72-91). New York: Routledge.
Bramlett, F. (2016). Comics and linguistics. In F. Bramlett, A. Meskin, & R. T. Cook (eds.), The Routledge companion to comics (pp. 380-389). New York: Routledge.
Bramlett, F. (2015). Making and breaking the superhero quotidian: How All-Star Superman embodies and revises the everyday.  ImageTexT, 8(2).  
Bramlett, F. (2015). The role of culture in comics of the quotidian. Journal of Graphic Novels and Comics, 6(3), 246-259. 
Bramlett, F. (2012). Linguistic codes and character development in Afro Samurai. In F. Bramlett (ed.), Linguistics and the study of comics, (pp. 183–209). London: Palgrave Macmillan.
Bramlett, F. (2010). The confluence of heroism, sissyhood, and camp in The Rawhide Kid: Slap Leather. ImageTexT: Interdisciplinary Comics Studies, 5(1). Department of English. http://www.english.ufl.edu/imagetext/archives/v5_1/bramlett/
Recent Presentations
Bramlett, F. (2016). Web comics as pop culture: How discourse features are used to construct alt-text and hidden comics. Presented at International Society for Linguistics in English (ISLE), Poznan, Poland.
Bramlett, F. (2015). Grant Morrison's Graphic Commentary on Animal Rights and the Military-Industrial Complex. European Studies Conference, University of Nebraska at Omaha. Omaha, Nebraska. USA.
Bramlett, Frank. (2015). The visual-verbal interface and the construction of quotidian identity in comics. Invited talk for Popular Culture Series, Department of Modern Languages and Literature, Gothenburg University, Sweden. 
Bramlett, F. (2013). Representing sexuality, race, and language in comics about the U.S. South. Conference: Comics Studies in the South. Columbia: University of South Carolina.
Bramlett, F. (2013). A continuum of the quotidian: How all comics reflect the everyday. Joint Conference: International Comics and International Bande Dessinée Society. University of Glasgow, Glasgow, Scotland.
Bramlett, F. (2013). The linguistic construct of the insecure hero and counterterror measures in the graphic novel. Images of terror, Narratives of (in)security: Literary, artistic, and cultural responses. University of Lisbon, Portugal.
Bramlett, F. (2012). The role of culture in comics of the quotidian. Comics Forum. Leeds, UK. Submitted.
Teaching and Other Faculty Affiliations
Professor Bramlett's teaching interests are wide-ranging and include linguistic theory and structure, applied linguistics, sociolinguistics, research methods, and comics. He teaches the following courses regularly:
Introduction to Linguistics
Structure of English
Discourse, Culture, and Power (grad seminar)
Language, Gender, and Sexuality
Sociolinguistics
First-year composition for English language learners (ESL I/ESL II)
And he teaches these courses occasionally:
Language and Comics
Field-Based Research Methods (grad seminar)
Composition Pedagogy in TESOL & Foreign Languages (grad seminar)
He also teaches courses for the MA in Teaching English as a Foreign Language at the University of Nicaragua at León (UNAN–León).
Professor Bramlett's other UNO faculty affiliations include the following programs: Master of Arts in Language Teaching (MALT), Women's and Gender Studies, and Black Studies.
Service
Former Associate Director, Women's & Gender Studies
Former Chair, UNO Safe Space and Ally Training
For many years, Professor Bramlett served as chair of the UNO Safe Space & Ally Training committees and as advisor for UNO for Queers & Allies, a campus organization for those who identify as gay, lesbian, bisexual, transgender, intersex, queer, and questioning, as well as all our allies.  He has also served on dozens of committees at the department, college, and university levels. He also continues to volunteer for PFLAG and GLSEN in the Omaha area.
In 2016, Professor Bramlett was elected to a two-year term as a member of the Executive Committee of the International Comic Arts Forum (ICAF). He also serves on the editorial boards of INKS: The Journal of the Comics Studies Society and The Journal of Comics and Culture. 
Our Campus. Otherwise Known as Omaha.
The University of Nebraska does not discriminate based on race, color, ethnicity, national origin, sex, pregnancy, sexual orientation, gender identity, religion, disability, age, genetic information, veteran status, marital status, and/or political affiliation in its programs, activities, or employment. Learn more about Equity, Access and Diversity.
scroll to top of page