UNO Advanced Placement® Summer Institute
Registration for UNO's 2017 AP Summer Institute is closed.  Information for UNO's 2018 AP Summer Institute will be available in early 2018. For any questions, please contact Kristin Broyhill.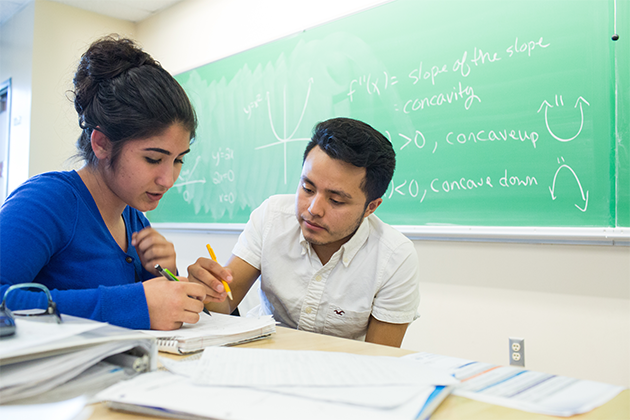 The UNO Advanced Placement® Institute is designed not only for those currently teaching Advanced Placement® courses, but also for those who will be teaching AP® courses, honors and/or accelerated classes, and special courses that feed into an AP® program. Courses are designed for both new and experienced AP® teachers and focus on what is new in the AP® curriculum, as well as offering an overview of the AP® semester/year long course, its objectives, and exam content. The interaction and sharing of pedagogy and content between the faculty and the AP® teachers provide for an exciting and challenging week that results in improved teaching and learning in the Advanced Placement® classroom.
Please note:
Our faculty members are College Board® endorsed.
The 2017 University of Nebraska at Omaha Advanced Placement® Summer Institute is endorsed by the College Board® and the Metropolitan Omaha Education Consortium.
All questions should be directed to:
Kristin Broyhill
Department of Political Science
University of Nebraska at Omaha
(402) 554-4121
kbroyhill@unomaha.edu
---
2017 Faculty
Institute Director

Jody Neathery-Castro

UNO Department of Political Science

Department Chair

Mr. Michael Ralph | Biology

Michael Ralph teaches general and honors freshman biology,
AP Biology and Advanced Biotechnology. Michael has spent his career
focusing on promoting inquiry in the laboratory by developing and sharing
student-centered procedures that leverage advancements in sensing, modeling
and apparatus fabrication. He will be leading the APSI Biology sessions.

Dr. Janice Rech | Calculus AB/BC

Janice Rech is an Associate Professor of Mathematics and focuses
on the teaching and learning of mathematics. Her current interest
is in the mathematical preparation of elementary teachers. Dr. Rech
works closely with high school AP® Calculus teachers in the University's
dual enrollment program . 

Dr. Edmund Tisko | Chemistry

Edmund Tisko, Assistant Professor of Chemistry, teaches General Chemistry
and Physical Chemistry. Dr. Tisko is a certified College Board consultant and
has taught college preparatory chemistry at the high school level.
He has given molecular modeling workshops to high school students and teachers,
as well as AP® Chemistry workshops. His interests include intramolecular forces and
first-year college pedagogy.

Dr. David Peterson | English Language & Composition

David Peterson, a certified College Board consultant, teaches First Year Writing,
Advanced Composition, Technical Communications and various literature courses.
Peterson also administers the department's Dual Enrollment Program and is
currently working on several projects, which include a study of biased language
and an examination of student writing in the online class environment.

Max Lu | Human Geography

Mrs. Connie Wells | Physics I: Algebra-Based

Connie Wells has a Master of Science Degree in Physics from
The University of Kansas and has taught Physics, AP Physics B,
AP Physics C and AP Physics 2 for twenty five years. She has been
active in test scoring and development for The College Board, serving
on the AP Physics B and C Test Development Committee from 1997-2001
and as Co-chair of the AP Physics 2 Development Committee from its inception
to 2015. From 1995 to 2006, she served in various roles as Reader, Table
Leader and Question Leader for the A.P. Physics Reading. 
In August, 2015, she was named Woman Physicist of the Month by
the American Physical Society. Connie retired from teaching
in 2016 but continues to work on physics writing projects and AP
Physics consulting.

Dr. Rob McEntarffer | Psychology

Rob McEntarffer taught Psychology and AP Psychology for 13 years at Lincoln
Southeast high school in Lincoln, NE.He was involved in the Advanced Placement
psychology reading beginning in 1995, working as a Reader, Table Leader,
and (from 2003 through 2009) as the High School Question Leader.
He co-authored the Test Bank for Blair-Broeker and Ernst's Thinking About
Psychology text and for the AP editions of David Myers's college level psychology
textbook.Rob is also the co-author of Barron's How to Prepare for the Advanced
Placement Psychology Exam. He served as chairof the American Psychological
Association's Teachers of Psychology in Secondary Schools (TOPSS), established
a Nebraskachapter of TOPSS, and was a member of APA's National High School
Standards committee. He chaired the Assessment Committee at the Psychology
Partnership Project (James Madison University), and won the 2004 Teaching
Excellent Award from APA's Society for the Teaching of Psychology.
Rob lives with his wife, two kids, dog, and cat in Lincoln, NE and works for
Lincoln Public Schools.

Dr. James Guffey | Statistics

Dr. Guffey has been teaching statistics and mathematics at Truman
State University in Kirksville, Missouri since 1988, including dozens
of Introductory Statistics classes.  He has received numerous teaching
awards and has presented at conferences at the state, national,
and international levels.  He has served as an AP Statistics reader,
and became a consultant with both College Board and National Math
and Science Initiative in 2014.  James earned his BS at Centre College
of Kentucky; his MS and PhD are from Missouri University of Science and Technology.

Mr. Paul Faeh | US History

Paul Faeh is a social studies teacher at Hinsdale South High School,
where he teaches AP United States History and AP European History,
and has been teaching AP US History for the last 18 years.  
He also serves as a Question Leader for the AP US Exam Reading
(reader since 2001 and table leader since 2006).  As a Consultant for the
College Board presenting AP United States History week long summer
institute workshops (APSI), he has conducted numerous APSI workshops
training teachers in Illinois, Michigan, Florida, California, and Washington.   
This year's AP US History summer institute will focus on familiarizing and
preparing teachers for the AP US History course and exam.  
There will also be time devoted to teaching techniques, such as, using
and developing student centered activities, incorporating sources into
daily lessons, and improving student writing skills. There will be a variety
of activities where participants will develop and share idea and strategies.

Mr. Kevin Witte | World History

Kevin Witte teaches Social Studies (AP World History and AP Human Geography)
at Kearney High School in Kearney, Nebraska. He was recognized as a Milken Educator
Award recipient in 2013. Witte started teaching AP World History in 2003,
began participation in the AP World History Reading in 2005, has been
involved in the pilot scoring process for recent exam revisions,
and currently serves on the AP World History Test Development Committee
as the College Board Advisor.
---
Schedule
July 17-20, 2017  |  8:00am - 5:00pm  |  Monday - Thursday

---
Registration
Advanced Placement Summer Institute Costs
Priority Registration Deadline: June 29: $750

Late Registration Deadline: July 14: $825
* There is an additional $50 lab fee for courses in Biology, Chemistry and Physics
Registration fees includes course materials, parking and lunch.

APSI materials and registration ticket will be sent after payment has been received.

Graduate credit hours can be earned for additional cost. Please inquire with the coordinator.

No registrations after July 14th

Payments must be received by July 14th
Register Online (online payment coming soon) | Download Registration PDF
Refunds
•  Your registration costs, less $50, will be refunded if the participant cancels in writing to Kristin Broyhill by 5PM CST on July 29. 
•  No refunds offered for those who register after this time unless UNO cancels a course.
•  UNO and College Board are not responsible for any associated costs incurred by participants.
---
Housing
There are rooms reserved for the Advanced Placement® Institute at the Marriott Courtyard, located at 1625 South 67 Street, Omaha, NE 68106.
The direct phone number is 402.951.4300.
Please ask for the Advanced Placement® rate.
Continental breakfast and dinner are available at cost in the Bistro Cafe in the Courtyard.
Follow the reservation link below:
COURTYARD OMAHA AKSARBEN VILLAGE

ADVANCED PLACEMENT® SUMMER INSITUTE
• Check-in: Sun July 16, 2017
• Check-out: Thur July 20, 2017
• Special rate available until: June 15, 2017
---
Parking
Parking codes will be sent out via e-mail. 
---
Meals
Summer Institute Meal Information
Continental Breakfast to be served on Monday during registration only.  Check-in for textbooks, name tags, etc. will be done at this time.
Breakfast is on your own Tuesday-Thursday.
Lunch will be served each day.
Our Campus. Otherwise Known as Omaha.
The University of Nebraska does not discriminate based on race, color, ethnicity, national origin, sex, pregnancy, sexual orientation, gender identity, religion, disability, age, genetic information, veteran status, marital status, and/or political affiliation in its programs, activities, or employment. Learn more about Equity, Access and Diversity.
scroll to top of page