16th Annual Malcolm X Festival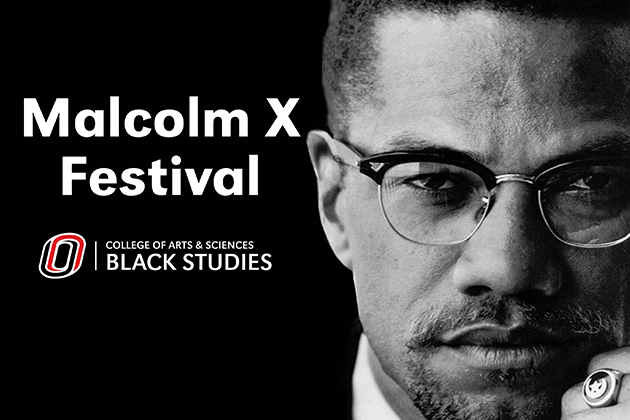 In 2002, Dr. Robert Chrisman, Chair of the Department at the time, founded the Malcolm X Festival.  The Festival has exposed UNO students to a wide range of opinion and thought from leading Black intellectuals on the significance of Malcolm X to the many areas he touched:  Black Nationalism, civil rights, issues of Black masculinity and leadership, Pan-Africanism, and internationalism. 
 Born Malcolm Little in Omaha, Nebraska, the man the world came to know as Malcolm X's continuing growth, change, and transcendence have become a model of human possibility.  The Malcolm X Festival affords a comprehensive examination and observation of a world famous Black American born in Omaha's Black community. In dealing with the issues of Malcolm X's life, students will further appreciate diversity and pluralism.
 The Festival makes a significant statement by the Department of Black Studies of its engagement with the UNO campus and the Omaha community. 
16th Annual Malcolm X Festival
THEME:  RACE & INTERSECTIONALITY:  CRITICAL DIALOGUES
 In 1903, W. E. B. Dubois postulated that "the color line" would be the defining element of the United States during the 20th century.  Its relevance persists into the 21st century.  Yet it must be argued, that the "color line" has increasingly become part of a larger tapestry in the society, a complex political and social interweaving with and within other "lines" of stratification, difference, and oppression.  Join us at our 16th Annual Malcolm X Festival as we endeavor, not so much as to disentangle these, but rather to better comprehend better the interwoven threads of this evolving social fabric, discussing how "the color line" as the main thread, contributes to and is contributed by these other "lines."
Our Campus. Otherwise Known as Omaha.
The University of Nebraska does not discriminate based on race, color, ethnicity, national origin, sex, pregnancy, sexual orientation, gender identity, religion, disability, age, genetic information, veteran status, marital status, and/or political affiliation in its programs, activities, or employment. Learn more about Equity, Access and Diversity.
scroll to top of page