BLST 2120: History of Modern Africa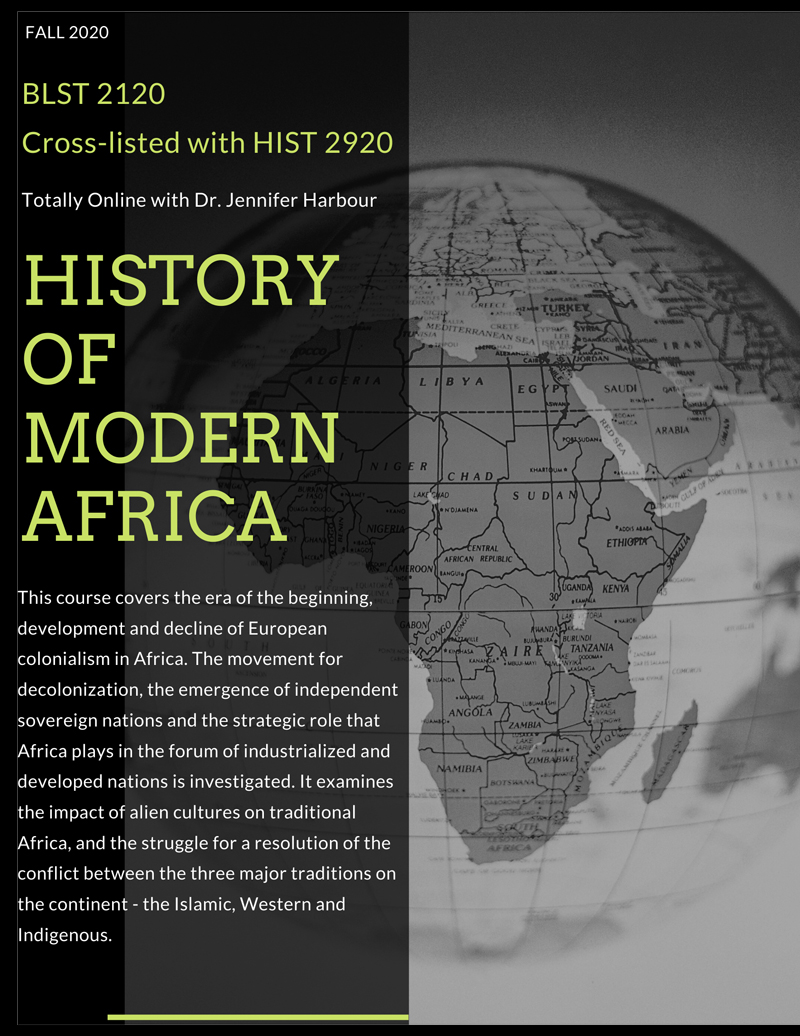 This course covers the era of the beginning, development and decline of European colonialism in Africa. The movement for decolonization, the emergence of independent sovereign nations and the strategic role that Africa plays in the forum of industrialized and developed nations is investigated. It examines the impact of alien cultures on traditional Africa, and the struggle for a resolution of the conflict between the three major traditions on the continent— the Islamic, Western, and Indigenous.
This course is crosslisted with HIST 2920.
---
BLST 2130: Patterns of African Government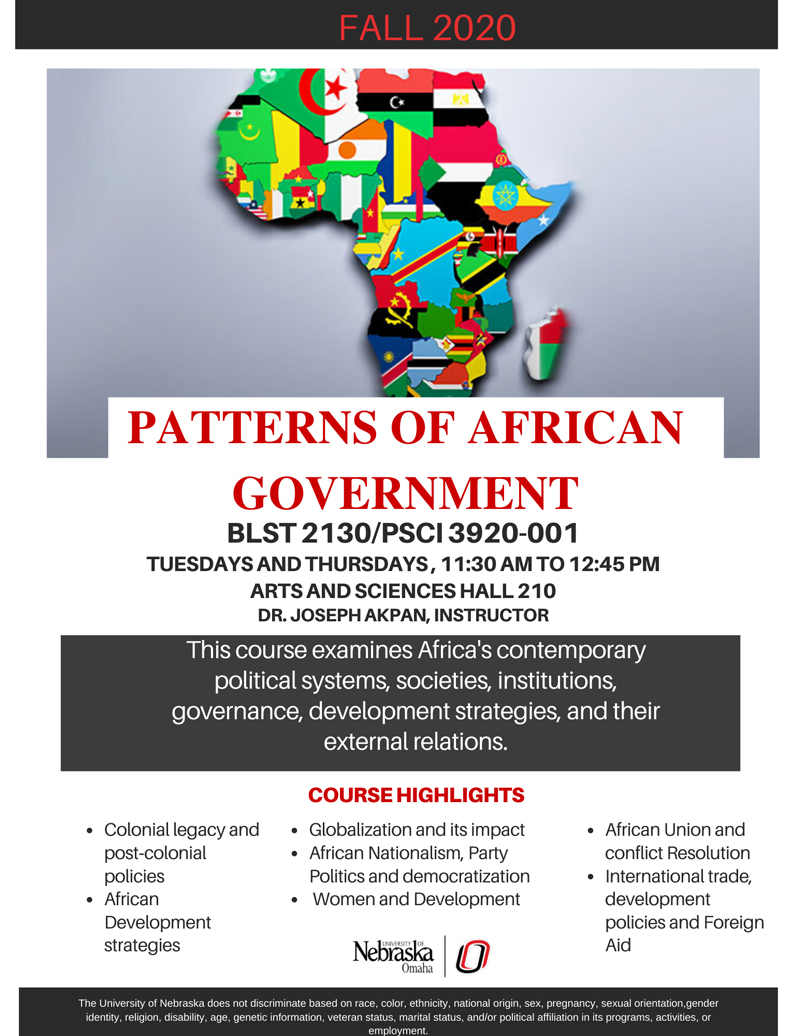 This course examines Africa's contemporary political systems, societies, institutions, governance, development strategies, and their external relations. This course is crosslisted with PSCI 3920-001. Course highlights:
Colonial legacy and post-colonial policies
African Development strategies
Globalization and its impact
African Nationalism, Party Politics and democratization
Women and Development
African Union and conflict Resolution
International trade, development policies and Foreign Aid
---
BLST 2550: Business & Economics in African American Communities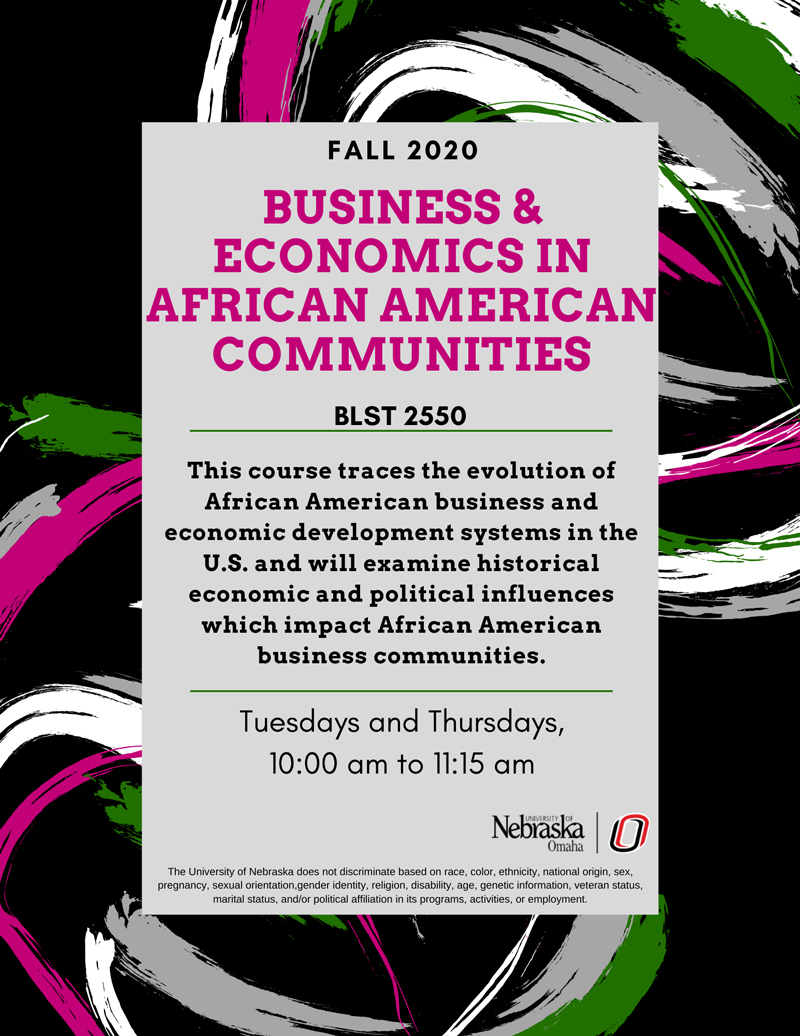 This course traces the evolution of African American business and economic development systems in the U.S. and will examine historical economic and political influences which impact African American business communities. Students will be exposed to various aspects of African American business and economics, including Black entrepreneurship and Black owned businesses before, during, and after slavery; an analysis of the role of Black churches in African-American communities; and the impact of modern economic and political systems on African American business communities.
---
BLST 3000: Survey of Black Education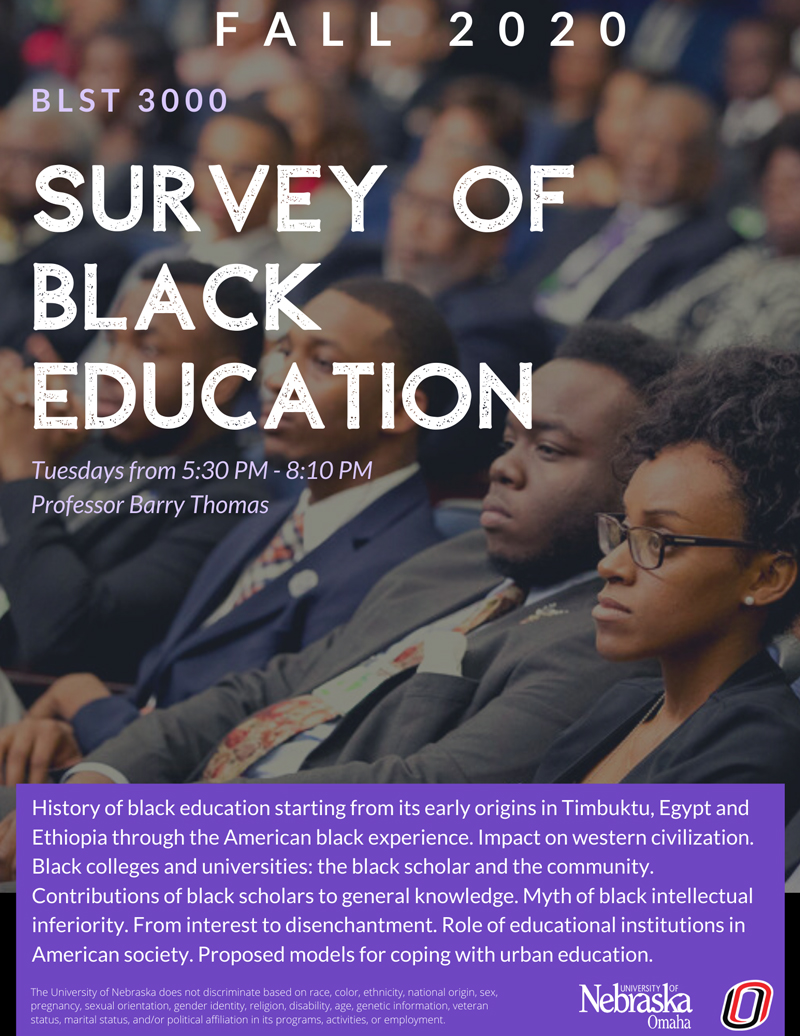 This course explores the history of black education starting from its early origins in Timbuktu, Egypt and Ethiopia through the American black experience. Impact on western civilization. Black colleges and universities: the black scholar and the community. Contributions of black scholars to general knowledge. Myth of black intellectual inferiority. From interest to disenchantment. Role of educational institutions in American society. Proposed models for coping with urban education.
---
BLST 3030: Geography of Africa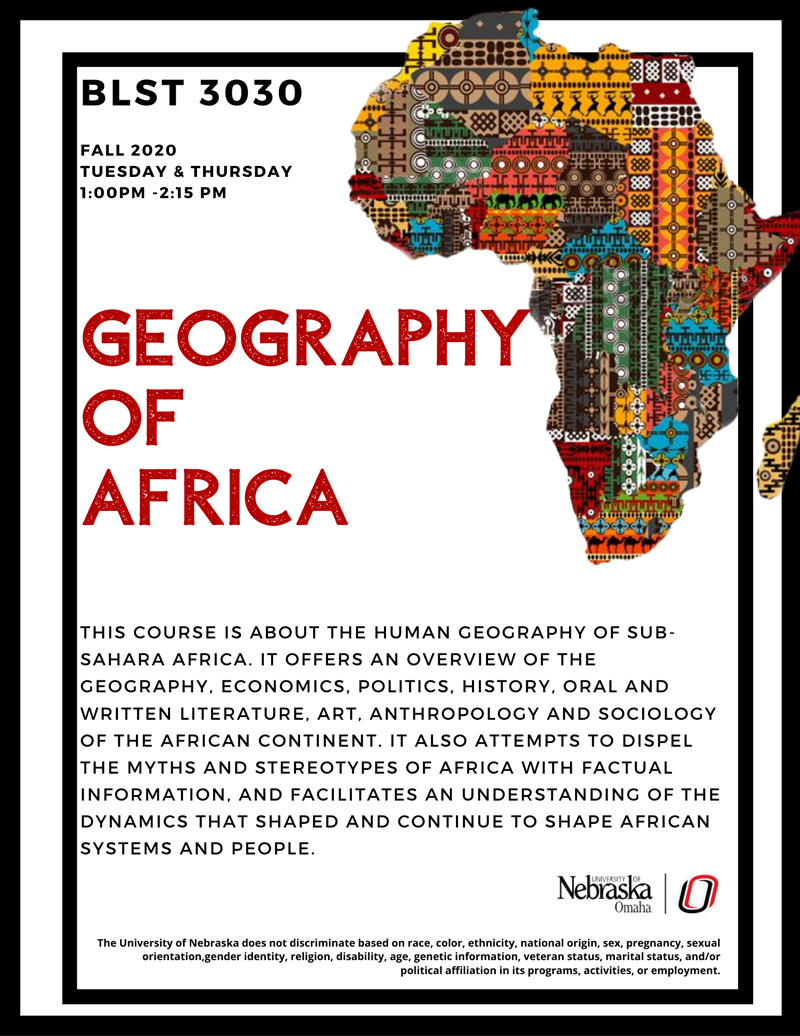 This course is about the human geography of Sub-Saharan Africa. It offers an overview of the geography, economics, politics, history, oral and written literature, art, anthropology and sociology of the African continent. It also attempts to dispel the myths and stereotypes of Africa with factual information, and facilitates an understanding of the dynamics that shaped and continue to shape African systems and people.
---
BLST 3980/8040: From Black Panther to Black Twitter: The Impact of African-American Culture and Language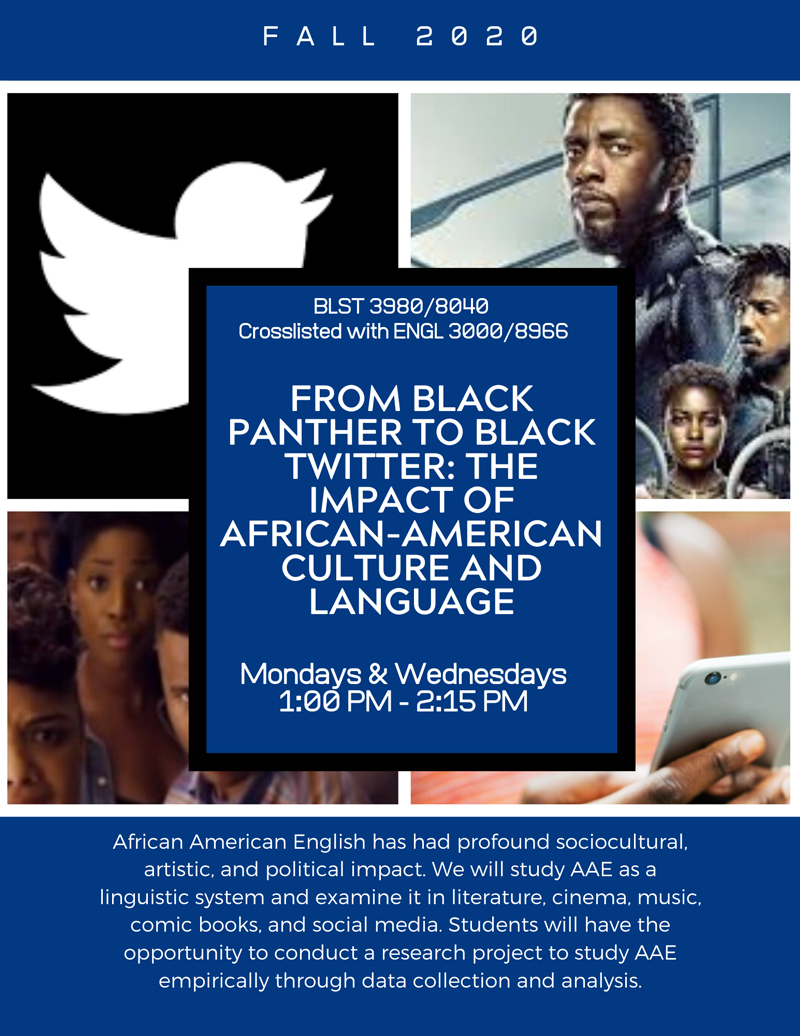 African American English has had profound sociocultural, artistic, and political impact. We will study AAE as a linguistic system and examine it in literature, cinema, music, comic books, and social media. Students will have the opportunity to conduct a research project to study AAE empirically through data collection and analysis. This course is crosslisted with ENGL 3000/8966.
---
BLST 3990: Community Study Project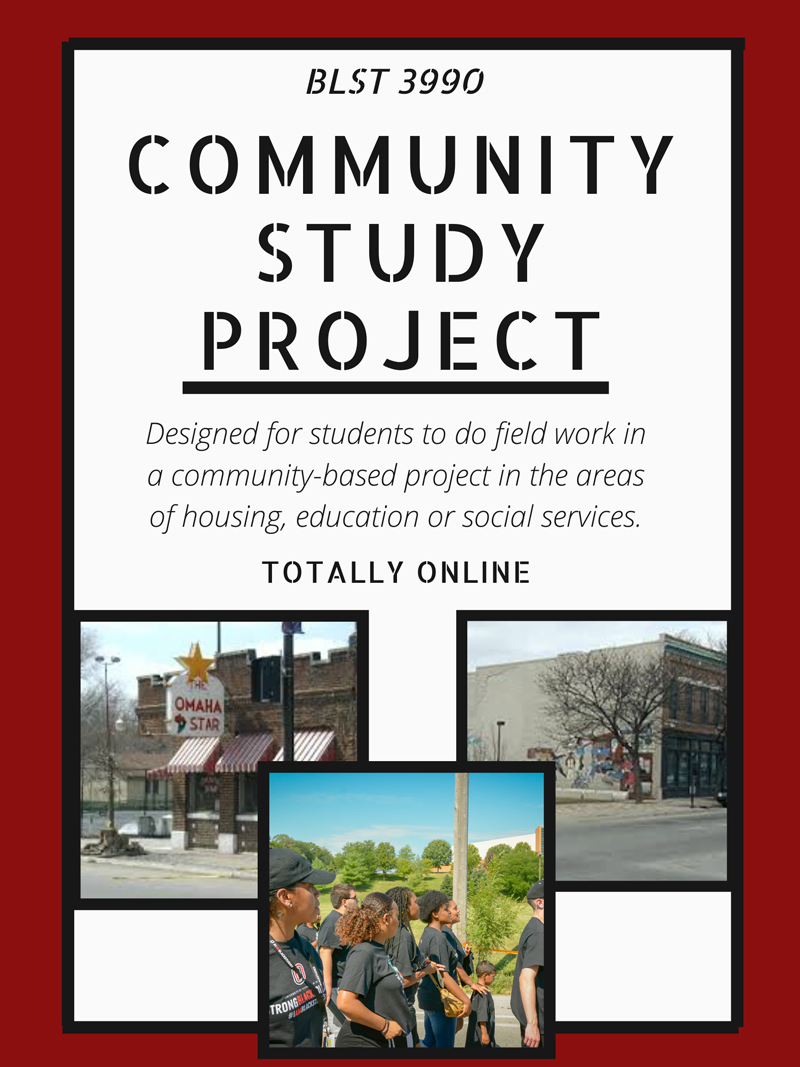 Designed for students to do field work in a community-based project in the areas of housing, education or social services. 
---
BLST 4150/8156: African American Psychology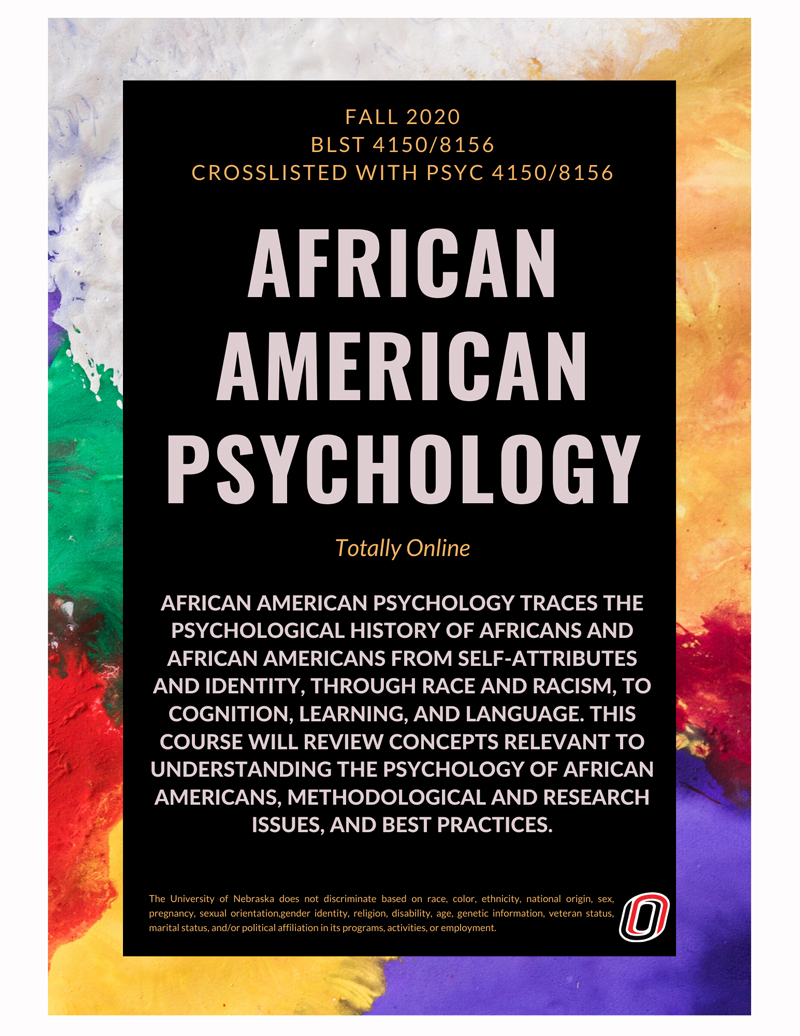 African American psychology traces the psychological history of Africans and African Americans from self-attributes and identity, through race and racism, to cognition, learning, and language. This course will review concepts relevant to understanding the psychology of African Americans, methodological and research issues, and best practices. This course is crosslisted with PSYC 4150/8156.
---
BLST 4710: Brown V. Board of Education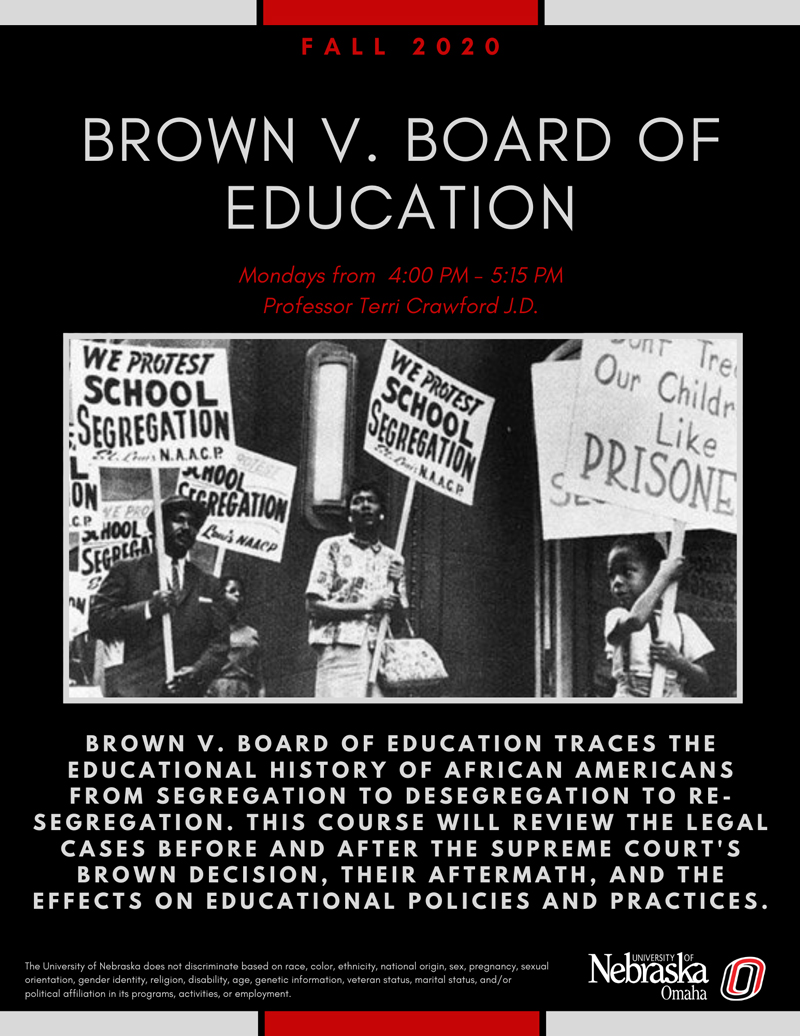 Brown V. Board of Education traces the educational history of African Americans from segregation to desegregationto re-segregation. This course will review the legal cases before and after the Supreme Court's Brown decision, their aftermath, and the effects on educational policies and practices.
| | | |
| --- | --- | --- |
| Instructor: Professor Terri Crawford, J.D. | M 4:00—5:15 PM | link to flyer |